Emilia-Romagna – ITH5
EU regions: Italy > Northeast Italy > Emilia-Romagna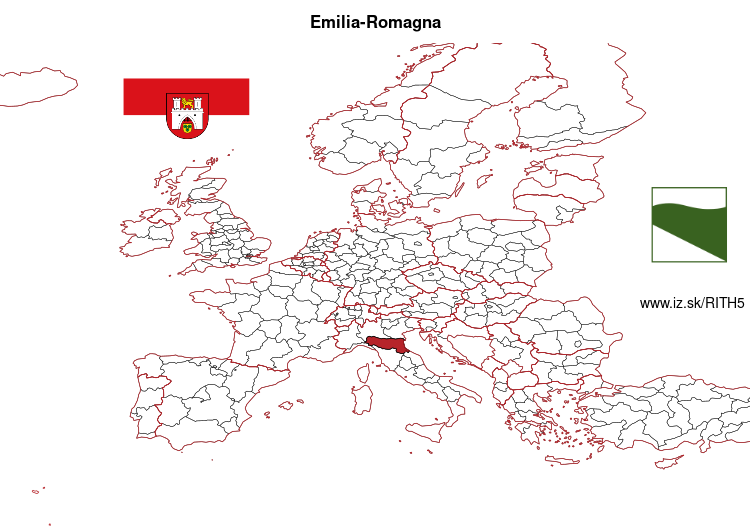 More on wikipedia wikidata Q1263 on OpenStreetMap Emilia-Romagna slovensky: ITH5
Subregions: Province of Piacenza, Province of Parma, Province of Reggio Emilia, Province of Modena, Province of Bologna, Province of Ferrara, Province of Ravenna, Province of Forlì-Cesena, Province of Rimini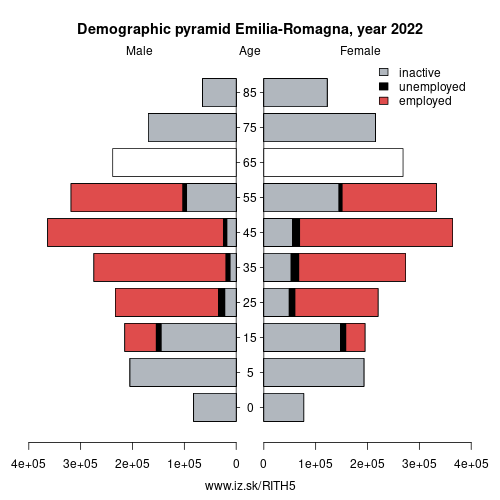 Unemployment
Demographics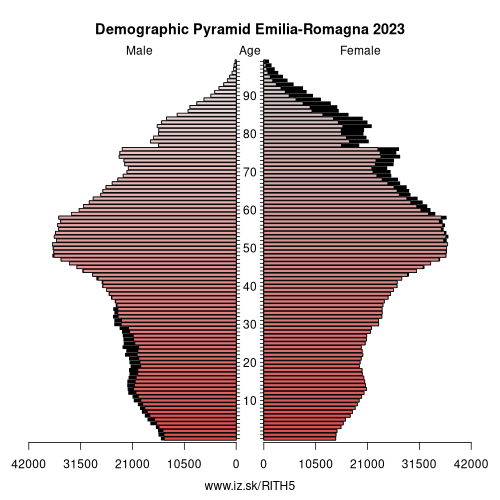 Employment by sectors, Emilia-Romagna
NACE r2
%
NACE r2
%
A
66
3 %
B-E
542.4
27 %
F
126.5
6 %
G-I
471.8
24 %
J
49.2
2 %
K
52.6
3 %
L
10.5
1 %
M_N
197.8
10 %
O-Q
343.4
17 %
R-U
141
7 %
TOTAL
2001.3
100 %
Data for the period year 2022. Source of the data is Eurostat, table [lfst_r_lfe2en2].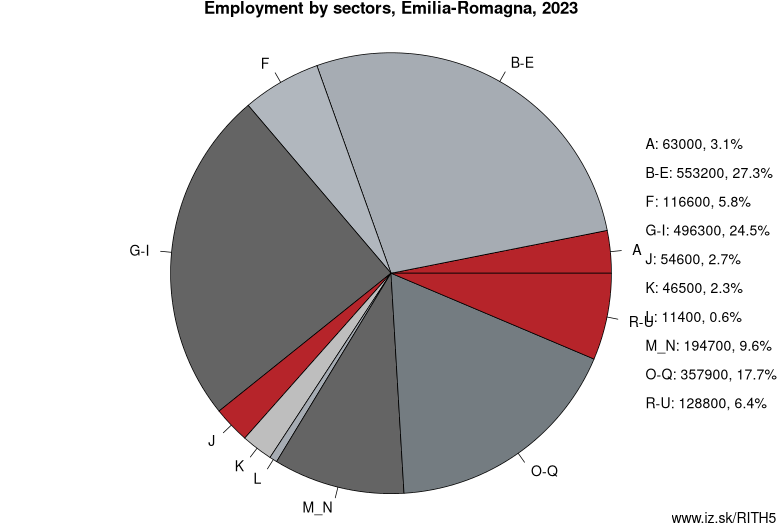 From Wikipedia: Emilia-Romagna (UK: , US: , both also ; Italian: [eˈmiːlja roˈmaɲɲa]; Emilian and Romagnol: Emélia-Rumâgna) is an administrative region of Northeast Italy comprising the historical regions of Emilia and Romagna. Its capital is Bologna. It has an area of 22,446 km2 (8,666 sq mi), and about 4.4 million inhabitants.
Emilia-Romagna is one of the wealthiest and most developed regions in Europe, with the third highest GDP per capita in Italy. Bologna, its capital, has one of Italy's highest quality of life indices and advanced social services. Emilia-Romagna is also a cultural and tourist centre, being the home of the University of Bologna, the oldest university in the world, containing Romanesque and Renaissance cities (such as Modena, Parma and Ferrara), a former Eastern Roman Empire capital such as Ravenna, encompassing eleven UNESCO heritage sites, being a centre for food and automobile production (home of automotive companies such as Ferrari, Lamborghini, Maserati, Pagani, De Tomaso and Ducati) and having popular coastal resorts such as Cervia, Cesenatico, Rimini and Riccione.
In 2018, the Lonely Planet guide named Emilia Romagna as the best place to see in Europe.
Etymology
The name Emilia-Romagna is a legacy of Ancient Rome. Emilia derives from the via Aemilia, the Roman road connecting Piacenza to Rimini, completed in 187 BC and named after the consul Marcus Aemilius Lepidus. Romagna derives from Romània, the name of the Eastern Roman Empire applied to Ravenna by the Lombards when the western Empire had ceased to exist and Ravenna was an outpost of the east (540–751).
History
Before the Romans took control of present-day Emilia-Romagna, it had been part of the Etruscan world and then that of the Gauls.
Other: Northeast Italy, South Tyrol, Trentino-South Tyrol, Friuli Venezia Giulia, Emilia-Romagna, Veneto
Neighbours: Veneto, Piedmont, Tuscany, Marche, Lombardy, Liguria
Subregions: Province of Piacenza, Province of Parma, Province of Reggio Emilia, Province of Modena, Province of Bologna, Province of Ferrara, Province of Ravenna, Province of Forlì-Cesena, Province of Rimini
Suggested citation: Michal Páleník: EU regions - Emilia-Romagna – ITH5, IZ Bratislava, retrieved from: https://www.iz.sk/​en/projects/eu-regions/ITH5
---
https://www.iz.sk/en/projects/eu-regions/ITH5