Piedmont – ITC1
EU regions: Italy > Northwest Italy > Piedmont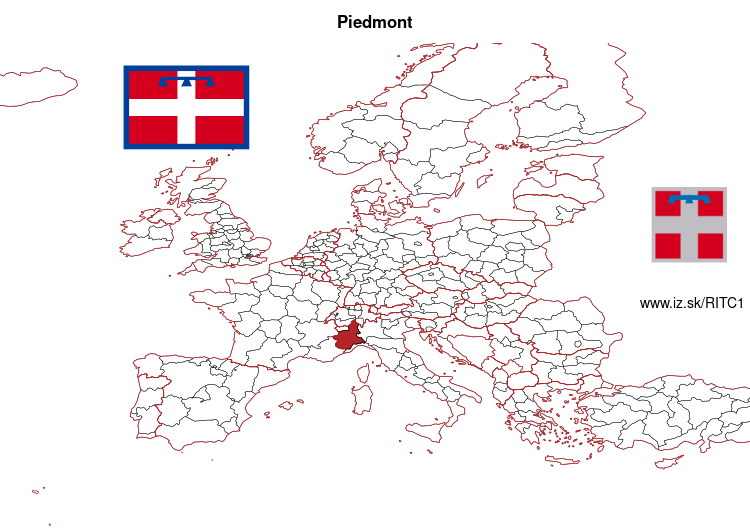 More on wikipedia wikidata Q1216 on OpenStreetMap Piedmont slovensky: ITC1
Subregions: Province of Turin, Province of Vercelli, Province of Biella, Province of Verbano-Cusio-Ossola, Province of Novara, Province of Cuneo, Province of Asti, Province of Alessandria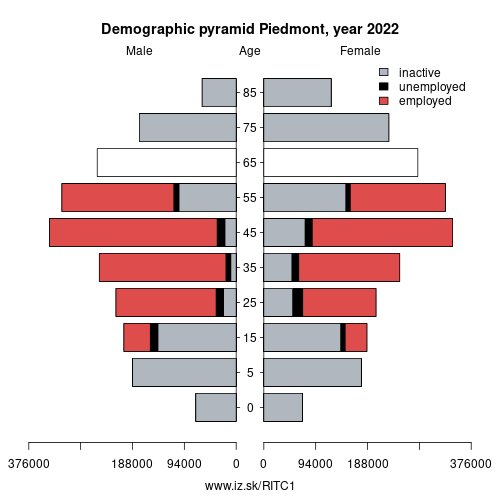 Unemployment
Demographics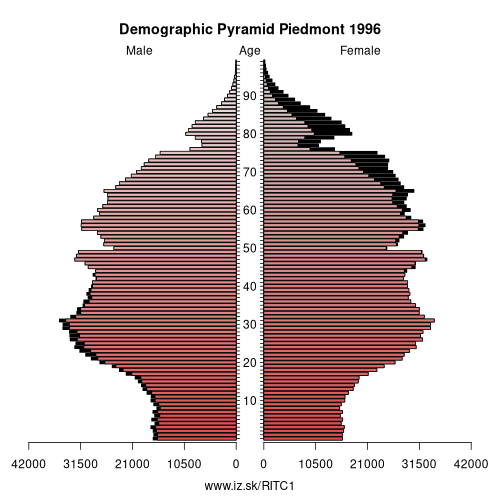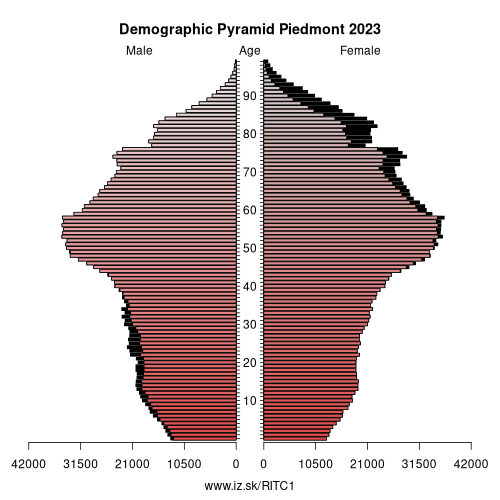 Employment by sectors, Piedmont
NACE r2
%
NACE r2
%
A
63
4 %
B-E
432.9
24 %
F
119.9
7 %
G-I
391.5
22 %
J
63.3
4 %
K
55.7
3 %
L
15.7
1 %
M_N
192.1
11 %
O-Q
326.1
18 %
R-U
125
7 %
TOTAL
1785.3
100 %
Data for the period year 2022. Source of the data is Eurostat, table [lfst_r_lfe2en2].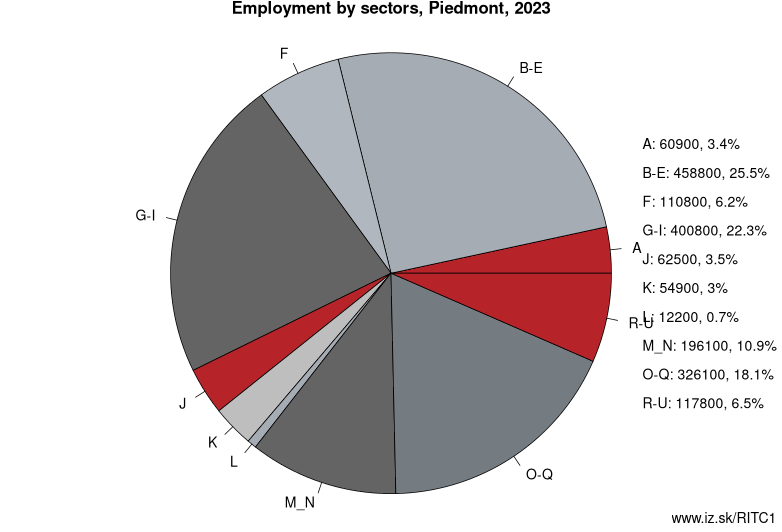 Piedmont

(

PEED

-mont

; Italian:

Piemonte

, pronounced 

[pjeˈmonte]

; Piedmontese, Occitan and Arpitan:

Piemont

, Piedmontese pronunciation: 

[pjeˈmʊŋt]

) is a region in northwest Italy, one of the 20 regions of the country. It borders the Liguria region to the south, the Lombardy and Emilia-Romagna regions to the east and the Aosta Valley region to the northwest; it also borders Switzerland to the northeast and France to the west. It has an area of 25,402 square kilometres (9,808 sq mi) and a population of 4,377,941 as of 30 November 2017. The capital of Piedmont is Turin.
Toponymy
The name Piedmont comes from medieval Latin Pedemontium or Pedemontis, i.e., ad pedem montium, meaning "at the foot of the mountains" (the Alps) attested in documents of the end of the 12th century.
Major towns and cities
Other towns of Piedmont with more than 20,000 inhabitants sorted by population :
Geography
Piedmont is surrounded on three sides by the Alps, including Monviso, where the Po rises, and Monte Rosa. It borders with France (Auvergne-Rhône-Alpes and Provence-Alpes-Côte d'Azur), Switzerland (Ticino and Valais) and the Italian regions of Lombardy, Liguria, Aosta Valley and for a very small fragment with Emilia Romagna.
The geography of Piedmont is 43.3 % mountainous, along with extensive areas of hills (30.3 %) and plains (26.4 %).
Piedmont is the second largest of Italy's 20 regions, after Sicily. It is broadly coincident with the upper part of the drainage basin of the river Po, which rises from the slopes of Monviso in the west of the region and is Italy's largest river. The Po drains the semicircle formed by the (Alps and Apennines), which surround the region on three sides.
Other: Northwest Italy, Liguria, Lombardy, Aosta Valley, Piedmont
Neighbours: Ticino, Lombardy, Liguria, Lake Geneva region, Emilia-Romagna, Aosta Valley, Provence-Alpes-Côte d'Azur, Rhône-Alpes
Subregions: Province of Turin, Province of Vercelli, Province of Biella, Province of Verbano-Cusio-Ossola, Province of Novara, Province of Cuneo, Province of Asti, Province of Alessandria
Suggested citation: Michal Páleník: EU regions - Piedmont – ITC1, IZ Bratislava, retrieved from: https://www.iz.sk/​en/projects/eu-regions/ITC1
---
https://www.iz.sk/en/projects/eu-regions/ITC1