Umbria – ITI2
EU regions: Italy > Central Italy > Umbria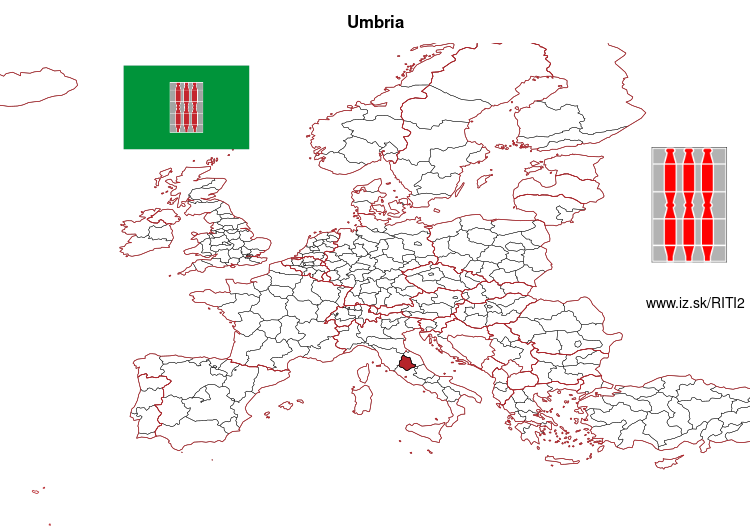 More on wikipedia wikidata Q1280 on OpenStreetMap Umbria slovensky: ITI2
Subregions: province of Perugia, province of Terni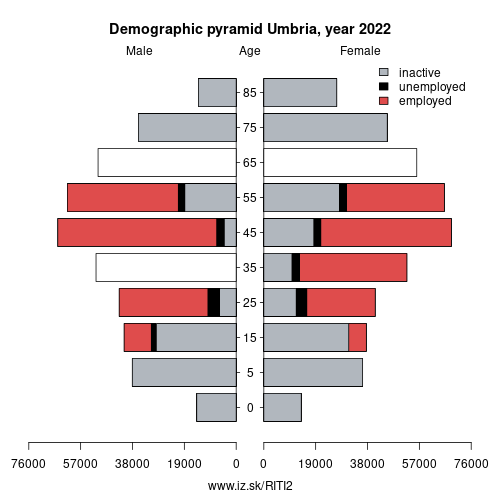 Unemployment
Demographics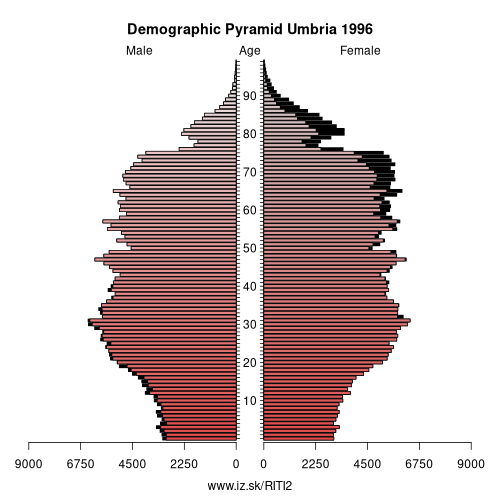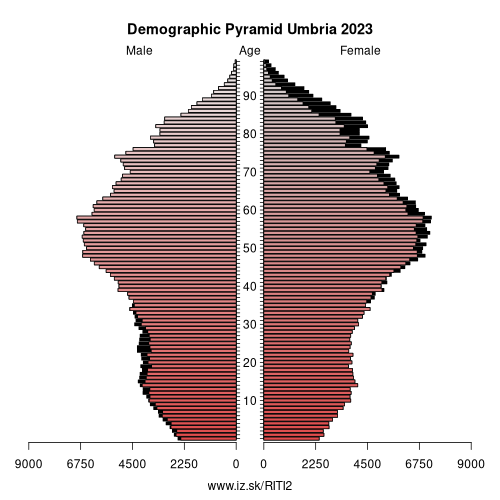 Employment by sectors, Umbria
NACE r2
%
NACE r2
%
A
12.8
4 %
B-E
76.4
22 %
F
22.2
6 %
G-I
91.7
26 %
J
7.4
2 %
K
6.2
2 %
L
1.8
1 %
M_N
34
10 %
O-Q
69.1
20 %
R-U
30.8
9 %
TOTAL
352.3
100 %
Data for the period year 2022. Source of the data is Eurostat, table [lfst_r_lfe2en2].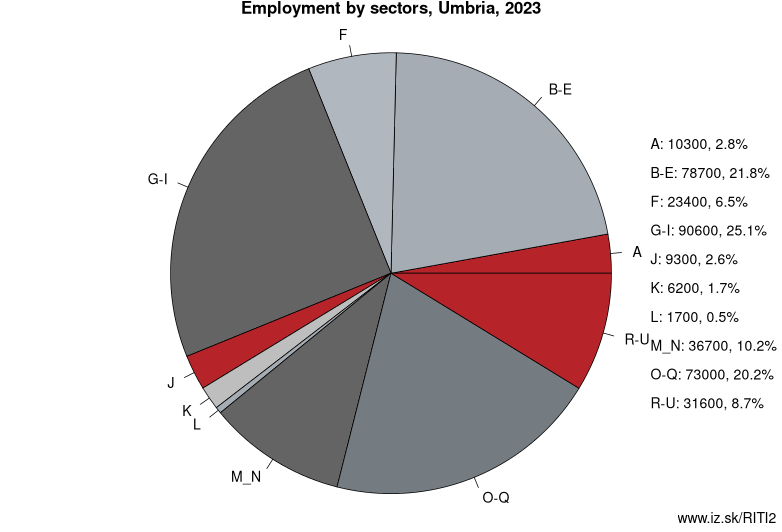 From Wikipedia: Umbria ( UM-bree-ə, Italian: [ˈumbrja]) is a region of central Italy. It includes Lake Trasimeno and Marmore Falls, and is crossed by the River Tiber. The regional capital is Perugia. Umbria is known for its landscapes, traditions, history, culinary delights, artistic legacy, and influence on culture.
The region is characterized by hills, mountains, valleys and historical towns such as the university centre of Perugia, Assisi, a World Heritage Site associated with St. Francis of Assisi, the Basilica of San Francesco and other Franciscan sites, works by Giotto and Cimabue, Terni, the hometown of St. Valentine, Norcia, the hometown of St. Benedict, Città di Castello, main center of the early Renaissance situated in the Tiber High Valley, Gubbio, the hometown of St. Ubaldo, Spoleto, Orvieto, Todi, hometown of the Franciscan mystic Jacopone da Todi, Castiglione del Lago, Narni, Amelia, and other small cities.
Geography
Umbria is bordered by Tuscany to the west and the north, Marche to the east and Lazio to the south.
Other: Central Italy, Umbria, Lazio, Tuscany, Marche
Neighbours: Lazio, Tuscany, Marche
Subregions: province of Perugia, province of Terni
Suggested citation: Michal Páleník: EU regions - Umbria – ITI2, IZ Bratislava, retrieved from: https://www.iz.sk/​en/projects/eu-regions/ITI2
---
https://www.iz.sk/en/projects/eu-regions/ITI2