Akershus – NO012
EU regions: Norway > Norway > Oslo og Akershus > Akershus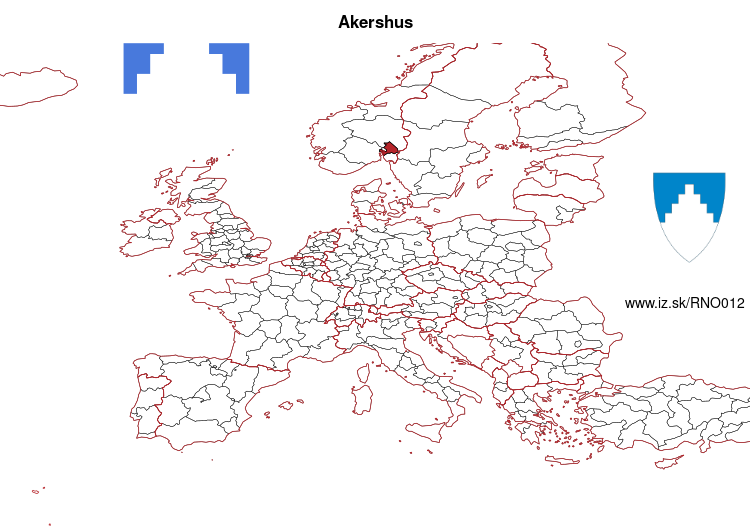 More on wikipedia wikidata Q50615 on OpenStreetMap Akershus slovensky: NO012
Demographics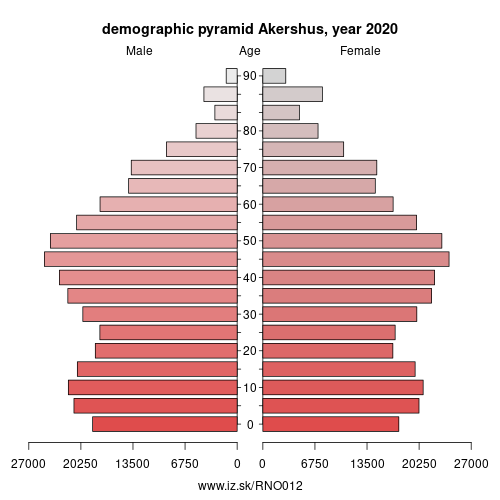 From Wikipedia: Akershus ([²ɑːkəʂˌhʉːs] (listen)) is a county in Norway, bordering Hedmark, Oppland, Buskerud, Oslo, and Østfold; it also has a short border with Sweden (Värmland). Akershus, with a little over 614,000 inhabitants, is the second most populated county by population after Oslo. The county is named after Akershus Fortress. The county administration is in Oslo, which is not part of the county per se.
Geography
The county is conventionally divided into the traditional districts Follo and Romerike, which fill the vast part of the county, as well as the small exclave west of Oslo that consists of Asker and Bærum. This resulted after the transfer of the great municipality of Aker (surrounding Oslo) from Akershus County to Oslo in 1948.
Embracing numerous suburbs of Oslo, notably Bærum, Akershus is one of the most densely populated areas in the country. The main national railway lines into Oslo run through Akershus with many junctions and stations such as Asker, Sandvika, Ski, and Lillestrøm. Akershus includes some of the lake Mjøsa and some of the river Glomma.
The county also includes the historical place Eidsvoll, 48 km north of Oslo, in which the national assembly ratified the Norwegian constitution in 1814.
Other: Oslo og Akershus, Oslo, Akershus
Neighbours: Oslo, Østfold, Buskerud, Värmland County, Oppland, Hedmark
Suggested citation: Michal Páleník: EU regions - Akershus – NO012, IZ Bratislava, retrieved from: https://www.iz.sk/​en/projects/eu-regions/NO012
---
https://www.iz.sk/en/projects/eu-regions/NO012