Oppland – NO022
EU regions: Norway > Norway > Innlandet > Oppland
More on wikipedia wikidata Q50617 Oppland slovensky: NO022
Demographics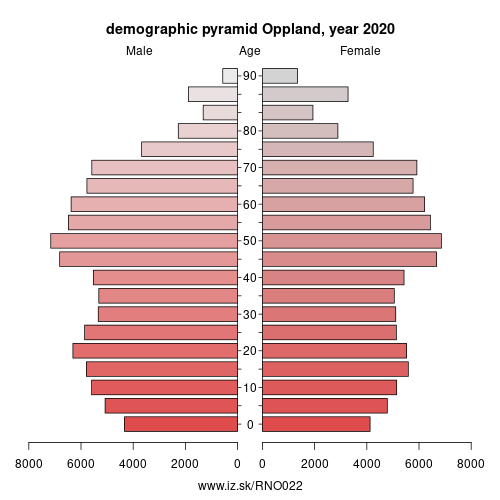 From Wikipedia: Oppland [²ɔplɑn] (listen) is a county in Norway, bordering Trøndelag, Møre og Romsdal, Sogn og Fjordane, Buskerud, Akershus, Oslo and Hedmark. The county administration is in Lillehammer. Oppland is, together with Hedmark, one of the only two landlocked counties of Norway.
Innlandet
is one of several names proposed for a future administrative region consisting of Hedmark and Oppland. The two counties are slated to be re-merged after having been split in 1781 (then called Hedemarkens amt and Kristians amt, respectively). Historically, the region was commonly known as "Opplandene".
Geography
Oppland extends from the lakes Mjøsa and Randsfjorden to the mountains Dovrefjell, Jotunheimen and Rondane. The county is conventionally divided into traditional districts. These are the Gudbrandsdalen, Valdres, Toten, Hadeland and Land.
Oppland includes the towns Lillehammer, Gjøvik, Otta, and Fagernes, and Norway's two highest mountains, Glittertind and Galdhøpiggen, Valdres and the Gudbrand Valley being popular attractions.
Other: Innlandet, Hedmark, Oppland
Neighbours: Hedmark, Oslo, Møre og Romsdal, Sogn og Fjordane, Buskerud, Akershus, Trøndelag
Suggested citation: Michal Páleník: EU regions - Oppland – NO022, IZ Bratislava, retrieved from: https://www.iz.sk/​en/projects/eu-regions/NO022
---
https://www.iz.sk/en/projects/eu-regions/NO022