Norway – NO0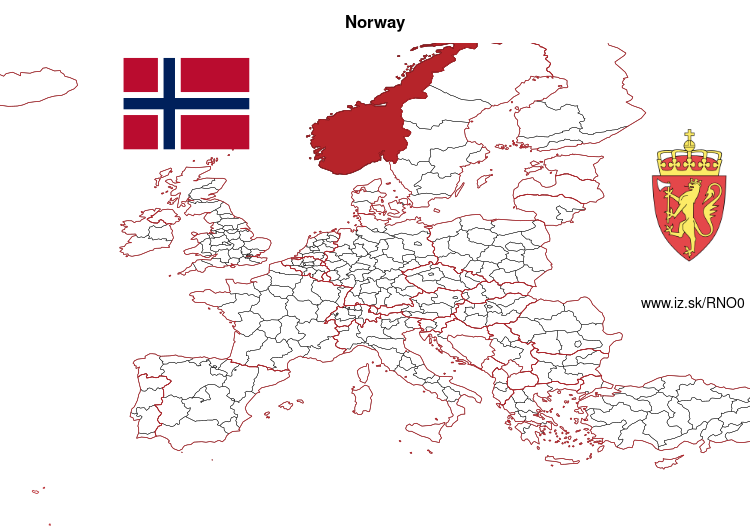 More on wikipedia wikidata Q20 on OpenStreetMap Norway slovensky: NO0
Subregions: Oslo og Akershus, Innlandet, Sør-Østlandet, Agder og Rogaland, Vestlandet, Trøndelag, Nord-Norge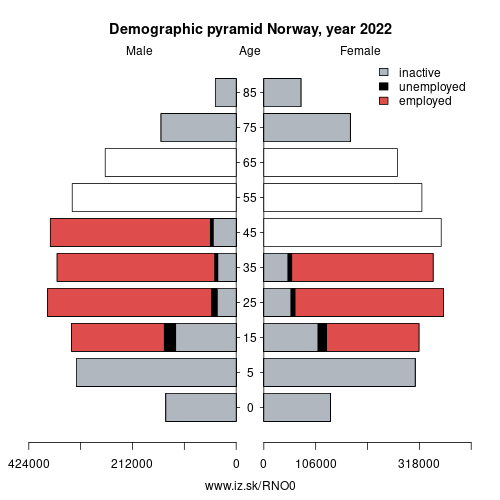 Unemployment
Demographics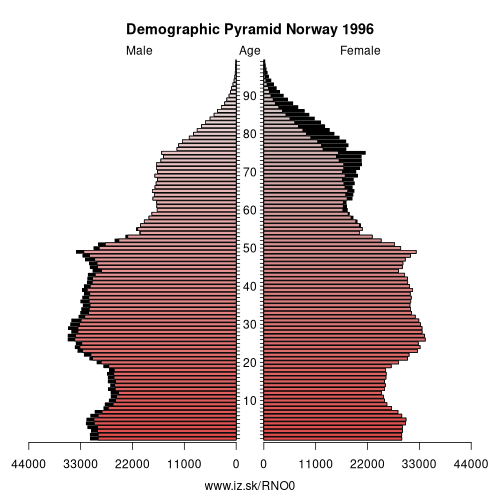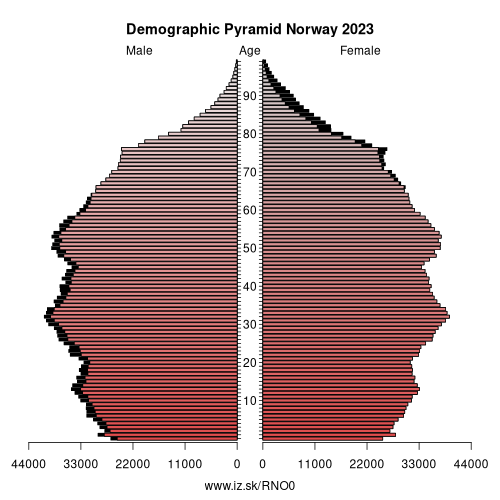 Employment by sectors, Norway
| NACE r2 | | % | NACE r2 | | % |
| --- | --- | --- | --- | --- | --- |
| A | 62.5 | 2 % | B-E | 313.8 | 11 % |
| F | 236.5 | 8 % | G-I | 593.6 | 21 % |
| J | 124 | 4 % | K | 60.4 | 2 % |
| L | 33.3 | 1 % | M_N | 303.4 | 11 % |
| NRP | 12.4 | 0 % | O-Q | 988.3 | 35 % |
| R-U | 131 | 5 % | TOTAL | 2859.2 | 100 % |
Data for the period year 2022. Source of the data is Eurostat, table [lfst_r_lfe2en2].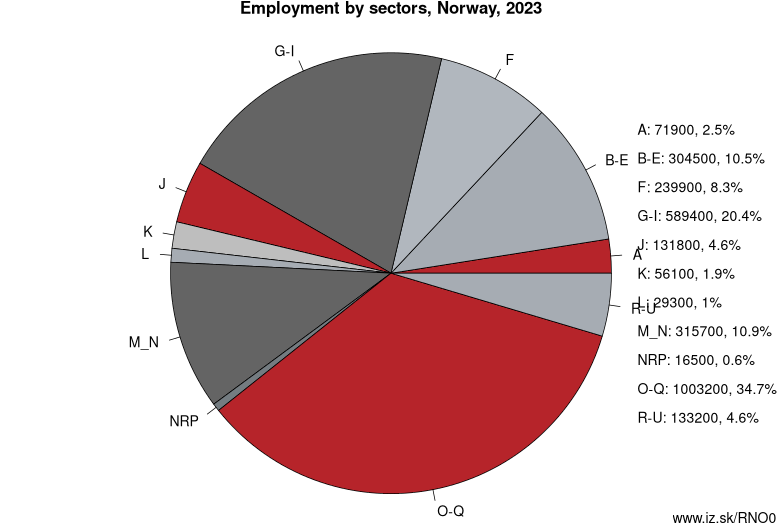 Norway (Norwegian: Norge (Bokmål) or Noreg (Nynorsk); Northern Sami: Norga; Southern Sami: Nöörje; Lule Sami: Vuodna), officially the Kingdom of Norway, is a Nordic country in Northern Europe whose territory comprises the western and northernmost portion of the Scandinavian Peninsula; the remote island of Jan Mayen and the archipelago of Svalbard are also part of the Kingdom of Norway. The Antarctic Peter I Island and the sub-Antarctic Bouvet Island are dependent territories and thus not considered part of the kingdom. Norway also lays claim to a section of Antarctica known as Queen Maud Land.
Norway has a total area of 385,207 square kilometres (148,729 sq mi) and a population of 5,312,300 (as of August 2018). The country shares a long eastern border with Sweden (1,619 km or 1,006 mi long). Norway is bordered by Finland and Russia to the north-east, and the Skagerrak strait to the south, with Denmark on the other side. Norway has an extensive coastline, facing the North Atlantic Ocean and the Barents Sea. The maritime influence also dominates Norway's climate with mild lowland temperatures on the sea coasts, whereas the interior, while colder, also is a lot milder than areas elsewhere in the world on such northerly latitudes. Even during polar night in the north, temperatures above freezing are commonplace on the coastline. The maritime influence brings high rainfall and snowfall to some areas of the country.
Neighbours: Northern Sweden, Mainland Finland, Southern Sweden
Subregions: Oslo og Akershus, Innlandet, Sør-Østlandet, Agder og Rogaland, Vestlandet, Trøndelag, Nord-Norge
Suggested citation: Michal Páleník: EU regions - Norway – NO0, IZ Bratislava, retrieved from: https://www.iz.sk/​en/projects/eu-regions/NO0
---
https://www.iz.sk/en/projects/eu-regions/NO0