Torbay - UKK42
EU regions: United Kingdom > South West England > Devon > Torbay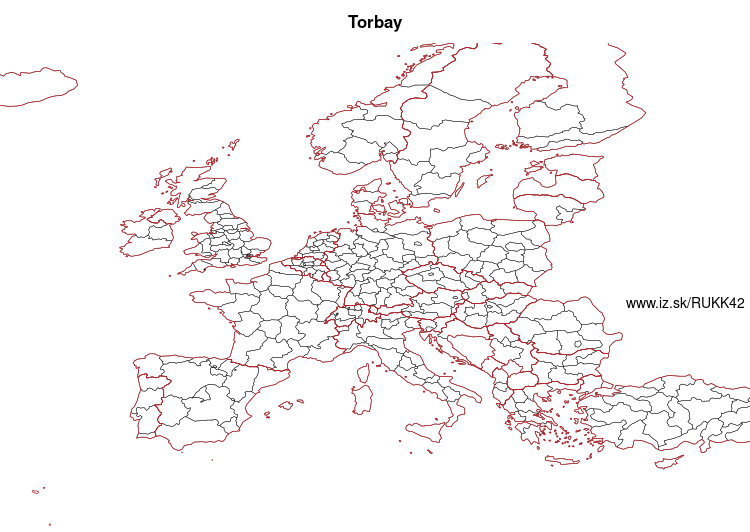 * more on wikidata Q1136118 * on OpenStreetMap * Torbay slovensky: UKK42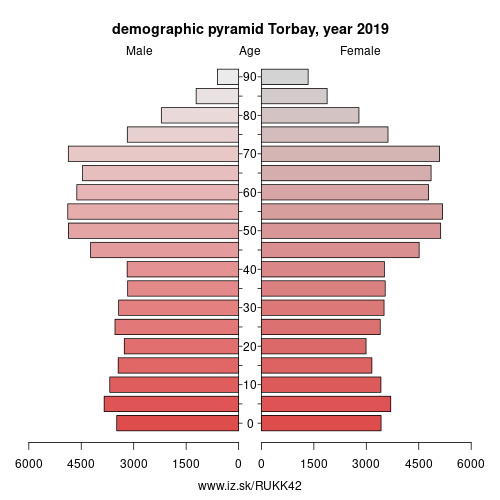 From wikipedia:
Torbay
is a borough in Devon, England, administered by the unitary authority of Torbay Council. It consists of 62.87 square kilometres (24.27 sq mi) of land, spanning the towns of Torquay, Paignton and Brixham, located around an east-facing natural harbour (Tor Bay) on the English Channel. A popular tourist destination with a tight conurbation of resort towns, Torbay's sandy beaches, mild climate and recreational and leisure attractions have given rise to the nickname of the
English Riviera
.
History
Human bones and tools found in Kents Cavern in Torquay show that the Torbay area has been inhabited since Paleolithic times. A maxilla fragment known as Kents Cavern 4 may be the oldest example of a modern human in Europe, dating back to 37,000 –40,000 years ago. Roman soldiers are known to have visited Torquay during the period when Britain was a part of the Roman Empire, leaving offerings at a curious rock formation in Kent's Cavern, known as "The Face".
Both Brixham and Paignton appear in the Domesday Book of 1086 and Paignton was given the status of a borough having a market and fair in 1294. The first major building in Torquay was Torre Abbey, a Premonstratensian monastery founded in 1196.
William Prince of Orange (afterwards King William III) landed in Brixham on 5 November 1688, during the Glorious Revolution, and issued his famous declaration "The Liberties of England and The Protestant Religion I Will Maintain".
Torquay's economy was, like Brixham's, initially based on fishing and agriculture, but in the early 19th century it began to develop into a fashionable seaside resort, initially frequented by members of the Royal Navy during the Napoleonic Wars while the Royal Navy anchored in Tor Bay and later, as the town's fame spread, by Victorian society.
The historic part of Paignton is inland: the low-lying coastal fringe was originally salt marsh.
other: Devon, Plymouth, Torbay, Devon
neighbours: Devon
---
https://www.iz.sk/en/projects/eu-regions/UKK42
Current statistics
August 2020: number of unemployed at the labour offices: 229517, of which 70084 are long term unemployed, unemployment rate 8.4 % (2.6 % long term unemployment)
Highest unemployment: Rimavská Sobota 22.3 % (12.0 %), Revúca 21.4 % (10.8 %), Kežmarok 18.8 % (9.1 %)
Lowest unemployment:: Bratislava V 3.8 %, Bratislava I 4.2 %, Hlohovec 4.5 %, Trenčín 4.6 %, Bratislava IV 4.8 %