Devon - UKK43
EU regions: United Kingdom > South West England > Devon > Devon
more on wikipedia * more on wikidata Q23156 * Devon slovensky: UKK43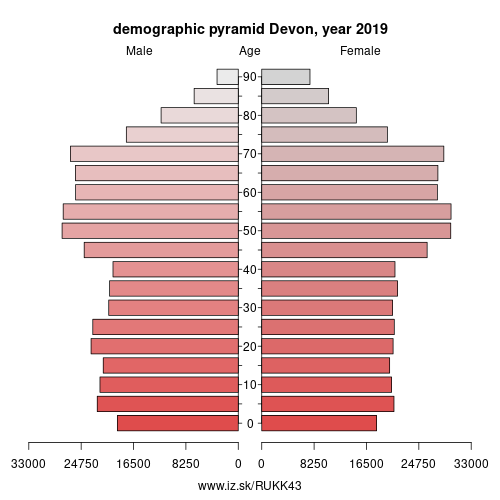 From wikipedia:
Devon
(), also known as
Devonshire
, is a county of England, reaching from the Bristol Channel in the north to the English Channel in the south. It is part of South West England, bounded by Cornwall to the west, Somerset to the north east, and Dorset to the east. The city of Exeter is the county town. The county includes the districts of East Devon, Mid Devon, North Devon, South Hams, Teignbridge, Torridge, and West Devon. Plymouth and Torbay are each geographically part of Devon, but are administered as unitary authorities. Combined as a ceremonial county, Devon's area is 6,707 km
2
(2,590 square miles) and its population is about 1.1 million.
Devon derives its name from Dumnonia. During the British Iron Age, Roman Britain, and the early Middle Ages, this was the homeland of the Dumnonii Brittonic Celts. (The shift from "M" to "V" is a typical Celtic consonant shift.) The Anglo-Saxon settlement of Britain resulted in the partial assimilation of Dumnonia into the Kingdom of Wessex during the eighth and ninth centuries. The western boundary with Cornwall was set at the River Tamar by King Æthelstan in 936.
other: Devon, Devon, Plymouth, Torbay
neighbours: Somerset, Plymouth, Torbay, Cornwall and Isles of Scilly, Dorset
Suggested citation: Michal Páleník: EU regions - Devon - UKK43, IZ Bratislava, retrieved from: https://www.iz.sk/en/projects/eu-regions/UKK43
---
https://www.iz.sk/en/projects/eu-regions/UKK43