Transdanubia – HU2
EU regions: Hungary > Transdanubia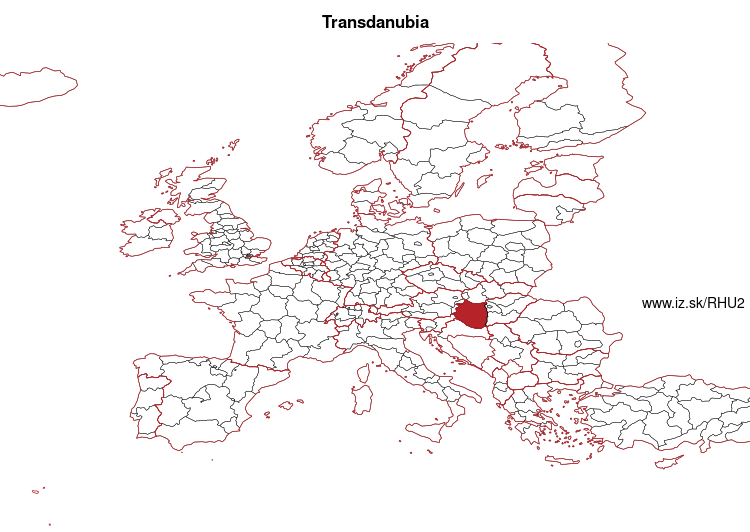 More on wikipedia wikidata Q840562 on OpenStreetMap Transdanubia slovensky: HU2
Subregions: Central Transdanubia, Western Transdanubia, Southern Transdanubia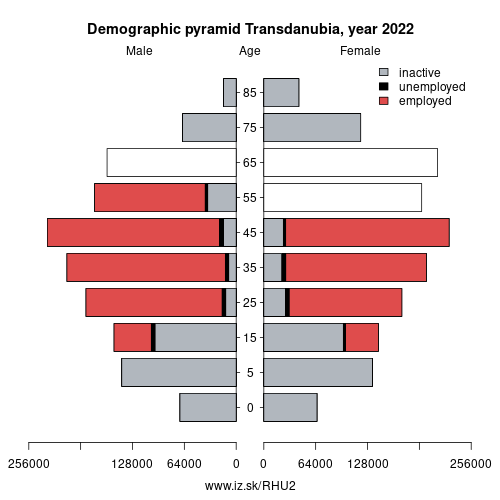 Unemployment
Comparisson of unemployment according to ILO methodology and registered unemployment yeilds some differences.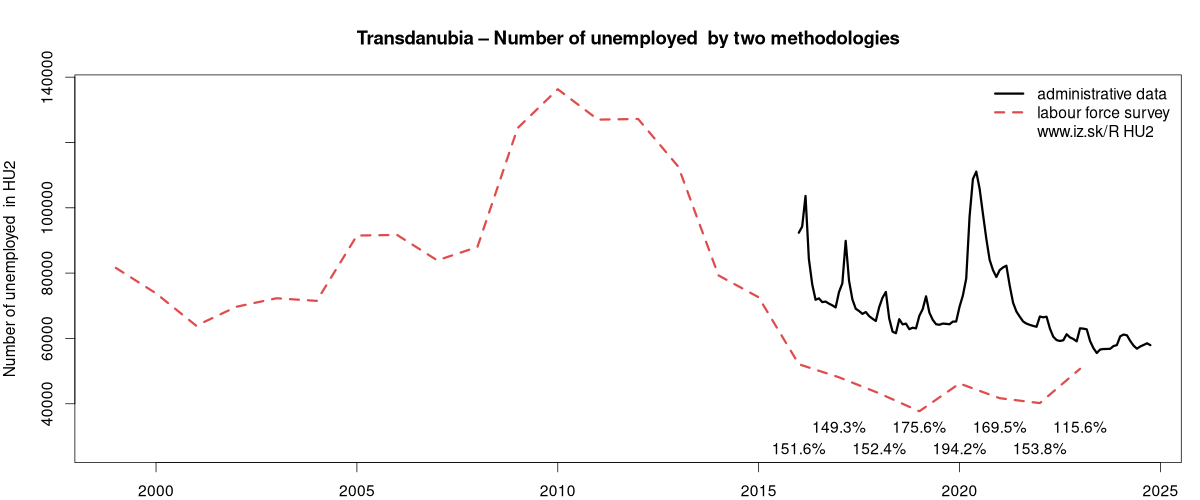 Data on unemployment in counties of Transdanubia are available at Local Administrative Units data of Visegrad countries.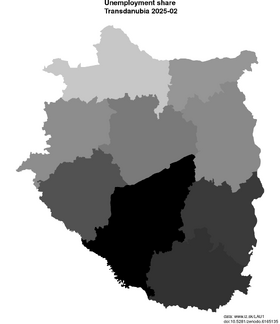 Demographics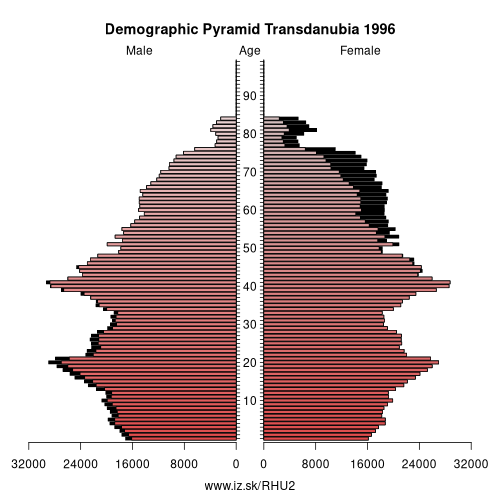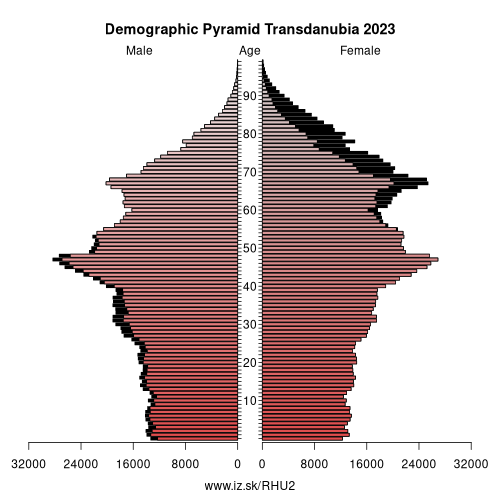 Employment by sectors, Transdanubia
NACE r2
%
NACE r2
%
A
68.1
5 %
B-E
426.6
30 %
F
130.5
9 %
G-I
322.1
23 %
J
21
1 %
K
18.1
1 %
L
8
1 %
M_N
71
5 %
O-Q
307.2
22 %
R-U
51.4
4 %
TOTAL
1424.1
100 %
Data for the period year 2022. Source of the data is Eurostat, table [lfst_r_lfe2en2].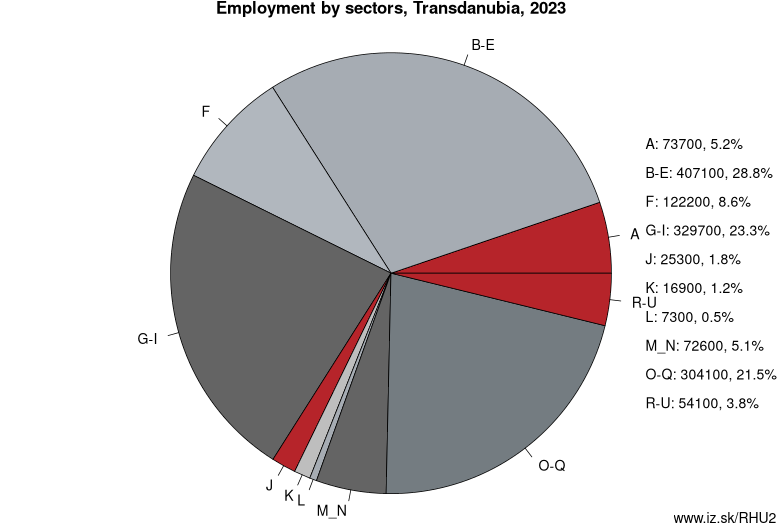 From Wikipedia: Transdanubia (Hungarian: Dunántúl; German: Transdanubien, Polish: Transdanubia; Croatian: Prekodunavlje or Zadunavlje, Slovak: Zadunajsko, Czech: Zadunají) is a traditional region of Hungary. It is also referred to as Hungarian Pannonia, or Pannonian Hungary.
Administrative divisions
Traditional interpretation
The borders of Transdanubia are the Danube River (north and east), the Drava and Mura rivers (south), and the foothills of the Alps roughly along the border between Hungary and Austria (west).
Transdanubia comprises the counties of Győr-Moson-Sopron, Komárom-Esztergom, Fejér, Veszprém, Vas, Zala, Somogy, Tolna, Baranya and the part of Pest that lies west of the Danube. (In the early Middle Ages the latter was known as Pilis county.)
This article deals with Transdanubia in this geographical meaning.
Territorial changes
While the northern, eastern and southern borders of the region are clearly marked by the Danube and Drava rivers, the western border was always identical with the political boundary of Hungary, therefore it was affected by the territorial changes of the 20th century. Before the Treaty of Trianon in 1920 the present-day regions of Burgenland, Prekmurje and Međimurje were integral parts of Transdanubia. The three villages of Rusovce, Jarovce and Čunovo also belonged to Transdanubia before the Paris Peace Treaty in 1947. Transdanubia is essentially a Hungarian geographical concept so these areas ceased to be parts of it when they were annexed by neighbouring countries.
EU regions
Transdanubia is a NUTS territorial unit in the European Union, consisting of Central Transdanubia, Western Transdanubia and Southern Transdanubia (see NUTS:HU). Pest county and Budapest belong to the region of Central Hungary.
Other: Hungary, Transdanubia, Central Hungary, Great Plain and North
Neighbours: HRVATSKA, Slovenia, Ostösterreich, Central Hungary, Slovakia, Great Plain and North
Subregions: Central Transdanubia, Western Transdanubia, Southern Transdanubia
Suggested citation: Michal Páleník: EU regions - Transdanubia – HU2, IZ Bratislava, retrieved from: https://www.iz.sk/​en/projects/eu-regions/HU2
---
https://www.iz.sk/en/projects/eu-regions/HU2

Statistical data on LAU1 regions of Slovakia, Czechia, Poland, Hungary. This LAU1 dataset contains data on population, age structure of inhabitants, on number and structure of unemployed and is regularly updated.. . .