Regensburg – DE232
EU regions: Germany > Bavaria > Upper Palatinate > Regensburg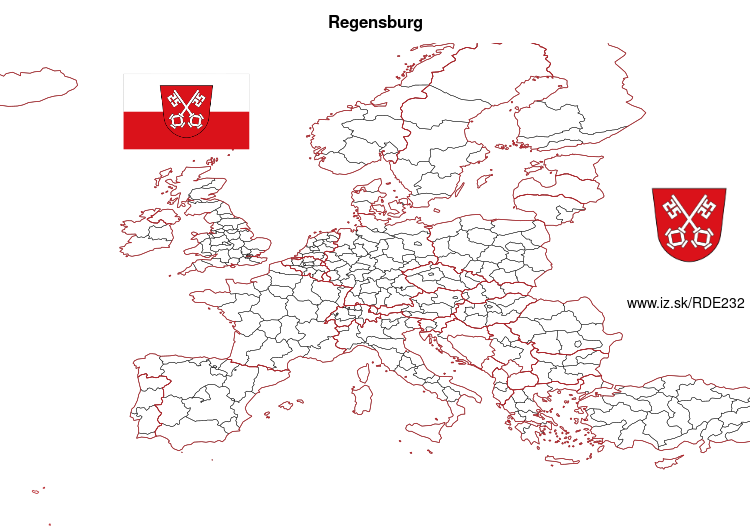 More on wikipedia wikidata Q2978 on OpenStreetMap Regensburg slovensky: DE232
Demographics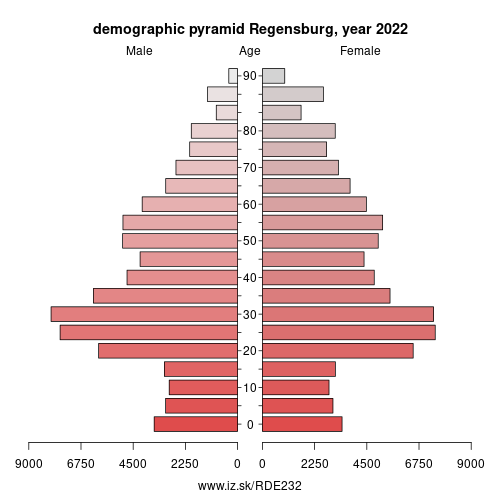 From Wikipedia: Regensburg (US: , German: [ˈʁeːɡn̩sbʊɐ̯k] (listen); older English: Ratisbon; Austro-Bavarian: Rengschburg or Rengschburch) is a city in south-east Germany, at the confluence of the Danube, Naab and Regen rivers. With more than 150,000 inhabitants, Regensburg is the fourth-largest city in the State of Bavaria after Munich, Nuremberg and Augsburg. The city is the political, economic and cultural centre and capital of the Upper Palatinate.
The medieval centre of the city is a UNESCO World Heritage Site. In 2014, Regensburg was among the top sights and travel attractions in Germany.
History
Early history
The first settlements in Regensburg date from the Stone Age. The Celtic name Radasbona was the oldest given to a settlement near the present city. Around AD 90, the Romans built a fort there.
In 179, a new Roman fort Castra Regina ("fortress by the river Regen") was built for Legio III Italica during the reign of Emperor Marcus Aurelius. It was an important camp at the most northerly point of the Danube; it corresponds to what is today the core of Regensburg's Old City or Altstadt east of the Obere and Untere Bachgasse and west of the Schwanenplatz. It is believed that as early as in late Roman times the city was the seat of a bishop, and St Boniface re-established the Bishopric of Regensburg in 739.
Other: Upper Palatinate, Cham, Neustadt an der Waldnaab, Regensburg, Weiden in der Oberpfalz, Amberg, Schwandorf, Tirschenreuth, Regensburg, Amberg-Sulzbach, Neumarkt
Neighbours: Regensburg
Suggested citation: Michal Páleník: EU regions - Regensburg – DE232, IZ Bratislava, retrieved from: https://www.iz.sk/​en/projects/eu-regions/DE232
---
https://www.iz.sk/en/projects/eu-regions/DE232