Bremerhaven – DE502
EU regions: Germany > Bremen > Bremen > Bremerhaven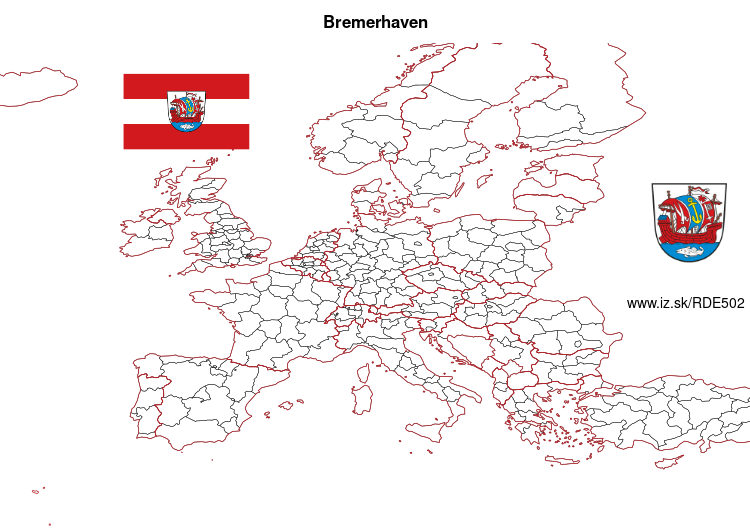 More on wikipedia wikidata Q2706 on OpenStreetMap Bremerhaven slovensky: DE502
Demographics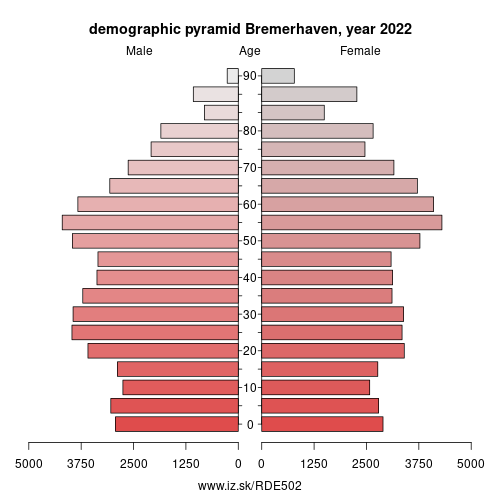 From Wikipedia: Bremerhaven (German pronunciation: [ˌbʁeːmɐˈhaːfn̩] (listen), literally "Bremen's harbour", Low German: Bremerhoben) is a city at the seaport of the Free Hanseatic City of Bremen, a state of the Federal Republic of Germany.
It forms an enclave in the state of Lower Saxony and is located at the mouth of the River Weser on its eastern bank, opposite the town of Nordenham. Though a relatively new city, it has a long history as a trade port and today is one of the most important German ports, playing a role in Germany's trade.
History
The town was founded
in 1827, but neighboring settlements such as Lehe were in the vicinity as early as the 12th century, and Geestendorf was "mentioned in documents of the ninth century". These tiny villages were built on small islands in the swampy estuary. In 1381, the city of Bremen established
de facto
rule over the lower Weser stream, including Lehe, later therefore called Bremerlehe. Early in 1653, Swedish Bremen-Verden's troops captured Bremerlehe by force.
The Emperor Ferdinand III ordered his vassal Christina of Sweden, then Duchess regnant of Bremen-Verden, to restitute Bremerlehe to Bremen. However, Swedish Bremen-Verden soon enacted the First Bremian War (March to July 1654) and in the following peace treaty (First Stade Recess; November 1654) Bremen had to cede Bremerlehe and its surroundings to Swedish Bremen-Verden. The latter developed plans to found a fortified town on the site, and much later this location became the present-day city of Bremerhaven.
Other: Bremen, Bremen, Bremerhaven
Neighbours: Cuxhaven, Wesermarsch
Suggested citation: Michal Páleník: EU regions - Bremerhaven – DE502, IZ Bratislava, retrieved from: https://www.iz.sk/​en/projects/eu-regions/DE502
---
https://www.iz.sk/en/projects/eu-regions/DE502