Bremen – DE501
EU regions: Germany > Bremen > Bremen > Bremen
More on wikipedia wikidata Q24879 on OpenStreetMap Bremen slovensky: DE501
Demographics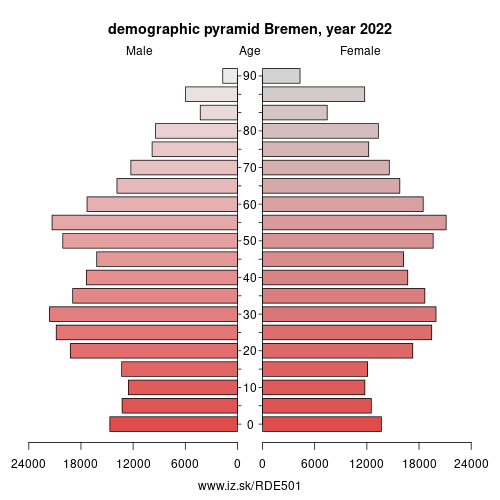 From Wikipedia: The City Municipality of Bremen (, also US: ; German: Stadtgemeinde Bremen, IPA: [ˈʃtatɡəˌmaɪndə ˈbʁeːmən] (listen); Low German also: Breem or Bräm) is the capital of the German federal state Free Hanseatic City of Bremen (also called just "Bremen" for short), a two-city-state consisting of the cities of Bremen and Bremerhaven. With around 570,000 inhabitants, the Hanseatic city is the 11th largest city of Germany as well as the second largest city of Northern Germany after Hamburg.
Bremen is the largest city on the River Weser, the longest river flowing entirely in Germany, lying some 60 km (37 mi) upstream from its mouth into the North Sea, and is surrounded by the state of Lower Saxony. A commercial and industrial city, Bremen is, together with Oldenburg and Bremerhaven, part of the Bremen/Oldenburg Metropolitan Region, with 2.5 million people. Bremen is contiguous with the Lower Saxon towns of Delmenhorst, Stuhr, Achim, Weyhe, Schwanewede and Lilienthal. There is an exclave of Bremen in Bremerhaven, the "Citybremian Overseas Port Area Bremerhaven" (Stadtbremisches Überseehafengebiet Bremerhaven). Bremen is the fourth largest city in the Low German dialect area after Hamburg, Dortmund and Essen.
Bremen's port, together with the port of Bremerhaven at the mouth of the Weser, is the second largest port in Germany after the Port of Hamburg. The airport of Bremen (Flughafen Bremen "Hans Koschnick") lies in the southern borough of Neustadt-Neuenland and is Germany's 12th busiest airport.
Bremen is a major cultural and economic hub of Northern Germany.
Other: Bremen, Bremen, Bremerhaven
Neighbours: Diepholz, Delmenhorst, Osterholz, Verden, Wesermarsch
Suggested citation: Michal Páleník: EU regions - Bremen – DE501, IZ Bratislava, retrieved from: https://www.iz.sk/​en/projects/eu-regions/DE501
---
https://www.iz.sk/en/projects/eu-regions/DE501