Delmenhorst – DE941
EU regions: Germany > Lower Saxony > Weser-Ems Government Region > Delmenhorst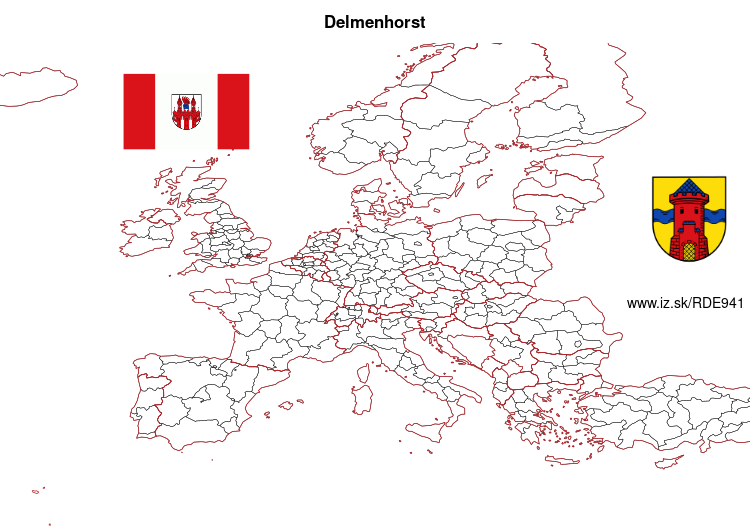 More on wikipedia wikidata Q3907 on OpenStreetMap Delmenhorst slovensky: DE941
Demographics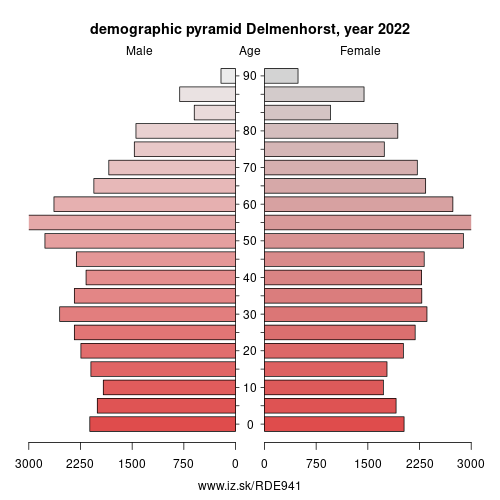 From Wikipedia: Delmenhorst (German pronunciation: [dɛlmənˈhɔʁst]) is an urban district (Kreisfreie Stadt) in Lower Saxony, Germany. It has a population of 74,500 and is located 10 kilometres (6 miles) west of downtown Bremen with which it forms a contiguous urban area, whereas the city of Oldenburg is 25 kilometres (16 miles) to the northwest. The city has a total area of 62.36 square kilometres (24.08 square miles); and a population density of approx. 1200 inhabitants per km².
Since 2014 the mayor has been Axel Jahnz (SPD).
History
Delmenhorst was first mentioned in a charter in 1254, after the Count of Oldenburg, Otto I, bought the place near the river Delme in 1234. A castle to protect the newly founded settlement was established in about 1247. The following count, Otto II, made the castle his residency; Delmenhorst was declared an independent town on 15 July 1371 under Bremen's law.
After a short period under the governance of the bishop of Bremen from 1421 to 1436 Delmenhorst returned under the custody of Oldenburg. Delmenhorst later was infamous for its robber-baronship under the count Gerd.
Other: Weser-Ems Government Region, Ammerland, Aurich, Emsland, Friesland, Oldenburg, Wesermarsch, Osnabrück, Cloppenburg, Delmenhorst, Wilhelmshaven, Leer, Wittmund, Emden, Oldenburg, Vechta, Osnabrück, County of Bentheim
Neighbours: Diepholz, Oldenburg, Bremen, Wesermarsch
Suggested citation: Michal Páleník: EU regions - Delmenhorst – DE941, IZ Bratislava, retrieved from: https://www.iz.sk/​en/projects/eu-regions/DE941
---
https://www.iz.sk/en/projects/eu-regions/DE941