Emsland – DE949
EU regions: Germany > Lower Saxony > Weser-Ems Government Region > Emsland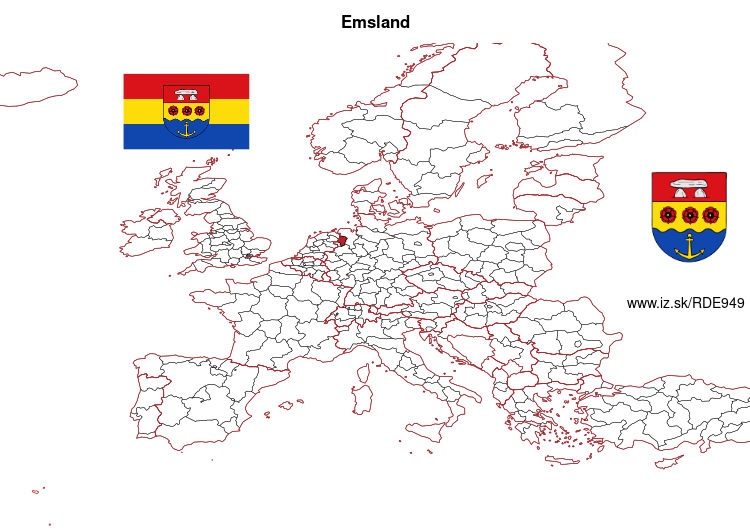 More on wikipedia wikidata Q5936 on OpenStreetMap Emsland slovensky: DE949
Demographics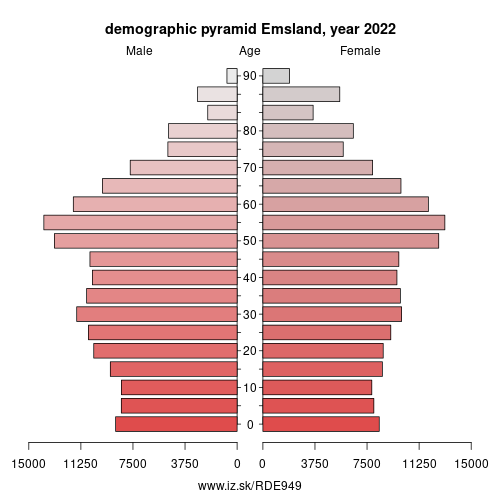 Landkreis Emsland is a district in Lower Saxony, Germany named after the river Ems. It is bounded by (from the north and clockwise) the districts of Leer, Cloppenburg and Osnabrück, the state of North Rhine-Westphalia (district of Steinfurt), the district of Bentheim in Lower Saxony, and the Netherlands (provinces of Drenthe and Groningen).
History
For a long time the region of the Emsland was extremely sparsely populated, due to the fens on both sides of the river. Small villages were established in medieval times along the river and on the Hümmling. In the 13th century the bishops of Münster gained control over the region; the Emsland remained property of the bishop until 1803, when the clerical states were dissolved. It came under rule of Prussia and Arenberg, but after the Napoleonic Wars the Congress of Vienna decided to hand the territory over to the Kingdom of Hanover. The Duchy of Arenberg continued to exist as a fief of the Hanoverian kings. When Hanover was annexed by Prussia (1866), the dukes were deposed soon after (1875).
The now Prussian Province of Hanover was subdivided into districts in 1885; four districts were established on the territory of what is now the Landkreis Emsland. The districts were merged in 1977 to form the present district.
Other: Weser-Ems Government Region, Ammerland, Aurich, Cloppenburg, Emsland, County of Bentheim, Oldenburg, Wilhelmshaven, Osnabrück, Vechta, Wesermarsch, Wittmund, Delmenhorst, Friesland, Osnabrück, Oldenburg, Emden, Leer
Neighbours: Osnabrück, Leer, County of Bentheim, Oost-Groningen, Steinfurt, Zuidoost-Drenthe, Cloppenburg
Suggested citation: Michal Páleník: EU regions - Emsland – DE949, IZ Bratislava, retrieved from: https://www.iz.sk/​en/projects/eu-regions/DE949
---
https://www.iz.sk/en/projects/eu-regions/DE949