Oldenburg – DE943
EU regions: Germany > Lower Saxony > Weser-Ems Government Region > Oldenburg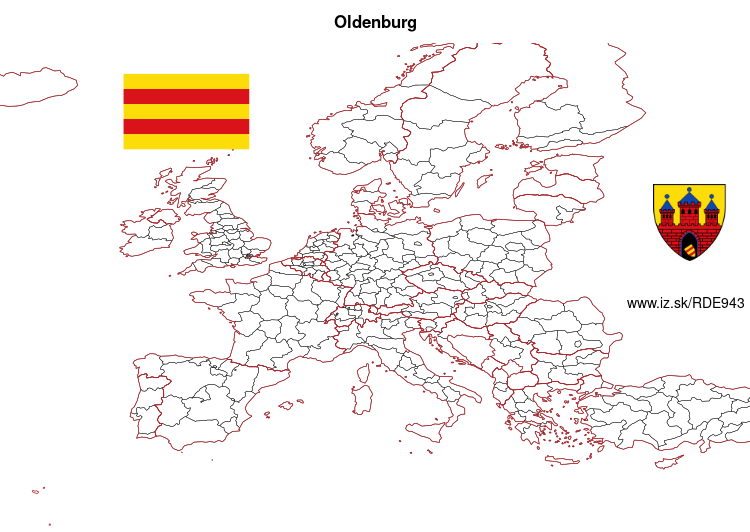 More on wikipedia wikidata Q2936 on OpenStreetMap Oldenburg slovensky: DE943
Demographics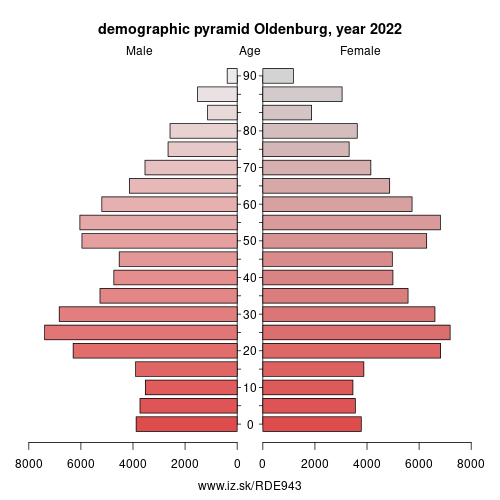 From Wikipedia: Oldenburg (German pronunciation: [ˈɔldn̩bʊʁk] (listen)) is an independent city in the district of Oldenburg in the state of Lower Saxony, Germany. The city is officially named Oldenburg (Oldb) (Oldenburg in Oldenburg) to distinguish from Oldenburg in Holstein.
During the French annexation (1811–1813) in the wake of the Napoleonic war against Britain, it was also known as Le Vieux-Bourg in French. The city is situated at the Rivers Hunte and Haaren, in the northwestern region between the cities of Bremen in the east and Groningen (Netherlands) in the west. It has a population of 167,633 (November 2016). Oldenburg is part of the Bremen/Oldenburg Metropolitan Region, with 2.37 million people.
The city is the place of origin of the House of Oldenburg. Before the end of the German Empire (1918), it was the administrative centre and residence of the monarchs of Oldenburg.
History
Archaeological finds point to a settlement dating back to the 8th century. The first documentary evidence, in 1108, referenced Aldenburg in connection with Elimar I (also known as Egilmar I) who is now commonly seen as the first count of Oldenburg.
Other: Weser-Ems Government Region, Aurich, Cloppenburg, Emsland, County of Bentheim, Osnabrück, Vechta, Wesermarsch, Wittmund, Wilhelmshaven, Delmenhorst, Emden, Friesland, Oldenburg, Osnabrück, Oldenburg, Ammerland, Leer
Neighbours: Wesermarsch, Oldenburg, Ammerland
Suggested citation: Michal Páleník: EU regions - Oldenburg – DE943, IZ Bratislava, retrieved from: https://www.iz.sk/​en/projects/eu-regions/DE943
---
https://www.iz.sk/en/projects/eu-regions/DE943