Wilhelmshaven – DE945
EU regions: Germany > Lower Saxony > Weser-Ems Government Region > Wilhelmshaven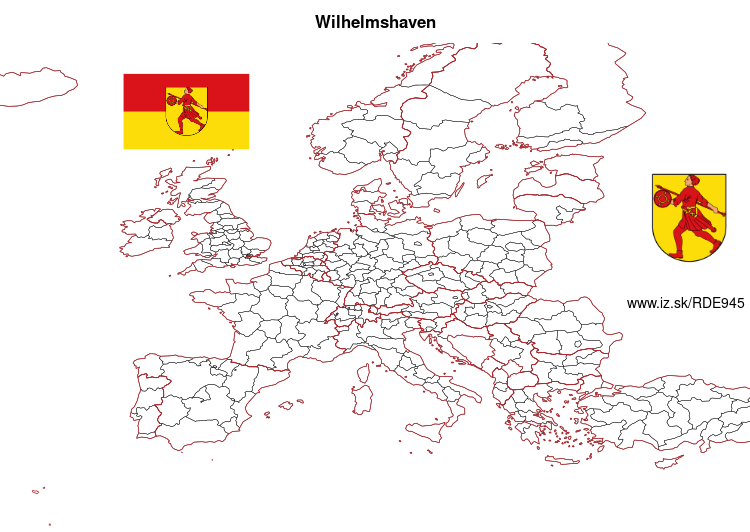 More on wikipedia wikidata Q3857 on OpenStreetMap Wilhelmshaven slovensky: DE945
Demographics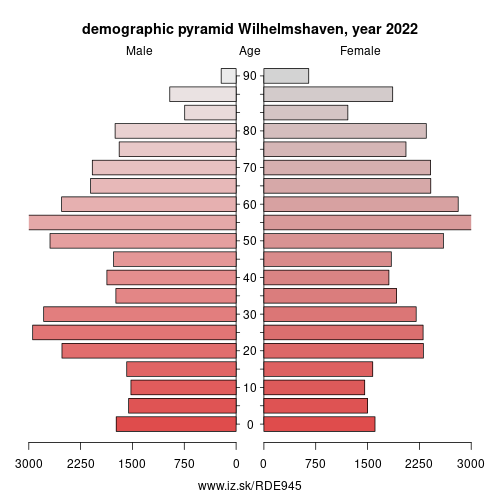 From Wikipedia: Wilhelmshaven (German: [vɪlhɛlmsˈhaːfn̩], lit. William's Harbour) is a coastal town in Lower Saxony, Germany. It is situated on the western side of the Jade Bight, a bay of the North Sea. Wilhelmshaven is the centre of the "JadeBay" business region (which has around 330,000 inhabitants).
The adjacent Lower Saxony Wadden Sea National Park (part of the Wattenmeer UNESCO World Natural Heritage Site) provides the basis for the major tourism industry in the region.
History
The Siebethsburg castle, built before 1383, operated as a pirate stronghold; the Hanseatic League destroyed it in 1433. Four centuries later, the Kingdom of Prussia planned a fleet and a harbour on the North Sea. In 1853, Prince Adalbert of Prussia, a cousin of the Prussian King Frederick William IV, arranged the Jade Treaty (Jade-Vertrag) with the Grand Duchy of Oldenburg, in which Prussia and the Grand Duchy entered into a contract whereby Oldenburg ceded 3.13 square kilometres (1.21 square miles) of its territory at the Jade Bight to Prussia. In 1869 King William I of Prussia (later also German Emperor) founded the town as an exclave of the Province of Hanover and a naval base for Prussia's developing fleet. All the hinterland of the city remained as part of the Duchy of Oldenburg.
A shipbuilding yard developed at Wilhelmshaven, the Kaiserliche Werft Wilhelmshaven (Wilhelmshaven Imperial Shipyard).
Other: Weser-Ems Government Region, Ammerland, Aurich, Cloppenburg, Emsland, County of Bentheim, Oldenburg, Wilhelmshaven, Osnabrück, Vechta, Wesermarsch, Wittmund, Delmenhorst, Friesland, Osnabrück, Oldenburg, Emden, Leer
Neighbours: Friesland
Suggested citation: Michal Páleník: EU regions - Wilhelmshaven – DE945, IZ Bratislava, retrieved from: https://www.iz.sk/​en/projects/eu-regions/DE945
---
https://www.iz.sk/en/projects/eu-regions/DE945