Hamburg – DE600
EU regions: Germany > Hamburg > Hamburg > Hamburg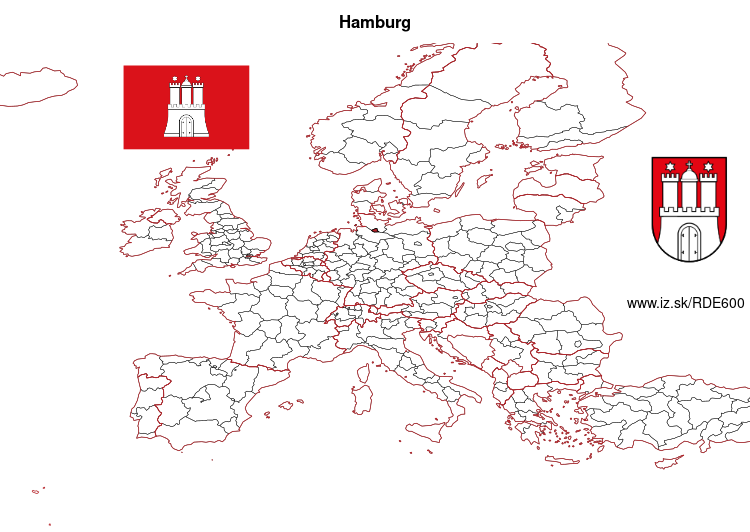 More on wikipedia wikidata Q1055 on OpenStreetMap Hamburg slovensky: DE600
Demographics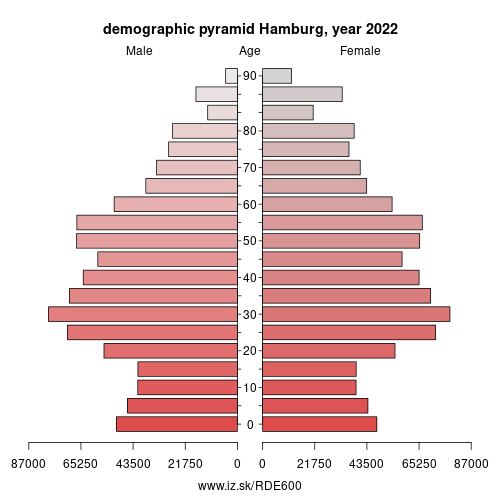 Hamburg
(
English:
, German:
[ˈhambʊʁk]
(

listen

)
; Low Saxon:
Hamborg
), officially the
Free and Hanseatic City of Hamburg
(German:
Freie und Hansestadt Hamburg
; Low Saxon:
Friee un Hansestadt Hamborg
), is the second-largest city in Germany after Berlin and 8th largest city in the European Union with a population of over 1.8 million.
One of Germany's 16 federal states, it is surrounded by Schleswig-Holstein to the north and Lower Saxony to the south. The city's metropolitan region is home to more than five million people. Hamburg lies on the River Elbe and two of its tributaries, the River Alster and the River Bille.
The official name reflects Hamburg's history as a member of the medieval Hanseatic League and a free imperial city of the Holy Roman Empire. Before the 1871 Unification of Germany, it was a fully sovereign city state, and before 1919 formed a civic republic headed constitutionally by a class of hereditary grand burghers or Hanseaten. Beset by disasters such as the Great Fire of Hamburg, North Sea flood of 1962 and military conflicts including World War II bombing raids, the city has managed to recover and emerge wealthier after each catastrophe.
Hamburg is Europe's third-largest port. Major regional broadcaster NDR, the printing and publishing firm Gruner + Jahr and the newspapers Der Spiegel and Die Zeit are based in the city. Hamburg is the seat of Germany's oldest stock exchange and the world's oldest merchant bank, Berenberg Bank.
Neighbours: Segeberg, Stade, Harburg, Stormarn, Pinneberg, Herzogtum Lauenburg
Suggested citation: Michal Páleník: EU regions - Hamburg – DE600, IZ Bratislava, retrieved from: https://www.iz.sk/​en/projects/eu-regions/DE600
---
https://www.iz.sk/en/projects/eu-regions/DE600