Vest-Agder – NO042
EU regions: Norway > Norway > Agder og Rogaland > Vest-Agder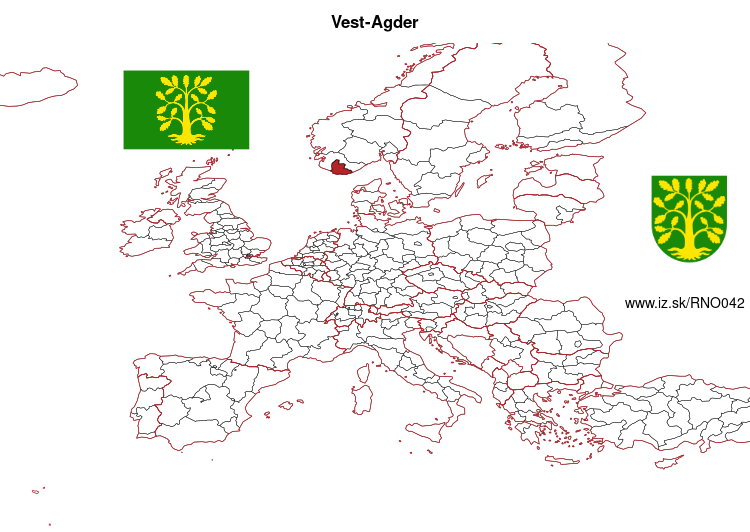 More on wikipedia wikidata Q50623 Vest-Agder slovensky: NO042
Demographics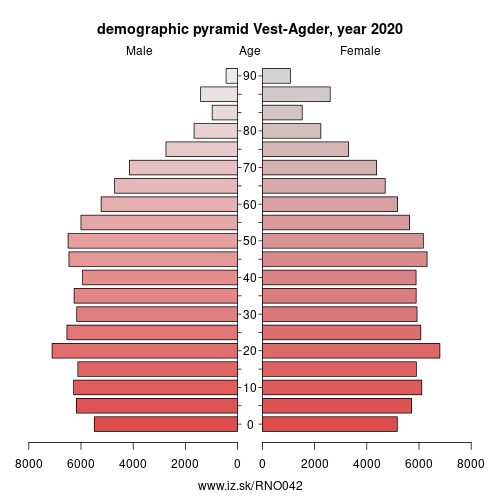 From Wikipedia: Vest-Agder [²vɛstˌɑɡdər] (listen) (West Agder) is a county in Norway, bordering Rogaland to the West and Aust-Agder to the East. In 2016, there were 182,701 inhabitants, which is about 3.5 % of the total population of Norway. Its area is about 7,277 square kilometres (2,810 sq mi). The county administration is located in its largest city, Kristiansand.
Shipping, commerce, and recreation are the main industries here. Compared to other counties of Norway, Vest-Agder is noted for having the highest level of foreign exports. Another international dimension linked to the county is the large-scale emigration to North America that took place from the 1850s and onwards, which resulted in many Americans returning to the county after Norway became prosperous. This feature is particularly pred­ominant in Kvinesdal and Farsund, which maintains strong cultural links with the United States.
General information
Name
The meaning of the name is "(the) western (part of) Agder". See also: Aust-Agder
Lister og Mandal amt
was created on 1 January 1662 and it consisted of the two old lens of
Lister
and Mandal.
Other: Agder og Rogaland, Vest-Agder, Aust-Agder, Rogaland
Neighbours: Aust-Agder, Rogaland
Suggested citation: Michal Páleník: EU regions - Vest-Agder – NO042, IZ Bratislava, retrieved from: https://www.iz.sk/​en/projects/eu-regions/NO042
---
https://www.iz.sk/en/projects/eu-regions/NO042