Nordland – NO071
EU regions: Norway > Norway > Nord-Norge > Nordland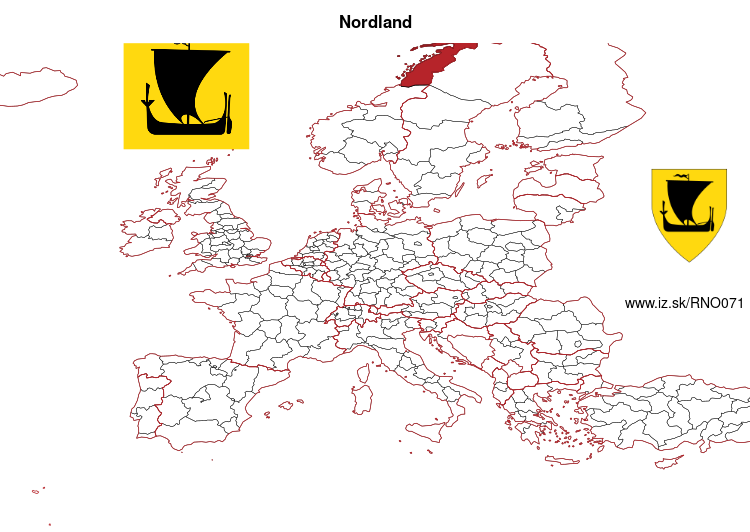 More on wikipedia wikidata Q50630 on OpenStreetMap Nordland slovensky: NO071
Demographics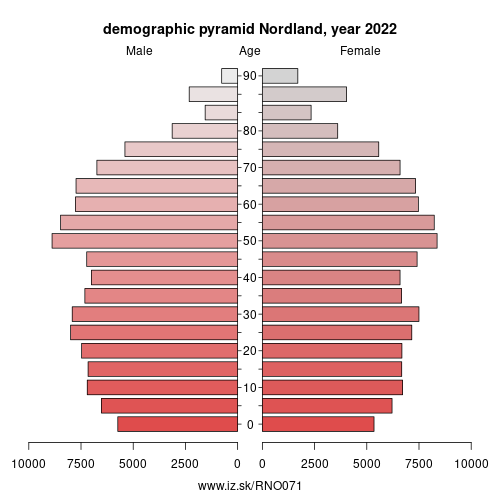 From Wikipedia: Nordland (Norwegian pronunciation: [²nuːrlɑn] (listen); Northern Sami: Nordlánda; English: Northland) is a county in Norway in the Northern Norway region, bordering Troms in the north, Trøndelag in the south, Norrbotten County in Sweden to the east, Västerbotten County to the southeast, and the Atlantic Ocean (Norwegian Sea) to the west. The county was formerly known as Nordlandene amt. The county administration is in Bodø. The remote Arctic island of Jan Mayen has been administered from Nordland since 1995.
In the southern part is Vega, listed on the UNESCO World Heritage site list. The history of Nordland is a tale about the gifts from the sea: One of the most productive seas in the world providing food all year since ancient times, the same sea creates a climate more moderate than any other place in the arctic; even the bedrock itself enriched by sea living organisms millions of years ago in the geological past.
Districts
The county is divided into traditional districts. These are Helgeland in the south (south of the Arctic Circle), Salten in the centre, and Ofoten in the northeast. In the northwest lie the archipelagoes of Lofoten and Vesterålen.
Geography
Nordland is located along the northwestern coast of the Scandinavian peninsula in Northern Norway.
Other: Nord-Norge, Nordland, Troms, Finnmark
Neighbours: Norrbotten County, Troms, Västerbotten County, Jämtland County, Trøndelag
Suggested citation: Michal Páleník: EU regions - Nordland – NO071, IZ Bratislava, retrieved from: https://www.iz.sk/​en/projects/eu-regions/NO071
---
https://www.iz.sk/en/projects/eu-regions/NO071