Troms – NO072
EU regions: Norway > Norway > Nord-Norge > Troms
More on wikipedia wikidata Q50631 Troms slovensky: NO072
Demographics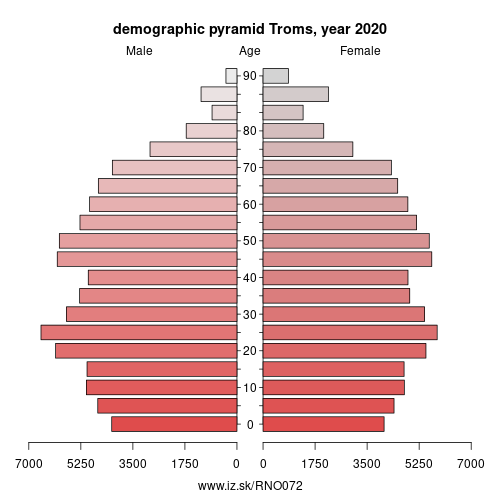 From Wikipedia: Troms (pronounced [trʊms] (listen) or Romsa (Northern Sami) or (unofficially) Tromssa (Kven)) is a county in northern Norway. It borders Finnmark county to the northeast and Nordland county in the southwest. Norrbotten Län in Sweden is located to the south and further southeast is a shorter border with Lapland Province in Finland. To the west is the Norwegian Sea (Atlantic Ocean).
The entire county, which was established in 1866, is located north of the Arctic Circle. The Troms County Municipality is the governing body for the county, elected by the people of Troms, while the Troms county governor is a representative of the King and Government of Norway. The county had a population of 161,771 in 2014.
General information
Name
Until 1919, the county was formerly known as Tromsø amt. On 1 July 2006, the Northern Sami name for the county, Romsa, was granted official status along with Troms.
The county (and the city of Tromsø) is named after the island Tromsøya on which it is located (Old Norse Trums). Several theories exist as to the etymology of Troms.
Other: Nord-Norge, Nordland, Troms, Finnmark
Neighbours: Norrbotten County, Lapland, Finnmark, Nordland
Suggested citation: Michal Páleník: EU regions - Troms – NO072, IZ Bratislava, retrieved from: https://www.iz.sk/​en/projects/eu-regions/NO072
---
https://www.iz.sk/en/projects/eu-regions/NO072