Nottinghamshire – UKF16
EU regions: United Kingdom > East Midlands > Derbyshire and Nottinghamshire > Nottinghamshire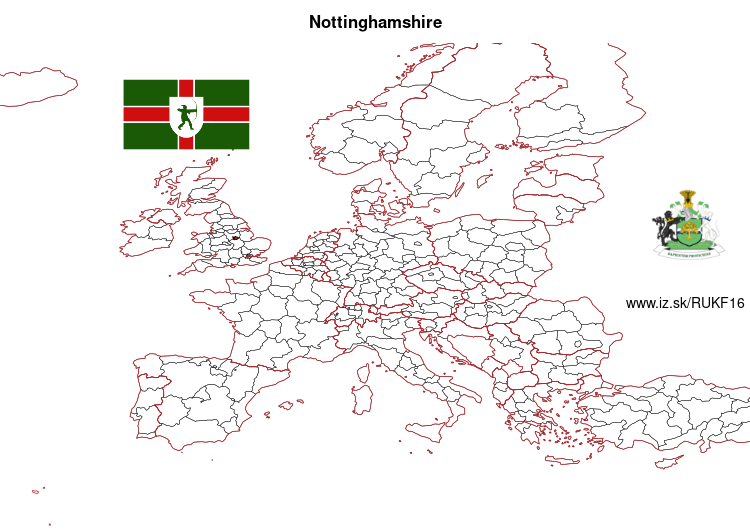 More on wikipedia wikidata Q23092 on OpenStreetMap Nottinghamshire slovensky: UKF16
Demographics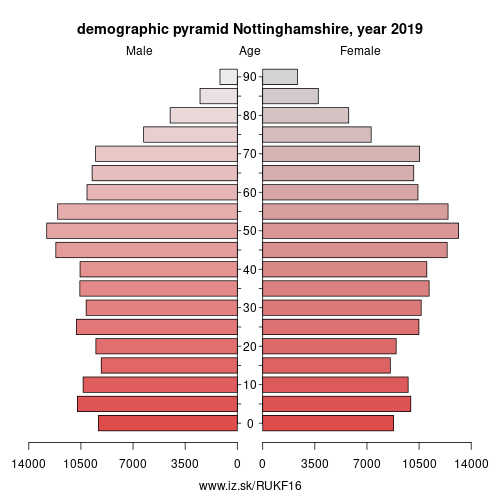 Nottinghamshire
(pronounced ; abbreviated
Notts.
) is a county in the East Midlands region of England, bordering South Yorkshire to the north-west, Lincolnshire to the east, Leicestershire to the south, and Derbyshire to the west. The traditional county town is Nottingham, though the county council is based at County Hall in West Bridgford in the borough of Rushcliffe, at a site facing Nottingham over the River Trent.
The districts of Nottinghamshire are Ashfield, Bassetlaw, Broxtowe, Gedling, Mansfield, Newark and Sherwood, and Rushcliffe. The City of Nottingham was administratively part of Nottinghamshire between 1974 and 1998, but is now a unitary authority, remaining part of Nottinghamshire for ceremonial purposes.
In 2017, the county was estimated to have a population of 785,800.
Over half of the population of the county live in the Greater Nottingham conurbation (which continues into Derbyshire). The conurbation has a population of about 650,000, though less than half live within the city boundaries.
History
Nottinghamshire lies on the Roman Fosse Way, and there are Roman settlements in the county; for example at Mansfield, and forts such as at the Broxtowe Estate in Bilborough. The county was settled by Angles around the 5th century, and became part of the Kingdom, and later Earldom, of Mercia. However, there is evidence of Saxon settlement at the Broxtowe Estate, Oxton, near Nottingham, and Tuxford, east of Sherwood Forest. The name first occurs in 1016, but until 1568, the county was administratively united with Derbyshire, under a single Sheriff.
Other: Derbyshire and Nottinghamshire, East Derbyshire, Derbyshire, Nottingham, North Nottinghamshire, Derby, Nottinghamshire
Neighbours: Nottingham, North Nottinghamshire, Leicestershire, Derbyshire
Suggested citation: Michal Páleník: EU regions - Nottinghamshire – UKF16, IZ Bratislava, retrieved from: https://www.iz.sk/​en/projects/eu-regions/UKF16
---
https://www.iz.sk/en/projects/eu-regions/UKF16