Derbyshire – UKF13
EU regions: United Kingdom > East Midlands > Derbyshire and Nottinghamshire > Derbyshire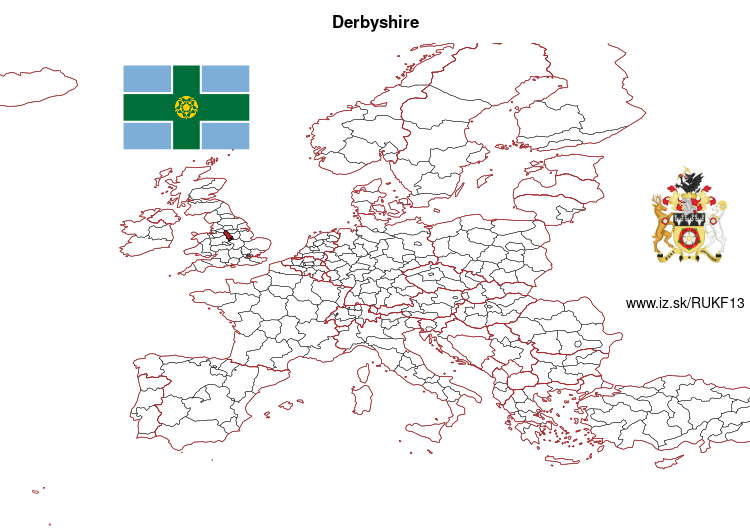 More on wikipedia wikidata Q23098 on OpenStreetMap Derbyshire slovensky: UKF13
Demographics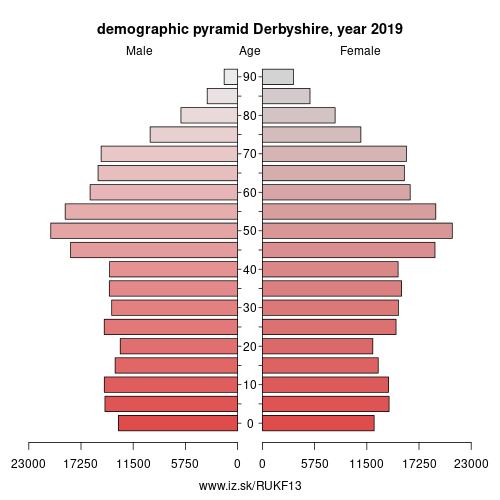 Derbyshire
() is a county in the East Midlands of England. A substantial portion of the Peak District National Park lies within Derbyshire, containing the southern extremity of the Pennine range of hills which extend into the north of the county. The county contains part of the National Forest, and borders on Greater Manchester to the northwest, West Yorkshire to the north, South Yorkshire to the northeast, Nottinghamshire to the east, Leicestershire to the southeast, Staffordshire to the west and southwest and Cheshire also to the west. Kinder Scout, at 636 metres (2,087 ft), is the highest point in the county, whilst Trent Meadows, where the River Trent leaves Derbyshire, is its lowest point at 27 metres (89 ft).
:

1
The River Derwent is the county's longest river at 66 miles (106 km), and runs roughly north to south through the county. In 2003 the Ordnance Survey placed Church Flatts Farm at Coton in the Elms (near Swadlincote) as the farthest point from the sea in Great Britain.
The city of Derby is a unitary authority area, but remains part of the ceremonial county of Derbyshire. The non-metropolitan county contains 30 towns with between 10,000 and 100,000 inhabitants. There is a large amount of sparsely populated agricultural upland.
History
The area that is now Derbyshire was first visited, probably briefly, by humans 200,000 years ago during the Aveley interglacial as evidenced by a Middle Paleolithic Acheulean hand axe found near Hopton.
Further occupation came with the Upper Paleolithic and Neolithic periods of the Stone Age when Mesolithic hunter-gatherers roamed the hilly tundra.
Evidence of these nomadic tribes has been found in limestone caves located on the Nottinghamshire border. Deposits left in the caves date the occupancy at around 12,000 to 7,000 BCE.
Burial mounds of Neolithic settlers are also situated throughout the county.
Other: Derbyshire and Nottinghamshire, Derby, East Derbyshire, Nottinghamshire, Nottingham, North Nottinghamshire, Derbyshire
Neighbours: Sheffield, Derby, Greater Manchester South East, Staffordshire, East Derbyshire, Greater Manchester North East, North Nottinghamshire, Leicestershire, Barnsley, Doncaster and Rotherham, Cheshire East, Nottinghamshire, Calderdale and Kirklees
Suggested citation: Michal Páleník: EU regions - Derbyshire – UKF13, IZ Bratislava, retrieved from: https://www.iz.sk/​en/projects/eu-regions/UKF13
---
https://www.iz.sk/en/projects/eu-regions/UKF13