City of Stoke-on-Trent – UKG23
EU regions: United Kingdom > West Midlands > Shropshire and Staffordshire > City of Stoke-on-Trent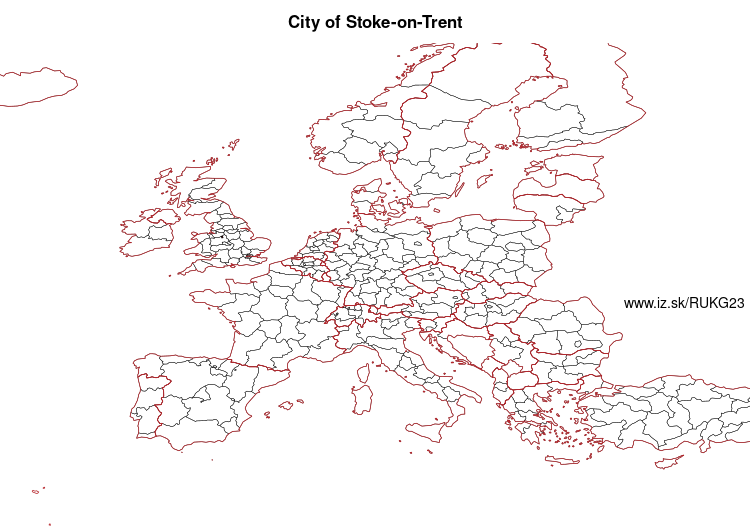 wikidata Q21891722 City of Stoke-on-Trent slovensky: UKG23
Demographics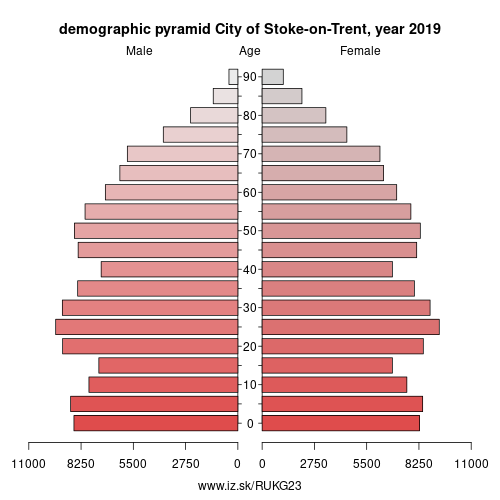 From Wikipedia :
Stoke-on-Trent
(often abbreviated to
Stoke
) is a city and unitary authority area in Staffordshire, England, with an area of 36 square miles (93 km
2
). Together with the neighbouring boroughs of Newcastle-under-Lyme and Staffordshire Moorlands, it is part of North Staffordshire. In 2016, the city had a population of 261,302.
Stoke is polycentric, having been formed by the federation of six towns in 1910. It took its name from Stoke-upon-Trent where the main centre of government and the principal railway station in the district were located. Hanley is the primary commercial centre. The other four towns are Burslem, Tunstall, Longton, and Fenton.
Stoke-on-Trent is the known for its strong role in the pottery industry and earthenware, being referred to as the "pottery capital of the world". The city is home to the development of the pottery industry in England and is area surrounding the city is commonly known as the Potteries, with the local residents known as Potters. Formerly a primarily industrial conurbation, it is now a centre for service industries and distribution centres.
History
Toponymy and etymology
The name Stoke is taken from the town of Stoke-upon-Trent, the original ancient parish with other settlements being chapelries.
Other: Shropshire and Staffordshire, Staffordshire, Shropshire, Telford and Wrekin, City of Stoke-on-Trent
Neighbours: Staffordshire
Suggested citation: Michal Páleník: EU regions - City of Stoke-on-Trent – UKG23, IZ Bratislava, retrieved from: https://www.iz.sk/​en/projects/eu-regions/UKG23
---
https://www.iz.sk/en/projects/eu-regions/UKG23