Zollernalb - DE143
EU regions: Germany > Baden-Württemberg > Tübingen Government Region > Zollernalb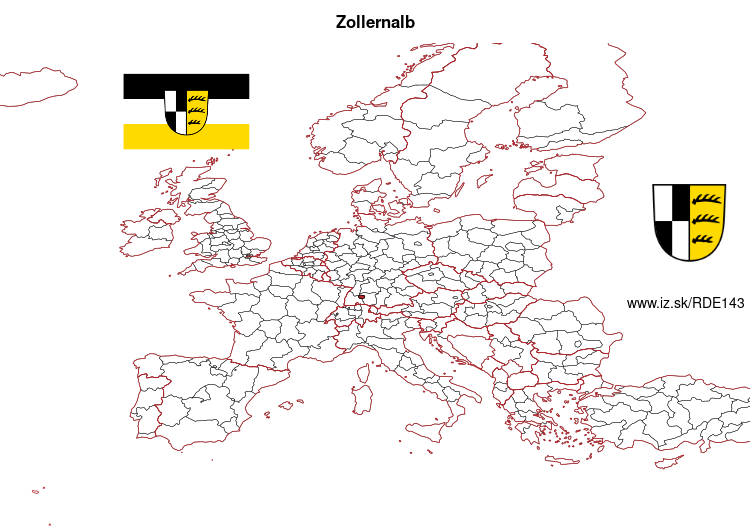 more on wikipedia * more on wikidata Q8233 * on OpenStreetMap * Zollernalbkreis slovensky: DE143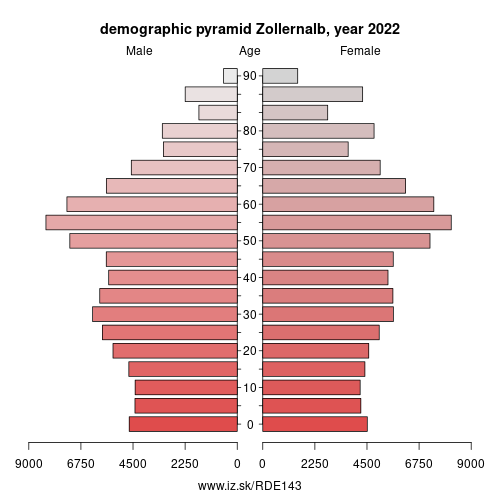 From wikipedia:
The
Zollernalbkreis
is a
Landkreis
(district) in the middle of Baden-Württemberg, Germany. The district is located in the Swabian Alb, and contains the second highest elevation of this range, the 1,011-metre (3,317 ft) high
Oberhohenberg
. In the south-east the district nearly reaches to the river Danube.
The district was created on January 1, 1973, when the two previous districts Balingen and Hechingen were merged.
Neighboring districts are (from north clockwise) Tübingen, Reutlingen, Sigmaringen, Tuttlingen, Rottweil and Freudenstadt.
Coat of arms
The coat of arms show the black-and-white checkered symbol of the Hohenzollern in the left half, and the triple black deer antler on yellow ground as the symbol of Württemberg. Almost all of the district's area belonged to these two states historically.
Towns (Städte) and municipalities (Gemeinden)
Language
In the area of Zollernalbkreis, Swabian German, Yiddish and Pleißne were spoken. Romani was also spoken.
The
Pleißne
was spoken by hawkers selling items such as baskets, brushes, and whips, and belongs to Rotwelsch.
other: Tübingen Government Region, Reutlingen, Tübingen, Zollernalb, Ulm, Alb-Donau-Kreis, Biberach district, Bodenseekreis, Landkreis Ravensburg, Landkreis Sigmaringen
neighbours: Freudenstadt, Rottweil, Tuttlingen, Reutlingen, Tübingen, Landkreis Sigmaringen
---
https://www.iz.sk/en/projects/eu-regions/DE143
Current statistics
May 2020: number of unemployed at the labour offices: 219159, of which 62664 are long term unemployed, unemployment rate 8.0 % (2.3 % long term unemployment)
Highest unemployment: Rimavská Sobota 21.9 % (11.4 %), Revúca 21.1 % (9.9 %), Kežmarok 20.4 % (8.5 %)
Lowest unemployment:: Bratislava V 3.3 %, Bratislava I 3.6 %, Hlohovec 4.2 %, Trenčín 4.3 %, Bratislava IV 4.3 %