Bayreuth – DE242
EU regions: Germany > Bavaria > Upper Franconia > Bayreuth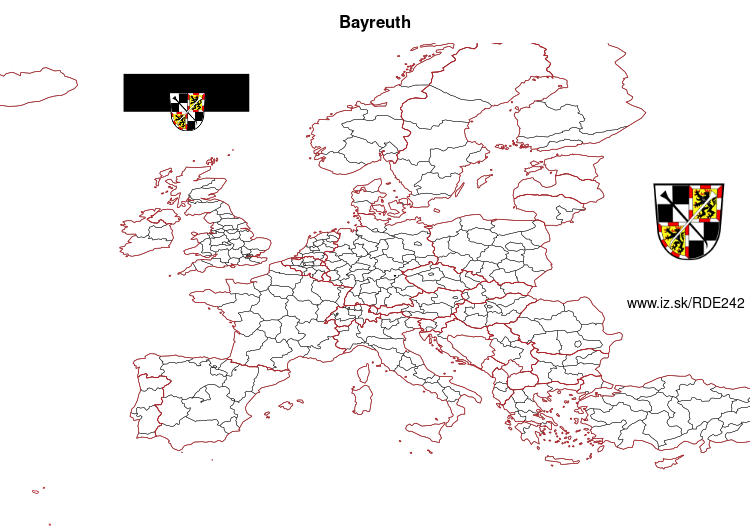 More on wikipedia wikidata Q3923 on OpenStreetMap Bayreuth slovensky: DE242
Demographics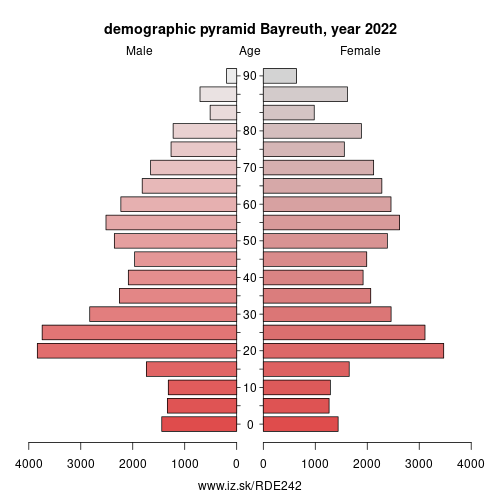 Bayreuth
(German:
[baɪˈʁɔʏt]
(

listen

)
, Upper Franconian: 
[ba(ː)ˈɾaɪ̯t]
; Austro-Bavarian:
Bareid
) is a medium-sized city in northern Bavaria, Germany, on the Red Main river in a valley between the Franconian Jura and the Fichtelgebirge Mountains. The town's roots date back to 1194. In the early 21st century, it is the capital of Upper Franconia and has a population of 72,148 (2015). It is world-famous for its annual Bayreuth Festival, at which performances of operas by the 19th-century German composer Richard Wagner are presented.
History
Middle Ages and Early Modern Period
The town is believed to have been founded by the counts of Andechs probably around the mid-12th century, but was first mentioned in 1194 as Baierrute in a document by Bishop Otto II of Bamberg. The syllable -rute may mean Rodung or "clearing", whilst Baier- indicates immigrants from the Bavarian region.
Already documented earlier, were villages later merged into Bayreuth: Seulbitz (in 1035 as the royal Salian estate of Silewize in a document by Emperor Conrad II) and St. Johannis (possibly 1149 as Altentrebgast). Even the district of Altstadt (formerly Altenstadt) west of the town centre must be older than the town of Bayreuth itself. Even older traces of human presence were found in the hamlets of Meyernberg: pieces of pottery and wooden crockery were dated to the 9th century based on their decoration.
While Bayreuth was previously (1199) referred to as a villa ("village"), the term civitas ("town") appeared for the first time in a document published in 1231.
Other: Upper Franconia, Hof, Kronach, Bayreuth, Coburg, Hof, Lichtenfels, Bayreuth, Bamberg, Coburg, Wunsiedel, Bamberg, Forchheim, Kulmbach
Neighbours: Bayreuth
Suggested citation: Michal Páleník: EU regions - Bayreuth – DE242, IZ Bratislava, retrieved from: https://www.iz.sk/​en/projects/eu-regions/DE242
---
https://www.iz.sk/en/projects/eu-regions/DE242