Rostock – DE803
EU regions: Germany > Mecklenburg-Western Pomerania > Mecklenburg-Western Pomerania > Rostock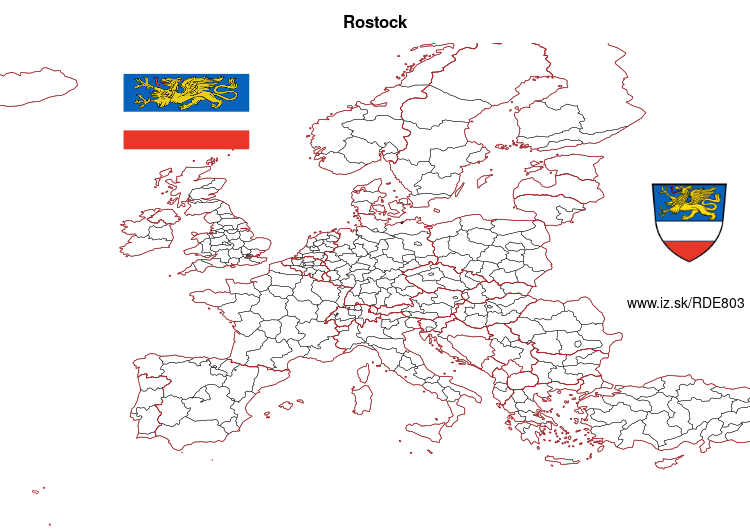 More on wikipedia wikidata Q2861 on OpenStreetMap Rostock slovensky: DE803
Demographics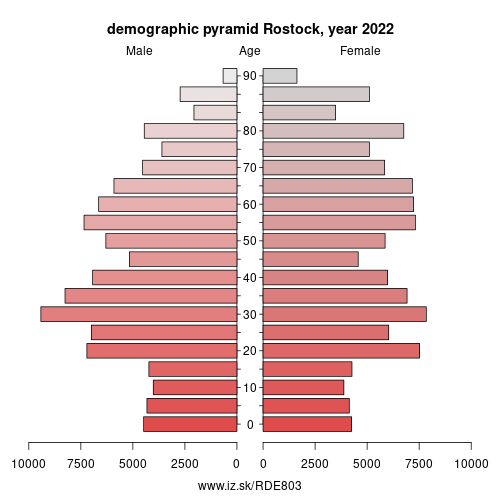 From Wikipedia: Rostock ( ROST-ok, German: [ˈʁɔstɔk] (listen)), officially the Hanseatic City of Rostock (German: Hansestadt Rostock), is the largest city in the German federal state of Mecklenburg-Western Pomerania and lies in the Mecklenburgian part of the state, close to the border with Pomerania. With around 208,000 inhabitants, it is the third largest city on the German Baltic coast after Kiel and Lübeck, the eighth largest city in the area of former East Germany, as well as the 39th largest city of Germany. Rostock was the largest coastal and most important port city in East Germany.
Rostock stands on the estuary of the River Warnow into the Bay of Mecklenburg of the Baltic Sea. The city stretches for about 16 km (10 mi) along the river, that flows into the sea in the very north of the city, between the boroughs of Warnemünde and Hohe Düne. The city center lies further upstream, in the very south of the city. While most of Rostock's inhabitants live on the western side of the Warnow, the area east of the river is dominated by the port, industrial estates and the forested Rostock Heath. The city's coastline east and west of the river mouth is relatively undeveloped, with long sandy beaches prevailing. The name of the city and of the river are of Slavic origin.
Rostock is the economic center of Mecklenburg-Western Pomerania and the state's only regiopolis.
Other: Mecklenburg-Western Pomerania, Nordwestmecklenburg District, Rostock, Schwerin, Vorpommern-Greifswald District, Ludwigslust-Parchim District, Rostock District, Vorpommern-Rügen District, Mecklenburgische Seenplatte District
Neighbours: Rostock District
Suggested citation: Michal Páleník: EU regions - Rostock – DE803, IZ Bratislava, retrieved from: https://www.iz.sk/​en/projects/eu-regions/DE803
---
https://www.iz.sk/en/projects/eu-regions/DE803