Nordwestmecklenburg District – DE80M
EU regions: Germany > Mecklenburg-Western Pomerania > Mecklenburg-Western Pomerania > Nordwestmecklenburg District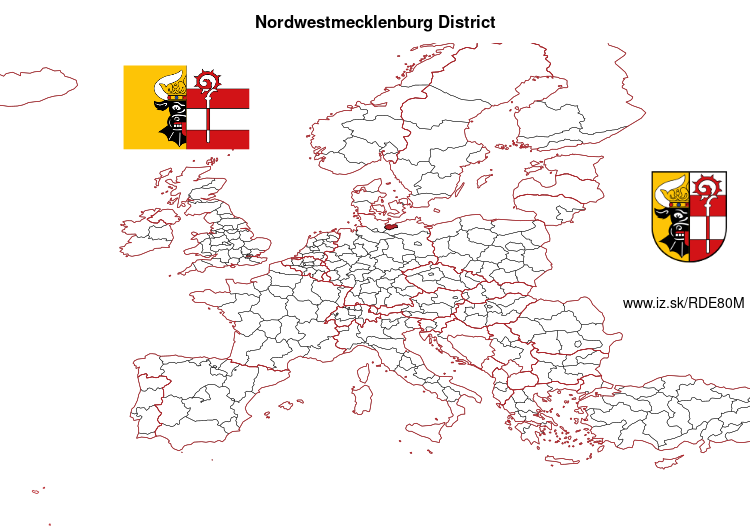 More on wikipedia wikidata Q2876 on OpenStreetMap Nordwestmecklenburg District slovensky: DE80M
Demographics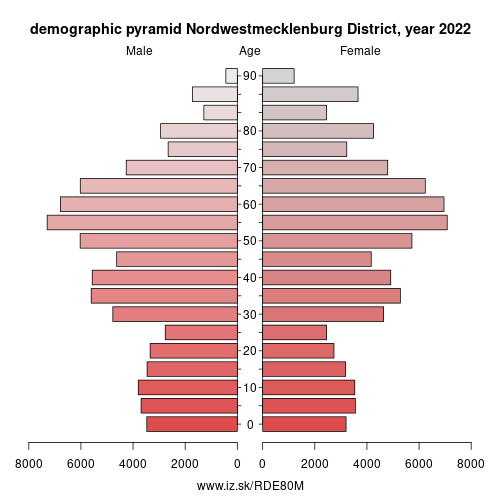 From Wikipedia: Nordwestmecklenburg (Northwestern Mecklenburg) is a Kreis (district) in the north-western part of Mecklenburg-Vorpommern, Germany. It is situated on the coast of the Baltic Sea and borders on Schleswig-Holstein to the west. Neighboring districts are (from east clockwise) Rostock, Ludwigslust-Parchim and the district-free city Schwerin, and the district Lauenburg and the district-free city Lübeck in Schleswig-Holstein. The district seat is the town Wismar.
Geography
The district is roughly situated in a triangle between the towns of Lübeck, Rostock and Schwerin.
In the north there is the coast of the Baltic Sea with the small island of Poel.
Lakes
Two large lakes are partially situated in Nordwestmecklenburg: the eastern half of the Schaalsee (23 km²) at the western border; and the northern half of the Schweriner See (63 km²) in the south, as well as two smaller lakes, Bibowee (0.79 km²) and Mechower See (1.6 km²).
History
Nordwestmecklenburg District was established in 1994 by merging the previous districts of Gadebusch, Grevesmühlen and Wismar; along with smaller parts of the districts of Sternberg and Schwerin-Land. In the 2011 district reform, it was merged with the formerly district-free town Wismar.
Other: Mecklenburg-Western Pomerania, Schwerin, Mecklenburgische Seenplatte District, Vorpommern-Rügen District, Vorpommern-Greifswald District, Nordwestmecklenburg District, Ludwigslust-Parchim District, Rostock, Rostock District
Neighbours: Herzogtum Lauenburg, Ludwigslust-Parchim District, Rostock District, Lübeck, Schwerin
Suggested citation: Michal Páleník: EU regions - Nordwestmecklenburg District – DE80M, IZ Bratislava, retrieved from: https://www.iz.sk/​en/projects/eu-regions/DE80M
---
https://www.iz.sk/en/projects/eu-regions/DE80M