Schwerin – DE804
EU regions: Germany > Mecklenburg-Western Pomerania > Mecklenburg-Western Pomerania > Schwerin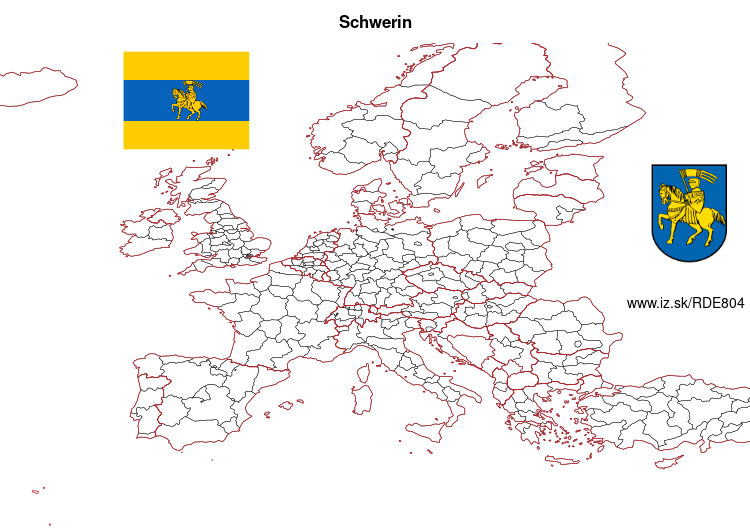 More on wikipedia wikidata Q1709 on OpenStreetMap Schwerin slovensky: DE804
Demographics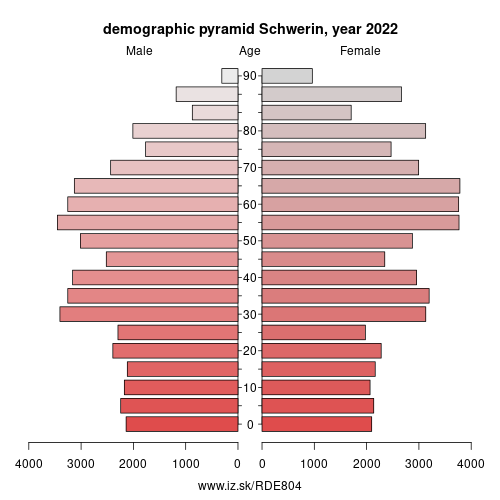 From Wikipedia: Schwerin ([ʃvɛˈʁiːn] or [ʃvəˈʁiːn]; Mecklenburgian: Swerin; Polish: Swarzyn or Zwierzyn; Latin: Suerina) is the capital and second-largest city of the northeastern German state of Mecklenburg-Vorpommern. It has a population of about 100,000.
Schwerin was first mentioned in 1018 as Wendenburg and was granted city rights in 1160 by Henry the Lion, thus it is the oldest city of Mecklenburg-Vorpommern. It is globally known for its romantic Schwerin Palace, situated on an island in the Lake Schwerin. The palace was one of the main residences of the dukes and grand dukes of Mecklenburg until 1918 and is the official seat of the state parliament since 1990. The city also has a largely intact old town, thanks to only minor damage in World War II.
Schwerin is located within the metropolitan region of Hamburg and close to that of Berlin, and to nearby regiopolises of Rostock and Lübeck. Major industries and employers include high technology, machine building, healthcare, government agencies, railway supply, consumer goods and tourism. Schwerin has three academic colleges, the FHM, HdBA and the Design School.
History
Early years
Schwerin is enclosed by lakes. The largest of these lakes, the Schweriner See, has an area of 60 km2. In the middle part of these lakes there was a settlement of the Slavic Obotrite (dated back to the 11th century).
Other: Mecklenburg-Western Pomerania, Rostock District, Vorpommern-Rügen District, Nordwestmecklenburg District, Ludwigslust-Parchim District, Schwerin, Rostock, Mecklenburgische Seenplatte District, Vorpommern-Greifswald District
Neighbours: Ludwigslust-Parchim District, Nordwestmecklenburg District
Suggested citation: Michal Páleník: EU regions - Schwerin – DE804, IZ Bratislava, retrieved from: https://www.iz.sk/​en/projects/eu-regions/DE804
---
https://www.iz.sk/en/projects/eu-regions/DE804