Mecklenburg-Western Pomerania – DE80
EU regions: Germany > Mecklenburg-Western Pomerania > Mecklenburg-Western Pomerania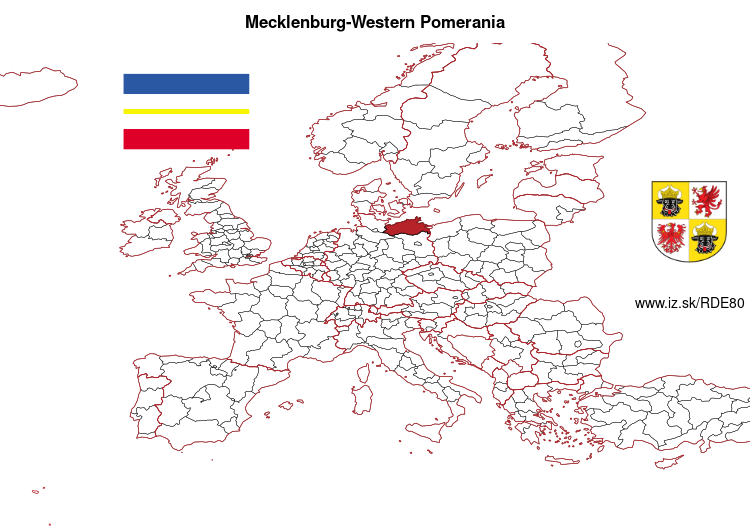 More on wikipedia wikidata Q1196 on OpenStreetMap Mecklenburg-Western Pomerania slovensky: DE80
Subregions: Rostock, Schwerin, Mecklenburgische Seenplatte District, Rostock District, Vorpommern-Rügen District, Nordwestmecklenburg District, Vorpommern-Greifswald District, Ludwigslust-Parchim District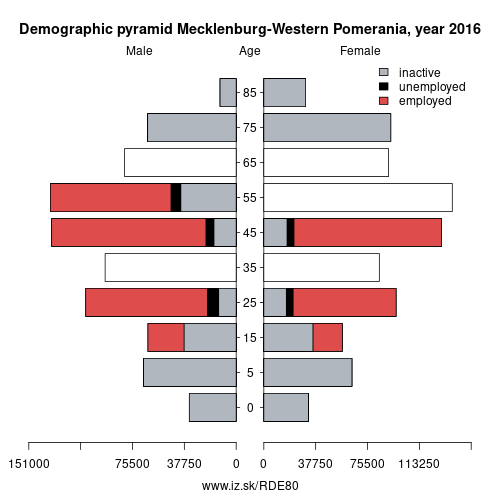 Unemployment
Demographics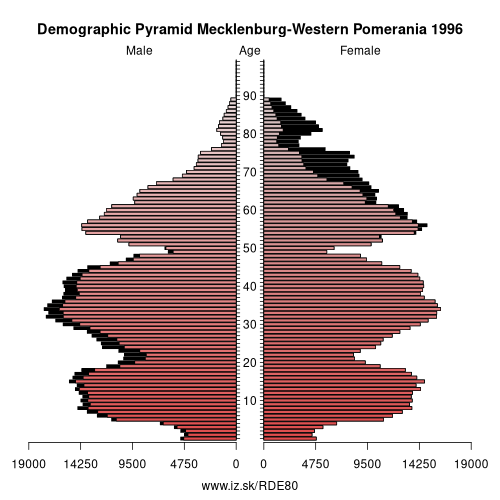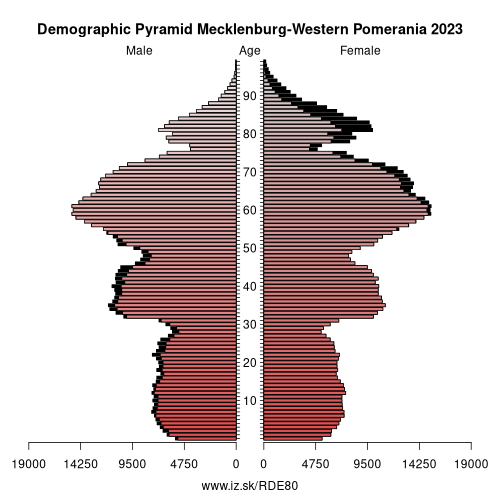 Employment by sectors, Mecklenburg-Western Pomerania
| NACE r2 | | % | NACE r2 | | % |
| --- | --- | --- | --- | --- | --- |
| A | 26.2 | 3 % | B-E | 100.3 | 13 % |
| F | 64.7 | 8 % | G-I | 171.6 | 22 % |
| J | 14.6 | 2 % | K | 12.1 | 2 % |
| M_N | 79.9 | 10 % | O-Q | 253.9 | 33 % |
| R-U | 37.5 | 5 % | TOTAL | 767.8 | 100 % |
Data for the period year 2022. Source of the data is Eurostat, table [lfst_r_lfe2en2].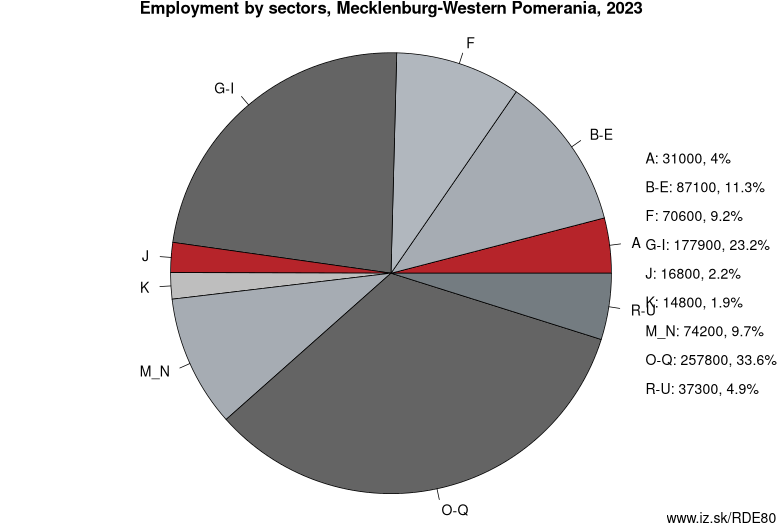 From Wikipedia: Mecklenburg-Vorpommern (German: [ˈmeːklənbʊʁk ˈfoːɐ̯pɔmɐn], abbreviated MV), also known by its anglicized name Mecklenburg-Western Pomerania, is a state of Germany. Of the country's 16 states, Mecklenburg-Vorpommern ranks 14th in population, 6th in area, and 16th in population density. Schwerin is the state capital and Rostock is the largest city. Other major cities include Neubrandenburg, Stralsund, Greifswald, Wismar and Güstrow.
The state of Mecklenburg-Vorpommern was established in 1945 after World War II through the merger of the historic regions of Mecklenburg and the Prussian Western Pomerania by the Soviet military administration in Allied-occupied Germany. Mecklenburg-Vorpommern became part of the German Democratic Republic in 1947, but was dissolved in 1952 during administrative reforms and its territory divided into the districts of Rostock, Schwerin, and Neubrandenburg. Mecklenburg-Vorpommern was re-established in 1990 following German reunification, and became one of the Federal Republic of Germany's new states.
Mecklenburg-Vorpommern's coastline on the Baltic Sea features many holiday resorts and much unspoilt nature, including the islands such as Rügen and Usedom, as well as the Mecklenburg Lake District, making the state one of Germany's leading tourist destinations. Three of Germany's fourteen national parks, as well as several hundred nature conservation areas, are in Mecklenburg-Vorpommern. The University of Rostock, established in 1419, and the University of Greifswald, established in 1456, are among the oldest universities in Europe.
Other: Mecklenburg-Western Pomerania, Mecklenburg-Western Pomerania
Neighbours: Brandenburg, Lüneburg Government Region, Schleswig-Holstein, West Pomeranian Voivodeship
Subregions: Rostock, Schwerin, Mecklenburgische Seenplatte District, Rostock District, Vorpommern-Rügen District, Nordwestmecklenburg District, Vorpommern-Greifswald District, Ludwigslust-Parchim District
Suggested citation: Michal Páleník: EU regions - Mecklenburg-Western Pomerania – DE80, IZ Bratislava, retrieved from: https://www.iz.sk/​en/projects/eu-regions/DE80
---
https://www.iz.sk/en/projects/eu-regions/DE80