Brandenburg – DE40
EU regions: Germany > Brandenburg > Brandenburg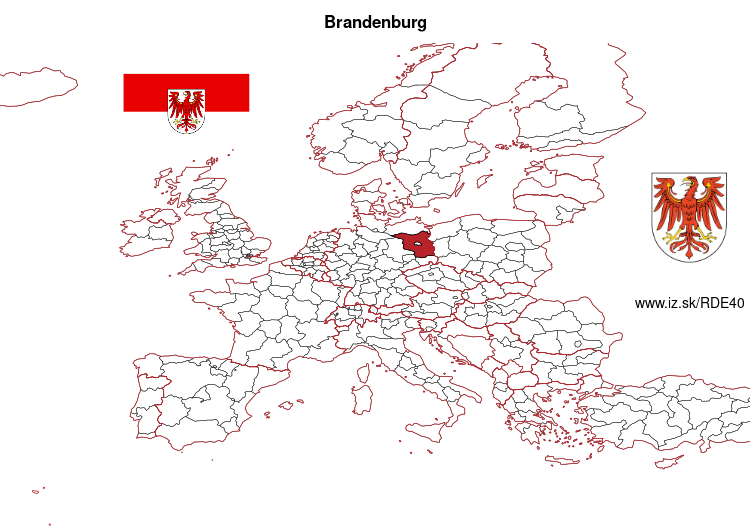 More on wikipedia wikidata Q1208 on OpenStreetMap Brandenburg slovensky: DE40
Subregions: Brandenburg an der Havel, Cottbus, Frankfurt (Oder), Potsdam, Barnim District, Dahme-Spreewald District, Elbe-Elster District, Havelland District, Märkisch-Oderland District, Oberhavel District, Oberspreewald-Lausitz District, Oder-Spree District, Ostprignitz-Ruppin District, Potsdam-Mittelmark District, Prignitz District, Spree-Neiße District, Teltow-Fläming District, Uckermark District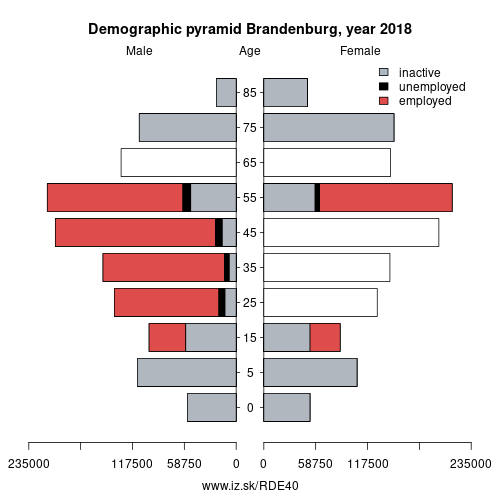 Unemployment
Demographics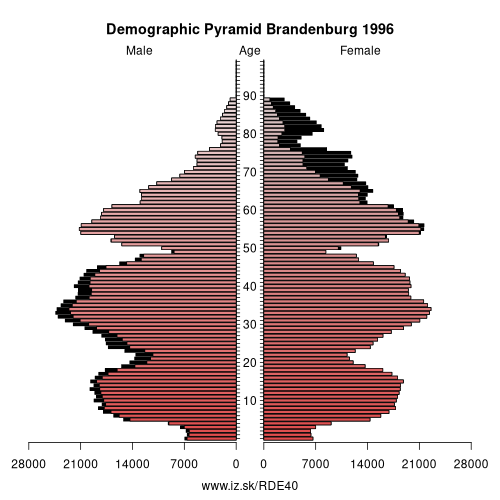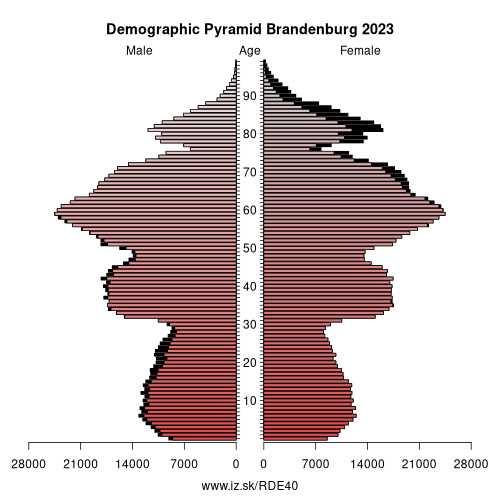 Employment by sectors, Brandenburg
NACE r2
%
NACE r2
%
A
25.4
2 %
B-E
182
15 %
F
105.8
9 %
G-I
248.2
20 %
J
37.3
3 %
K
28.7
2 %
L
16
1 %
M_N
120.9
10 %
O-Q
416.8
34 %
R-U
62
5 %
TOTAL
1243
100 %
Data for the period year 2022. Source of the data is Eurostat, table [lfst_r_lfe2en2].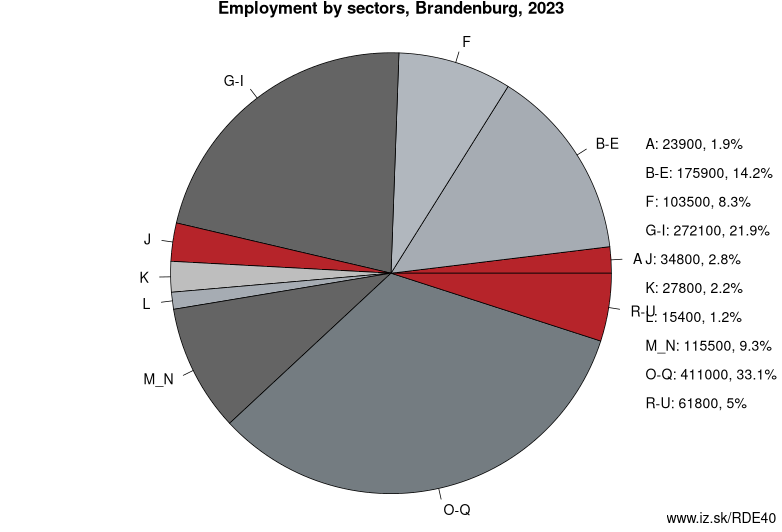 Brandenburg
(, also
US:
, German:
[ˈbʁandn̩bʊʁk]
(

listen

)
; Low German:
Brannenborg
; Lower Sorbian:
Bramborska
; Upper Sorbian:
Braniborsko
) is a state of Germany.
Brandenburg is located in the northeast of Germany covering an area of 29,478 square kilometres (11,382 sq mi) and has a population of 2.5 million residents, the fifth-largest German state by area and tenth-most populous. Potsdam is the state capital and largest city, while other major cities include Brandenburg an der Havel, Cottbus, and Frankfurt (Oder). Brandenburg surrounds the national capital and city-state of Berlin, which together form the Berlin/Brandenburg Metropolitan Region, the third-largest metropolitan area in Germany. Brandenburg borders the states of Mecklenburg-Vorpommern, Lower Saxony, Saxony-Anhalt, and Saxony, and the country of Poland.
Brandenburg originated in the Northern March in the 900s AD from areas conquered from the Wends, and later became the Margraviate of Brandenburg, a major principality of the Holy Roman Empire, with Albert the Bear as prince-elector. In the 15th century Brandenburg came under the rule of the House of Hohenzollern, who later also became the rulers of the Duchy of Prussia, who established Brandenburg-Prussia to become the core of the later Kingdom of Prussia. Brandenburg became the Province of Brandenburg in 1815, a province within the kingdom and later within the Free State of Prussia. Brandenburg was established as a state in 1945 after World War II by the Soviet army administration in Allied-occupied Germany, and became part of the German Democratic Republic in 1947. Brandenburg was dissolved in 1952 during administrative reforms and its territory divided into the districts of Potsdam, Cottbus, Frankfurt, Neubrandenburg, and Schwerin, but was re-established in 1990 following German reunification, and became one of the Federal Republic of Germany's new states.
Other: Brandenburg, Brandenburg
Neighbours: Lüneburg Government Region, Mecklenburg-Western Pomerania, West Pomeranian Voivodeship, Leipzig Government Region, Berlin, Lubusz Voivodeship, Dresden Directorate District, Saxony-Anhalt
Subregions: Brandenburg an der Havel, Cottbus, Frankfurt (Oder), Potsdam, Barnim District, Dahme-Spreewald District, Elbe-Elster District, Havelland District, Märkisch-Oderland District, Oberhavel District, Oberspreewald-Lausitz District, Oder-Spree District, Ostprignitz-Ruppin District, Potsdam-Mittelmark District, Prignitz District, Spree-Neiße District, Teltow-Fläming District, Uckermark District
Suggested citation: Michal Páleník: EU regions - Brandenburg – DE40, IZ Bratislava, retrieved from: https://www.iz.sk/​en/projects/eu-regions/DE40
---
https://www.iz.sk/en/projects/eu-regions/DE40