Frankfurt (Oder) – DE403
EU regions: Germany > Brandenburg > Brandenburg > Frankfurt (Oder)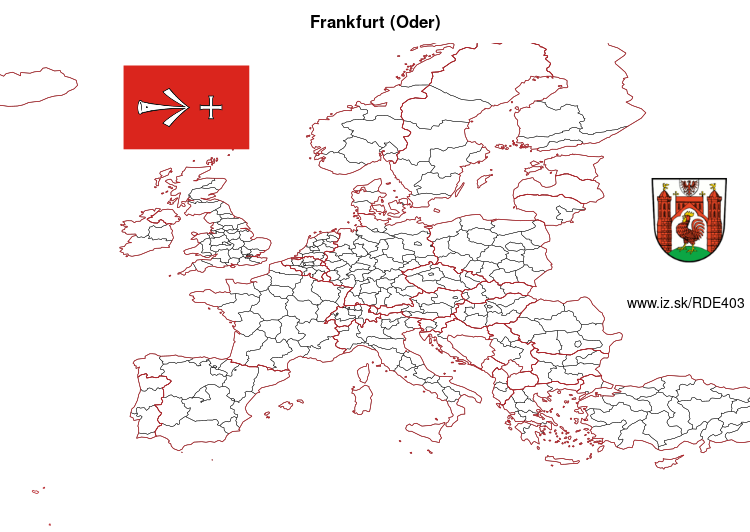 More on wikipedia wikidata Q4024 on OpenStreetMap Frankfurt (Oder) slovensky: DE403
Demographics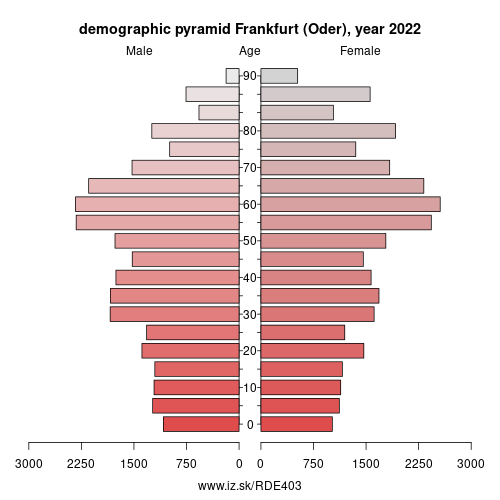 From Wikipedia: Stralsund (German pronunciation: [ˈʃtʁaːlzʊnt]), (Swedish: Strålsund) is a Hanseatic town in the Pomeranian part of Mecklenburg-Vorpommern, Germany. It is located at the Southern coast of the Strelasund, a sound of the Baltic Sea separating the island of Rügen from the mainland.
The Strelasund Crossing with its two bridges and several ferry services connects Stralsund with Rügen. The Western Pomeranian town has been the capital of the Vorpommern-Rügen district since the 2011 district reforms. It is the fourth-largest city of Mecklenburg-Vorpommern and, together with Greifswald, Stralsund forms an Oberzentrum, one of four high-level urban centers of the region.
Stralsund was granted city rights in 1234 and was one of the most prospering members of the medieval Hanseatic League. In 1628, during the Thirty Years' War, Stralsund came under Swedish rule and remained so until the upheavals of the Napoleonic Wars. In the 19th century it became part of Prussia and Germany. Since 2002, Stralsund's old town with its rich heritage is honored as a UNESCO World Heritage, along with Wismar in Mecklenburg.
The main industries of Stralsund are shipyards, fishing, mechanical engineering, and, to an increasing degree, tourism, life sciences, services and high tech industries, especially information technology and biotechnology.
Geography
Location
The town of Stralsund is located in northeastern Germany in the region of Western Pomerania in the state of Mecklenburg-Vorpommern.
Other: Brandenburg, Barnim District, Elbe-Elster District, Havelland District, Märkisch-Oderland District, Oder-Spree District, Potsdam-Mittelmark District, Prignitz District, Teltow-Fläming District, Uckermark District, Brandenburg an der Havel, Frankfurt (Oder), Oberspreewald-Lausitz District, Ostprignitz-Ruppin District, Spree-Neiße District, Cottbus, Dahme-Spreewald District, Potsdam, Oberhavel District
Neighbours: Oder-Spree District, Gorzowski, Märkisch-Oderland District
Suggested citation: Michal Páleník: EU regions - Frankfurt (Oder) – DE403, IZ Bratislava, retrieved from: https://www.iz.sk/​en/projects/eu-regions/DE403
---
https://www.iz.sk/en/projects/eu-regions/DE403