Elbe-Elster District – DE407
EU regions: Germany > Brandenburg > Brandenburg > Elbe-Elster District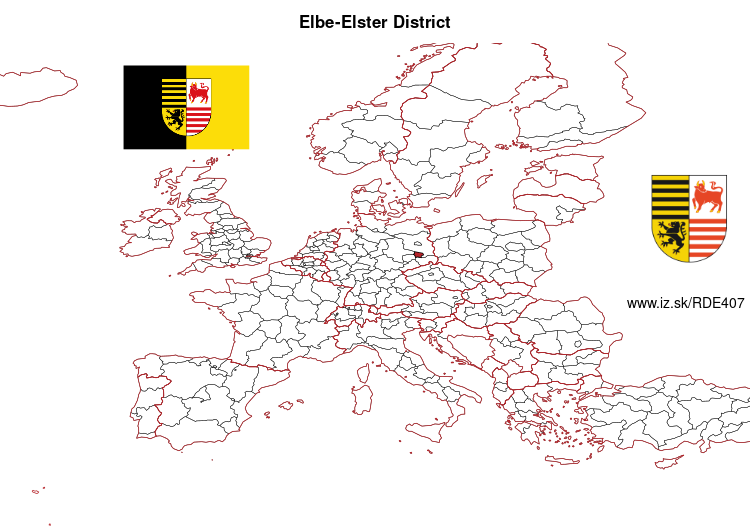 More on wikipedia wikidata Q6152 on OpenStreetMap Elbe-Elster District slovensky: DE407
Demographics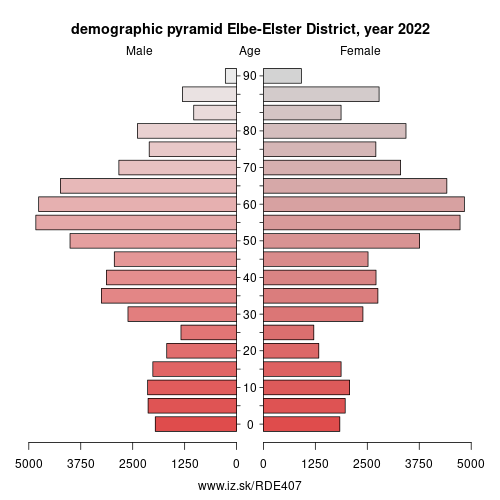 From Wikipedia: Elbe-Elster is a Kreis (district) in the southern part of Brandenburg, Germany. Neighboring districts are Teltow-Fläming, Dahme-Spreewald, Oberspreewald-Lausitz, Meißen,
Nordsachsen and Wittenberg. The district has a partnership with the Märkischer Kreis.
History
The district was established in 1993 by merging the former districts (Kreise) of Finsterwalde, Bad Liebenwerda and Herzberg.
Geography
The district is named after two rivers – the Elbe river forms the western border with Saxony, the Black Elster (Schwarze Elster) is a tributary of the Elbe and runs through the district. The district is part of the Lusatia region. The fens along the Black Elster are a habitat of several rare animals, like kingfishers, beavers and otters.
Other: Brandenburg, Barnim District, Potsdam, Havelland District, Oberspreewald-Lausitz District, Ostprignitz-Ruppin District, Spree-Neiße District, Teltow-Fläming District, Uckermark District, Frankfurt (Oder), Cottbus, Potsdam-Mittelmark District, Prignitz District, Oder-Spree District, Elbe-Elster District, Märkisch-Oderland District, Dahme-Spreewald District, Brandenburg an der Havel, Oberhavel District
Neighbours: Teltow-Fläming District, Nordsachsen, Oberspreewald-Lausitz District, Dahme-Spreewald District, Wittenberg, Meissen District
Suggested citation: Michal Páleník: EU regions - Elbe-Elster District – DE407, IZ Bratislava, retrieved from: https://www.iz.sk/​en/projects/eu-regions/DE407
---
https://www.iz.sk/en/projects/eu-regions/DE407