Teltow-Fläming District – DE40H
EU regions: Germany > Brandenburg > Brandenburg > Teltow-Fläming District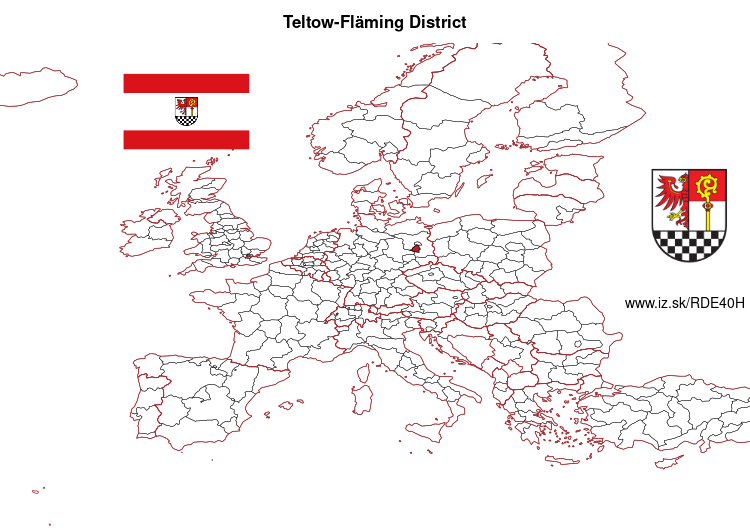 More on wikipedia wikidata Q6146 on OpenStreetMap Teltow-Fläming District slovensky: DE40H
Demographics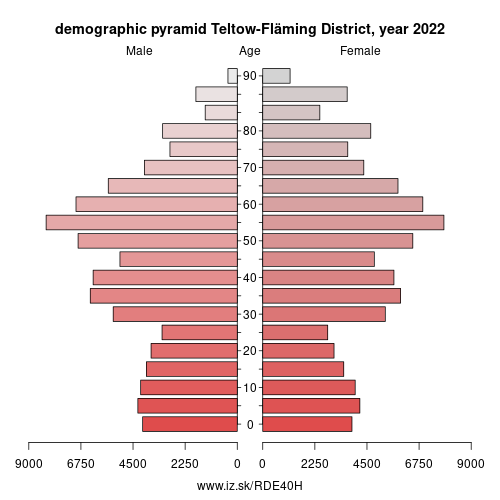 From Wikipedia: Teltow-Fläming is a Kreis (district) in the southwestern part of Brandenburg, Germany. Neighboring districts are (from the east clockwise) Dahme-Spreewald, Elbe-Elster, the districts Wittenberg in Saxony-Anhalt, the district Potsdam-Mittelmark, and the Bundesland Berlin.
Geography
The district is named after the two main regions. The Teltow is an agricultural belt south of Berlin. The Fläming is a wooded hill chain in the south; the portion located in this district is called the Lower Fläming, while the Higher Fläming is situated in Potsdam-Mittelmark.
History
The district was formed in December 1993 by merging the previous districts Luckenwalde, Jüterbog and Zossen, but also including small parts from other former districts such as Luckau.
Demography
Miscellaneous
In the time from 1997 to 2001, the district had the biggest increase in the gross economic product of all districts of Germany with a rate of +56.1 %.[1] Flaeming-Skate is a 160 km (99 mi) long route specially for inline skating, the only such route in Germany. Curiously, the town of Teltow is not a part of the district Teltow-Fläming, just as the town of Dahme is not a part of the district of Dahme-Spreewald.
Other: Brandenburg, Oberspreewald-Lausitz District, Prignitz District, Märkisch-Oderland District, Potsdam-Mittelmark District, Teltow-Fläming District, Uckermark District, Potsdam, Spree-Neiße District, Elbe-Elster District, Havelland District, Frankfurt (Oder), Oder-Spree District, Barnim District, Brandenburg an der Havel, Ostprignitz-Ruppin District, Dahme-Spreewald District, Cottbus, Oberhavel District
Neighbours: Potsdam-Mittelmark District, Dahme-Spreewald District, Berlin, Wittenberg, Elbe-Elster District
Suggested citation: Michal Páleník: EU regions - Teltow-Fläming District – DE40H, IZ Bratislava, retrieved from: https://www.iz.sk/​en/projects/eu-regions/DE40H
---
https://www.iz.sk/en/projects/eu-regions/DE40H