Dahme-Spreewald District – DE406
EU regions: Germany > Brandenburg > Brandenburg > Dahme-Spreewald District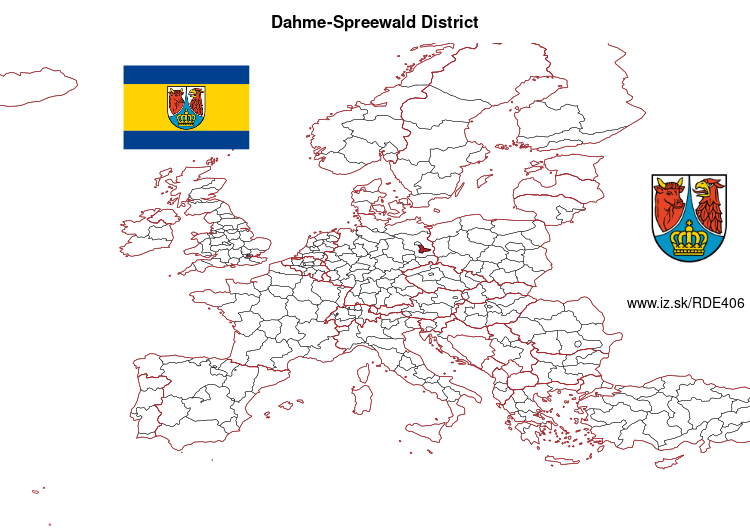 More on wikipedia wikidata Q6173 on OpenStreetMap Dahme-Spreewald District slovensky: DE406
Demographics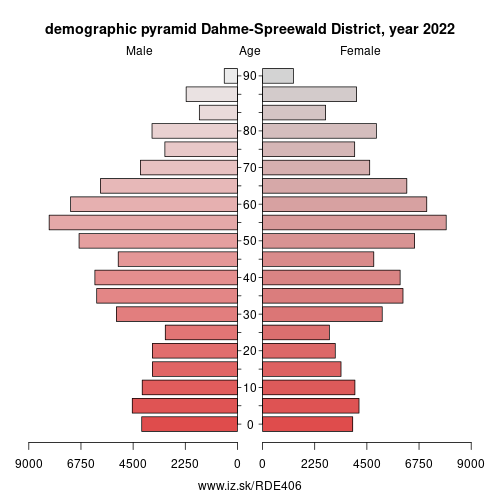 From Wikipedia: Dahme-Spreewald (Lower Sorbian: Wokrejs Damna-Błota) is a district in Brandenburg, Germany. It is bounded by (from the east and clockwise) the districts of Oder-Spree, Spree-Neiße, Oberspreewald-Lausitz, Elbe-Elster and Teltow-Fläming, and by the city of Berlin.
History
The Spreewald region has always been a centre of Sorbian culture. In medieval times the cities of Lübben and Luckau had successively been capitals of the margravate of Lower Lusatia. From 1815 on Lower Lusatia was a part of Prussia. Throughout the 19th century the region remained an agriculturally used area, some urbanisation taking place in the very north (close to Berlin) only.
When the state of Brandenburg was newly founded in 1990, the districts of Lübben, Luckau and Königs Wusterhausen had been established. In 1993 the three districts were merged.
Geography
The Spree river enters the district in the southeast and leaves to the northeast. The wooded regions along its banks are called Spreewald.
Other: Brandenburg, Oberspreewald-Lausitz District, Prignitz District, Potsdam, Märkisch-Oderland District, Potsdam-Mittelmark District, Teltow-Fläming District, Uckermark District, Elbe-Elster District, Spree-Neiße District, Frankfurt (Oder), Havelland District, Oder-Spree District, Barnim District, Brandenburg an der Havel, Ostprignitz-Ruppin District, Dahme-Spreewald District, Cottbus, Oberhavel District
Neighbours: Oberspreewald-Lausitz District, Berlin, Elbe-Elster District, Oder-Spree District, Spree-Neiße District, Teltow-Fläming District
Suggested citation: Michal Páleník: EU regions - Dahme-Spreewald District – DE406, IZ Bratislava, retrieved from: https://www.iz.sk/​en/projects/eu-regions/DE406
---
https://www.iz.sk/en/projects/eu-regions/DE406