Prignitz District – DE40F
EU regions: Germany > Brandenburg > Brandenburg > Prignitz District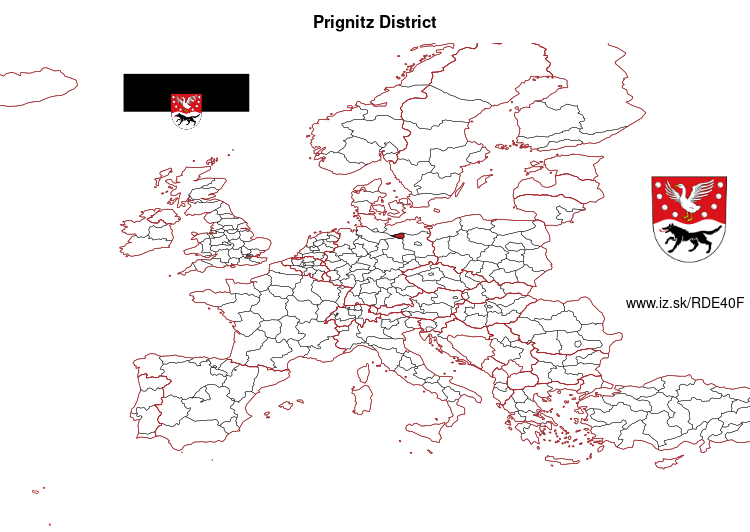 More on wikipedia wikidata Q6132 on OpenStreetMap Prignitz District slovensky: DE40F
Demographics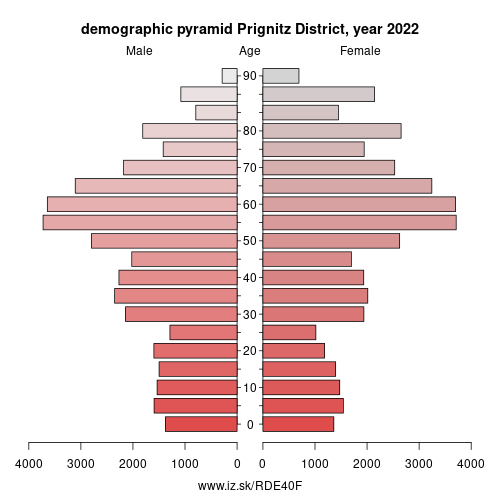 From Wikipedia: Prignitz (German pronunciation: [ˈpʁiːɡnɪts]) is a Kreis (district) in the northwestern part of Brandenburg, Germany. Neighboring are (from the north clockwise) the district Ludwigslust-Parchim in Mecklenburg-Western Pomerania, the district Ostprignitz-Ruppin in Brandenburg, the district Stendal in Saxony-Anhalt and the district Lüchow-Dannenberg in Lower Saxony.
Geography
The term Prignitz originally meant the region north of the confluence of the Elbe and Havel rivers. This region is larger than the district. It also includes the town of Havelberg in Saxony-Anhalt and large portions of the neighbouring district of Ostprignitz-Ruppin.
The Elbe river forms the southwestern border of the district.
History
The historical region Prignitz consisted of the following eleven districts, established in the 13th century: Wittenberge, Lenzen, Perleberg, Putlitz, Kyritz, Nitzow, Wittstock, Pritzwalk, Havelberg, Wusterhausen and Grabow.
The present district of Prignitz was created in 1993 by merging the previous districts of Pritzwalk and Perleberg and a few municipalities from the district Kyritz. The westernmost part of the district was previously part of Mecklenburg-Western Pomerania and became part of Brandenburg on August 1, 1992.
The earlier district of Prignitz was the buffer between Brandenburg and Mecklenburg.
Other: Brandenburg, Barnim District, Elbe-Elster District, Havelland District, Märkisch-Oderland District, Oder-Spree District, Potsdam-Mittelmark District, Potsdam, Oberspreewald-Lausitz District, Ostprignitz-Ruppin District, Spree-Neiße District, Teltow-Fläming District, Uckermark District, Frankfurt (Oder), Cottbus, Prignitz District, Dahme-Spreewald District, Brandenburg an der Havel, Oberhavel District
Neighbours: Stendal District, Ostprignitz-Ruppin District, Ludwigslust-Parchim District, Lüchow-Dannenberg District
Suggested citation: Michal Páleník: EU regions - Prignitz District – DE40F, IZ Bratislava, retrieved from: https://www.iz.sk/​en/projects/eu-regions/DE40F
---
https://www.iz.sk/en/projects/eu-regions/DE40F