Severozápad - CZ04
EU regions: Czech Republic > Czech Republic > Severozápad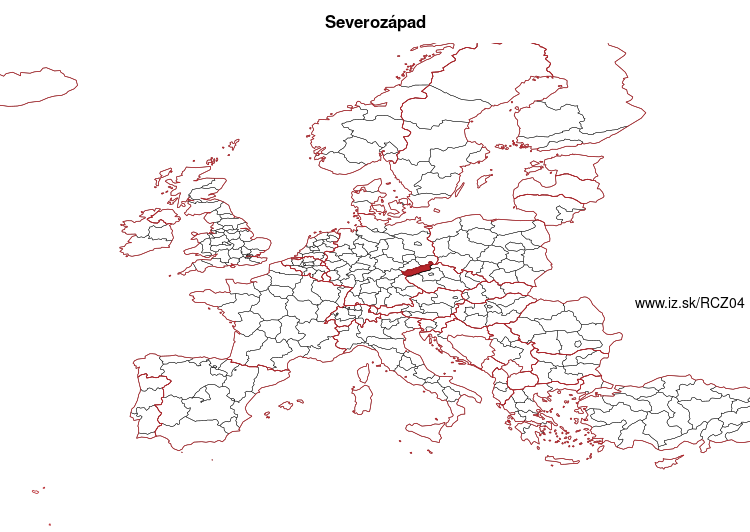 * more on wikidata Q7458002 * Severozápad slovensky: CZ04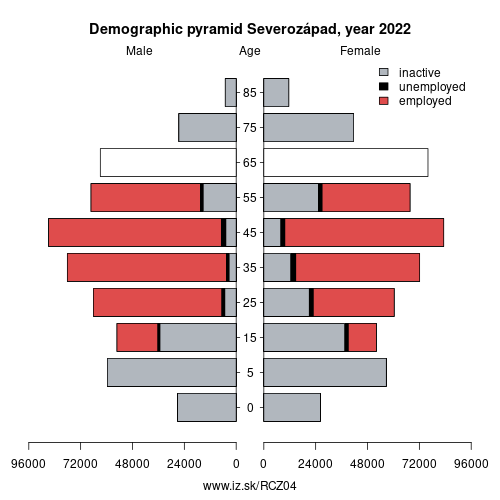 Composition of population according to age group, education and economic activity, Severozápad
| age group | low education | middle education | high education |
| --- | --- | --- | --- |
note: in thousands, according to labour force sample survey. P – total population, E – employed, U – unemployed, I – number of ecnomically inactive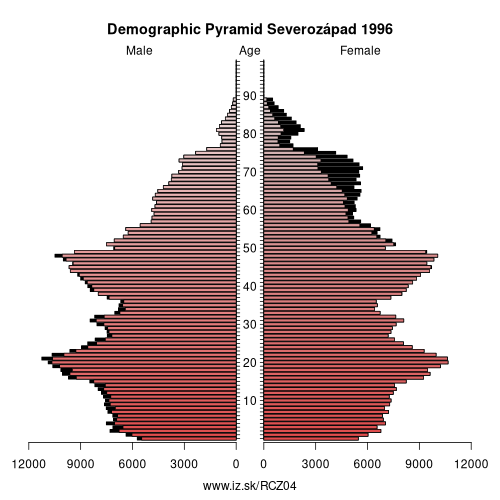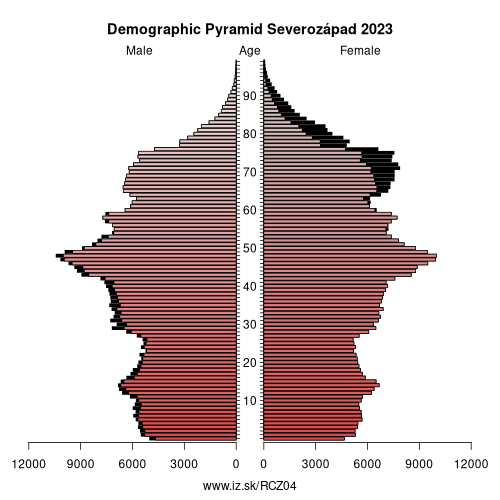 Data on unemployment in counties of Czech Republic are available at Local Administrative Units data.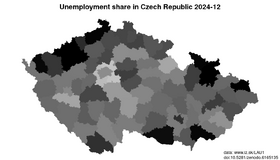 From wikipedia:
Severozápad
(Northwest) is a statistical area of the Nomenclature of Territorial Units for Statistics, level NUTS 2. It include the Karlovy Vary Region and Ústí nad Labem Region.
It covers an area of 8 649 km2 and 1,120,654 inhabitants (population density 130 inhabitants/km2).
other: Czech Republic, Jihovýchod, Central Bohemia cohesion region, Moravian-Silesian Region, NUTS2 Region Prague, Central Moravia, Jihozápad, Severovýchod, Severozápad
neighbours: Chemnitz Government Region, Upper Franconia, Severovýchod, Central Bohemia cohesion region, Dresden Directorate District, Upper Palatinate, Jihozápad
subregions: Karlovy Vary Region, Ústí nad Labem Region
Suggested citation: Michal Páleník: EU regions - Severozápad - CZ04, IZ Bratislava, retrieved from: https://www.iz.sk/en/projects/eu-regions/CZ04
---
https://www.iz.sk/en/projects/eu-regions/CZ04
Current statistics
May 2022: number of unemployed at the labour offices: 188886, of which 85552 are long term unemployed, unemployment rate 7.0 % (3.2 % long term unemployment)
Highest unemployment: Rimavská Sobota 21.5 % (13.9 %), Revúca 20.8 % (13.5 %), Kežmarok 18.5 % (9.8 %)
Lowest unemployment:: Bratislava V 2.8 %, Trenčín 2.9 %, Ilava 3.1 %, Bratislava I 3.3 %, Nitra 3.3 %