Saxony-Anhalt - DEE0
EU regions: Germany > Saxony-Anhalt > Saxony-Anhalt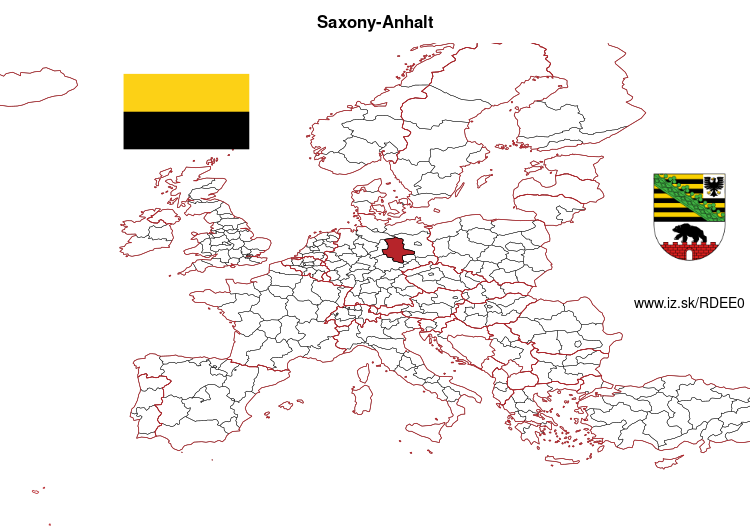 more on wikipedia * more on wikidata Q1206 * Saxony-Anhalt slovensky: DEE0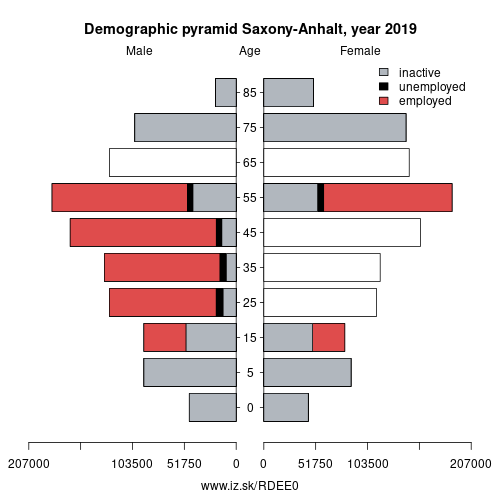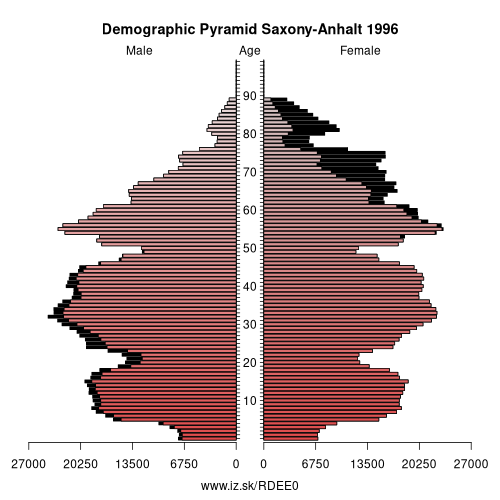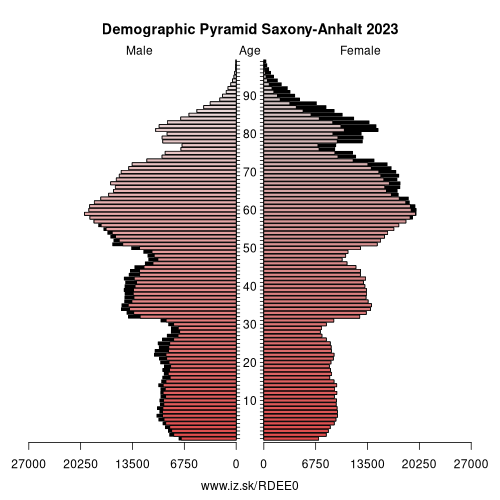 Employment by sectors, Saxony-Anhalt
| nace_r2 | | % |
| --- | --- | --- |
| A | 15.9 | 2 % |
| B-E | 190.8 | 19 % |
| F | 91.3 | 9 % |
| G-I | 226.7 | 23 % |
| J | 18.5 | 2 % |
| K | 23.9 | 2 % |
| M_N | 80.1 | 8 % |
| O-Q | 301.2 | 30 % |
| R-U | 47.9 | 5 % |
| TOTAL | 1006.9 | 100 % |
za 2022, zdroj Eurostat, tabuľka [lfst_r_lfe2en2]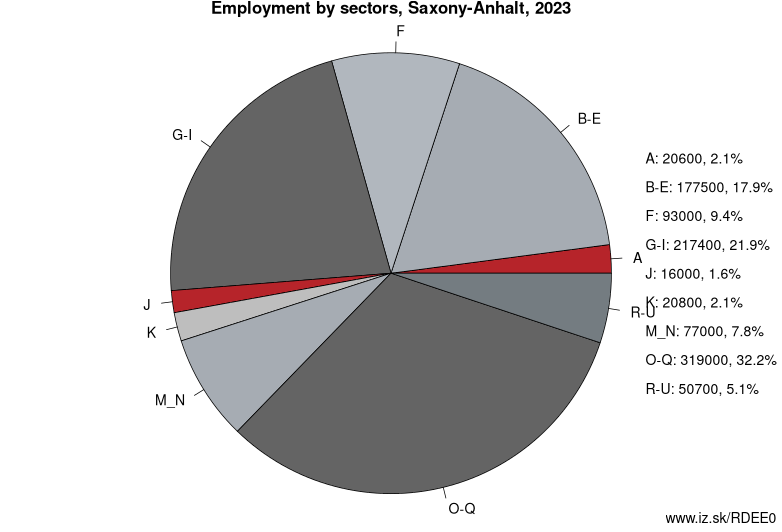 From
wikipedia
:
Saxony-Anhalt
(German:
Sachsen-Anhalt
) (German pronunciation:
[ˌzaksn̩ ˈʔanhalt]
(

listen

)
), is a state of Germany.
Saxony-Anhalt covers an area of 20,447.7 square kilometres (7,894.9 sq mi)
and has a population of 2.23 million, 108.69 inhabitants per km
2
, making it the 8th-largest state in Germany by area and the 10th-largest by population. Its capital is Magdeburg and its largest city is Halle (Saale). Saxony-Anhalt is surrounded by the states of Lower Saxony, Brandenburg, Saxony and Thuringia.
The state of Saxony-Anhalt originated in July 1945 after World War II, when the Soviet army administration in Allied-occupied Germany formed it from the former Prussian Province of Saxony and the Free State of Anhalt. Saxony-Anhalt became part of the German Democratic Republic in 1947, but was dissolved in 1952 during administrative reforms and its territory divided into the districts of Halle and Magdeburg, with the city of Torgau joining the district of Leipzig. Saxony-Anhalt was re-established in 1990 following German reunification, excluding Torgau, and became one of the Federal Republic of Germany's new states.
Geography
Saxony-Anhalt is one of 16 Bundesländer of Germany. It is located in the western part of eastern Germany. By size, it is the 8th largest state in Germany and by population, it is the 11th largest.
other: Saxony-Anhalt, Saxony-Anhalt
neighbours: Brunswick Government Region, Leipzig Government Region, Brandenburg, Thuringia, Lüneburg Government Region
subregions: Dessau-Roßlau, Halle (Saale), Magdeburg, Altmarkkreis Salzwedel, Anhalt-Bitterfeld, Jerichower Land, Börde, Burgenlandkreis, Harz District, Mansfeld-Südharz, Saalekreis, Salzlandkreis, Stendal District, Wittenberg
Suggested citation: Michal Páleník: EU regions - Saxony-Anhalt - DEE0, IZ Bratislava, retrieved from: https://www.iz.sk/en/projects/eu-regions/DEE0
---
https://www.iz.sk/en/projects/eu-regions/DEE0