Dessau-Roßlau – DEE01
EU regions: Germany > Saxony-Anhalt > Saxony-Anhalt > Dessau-Roßlau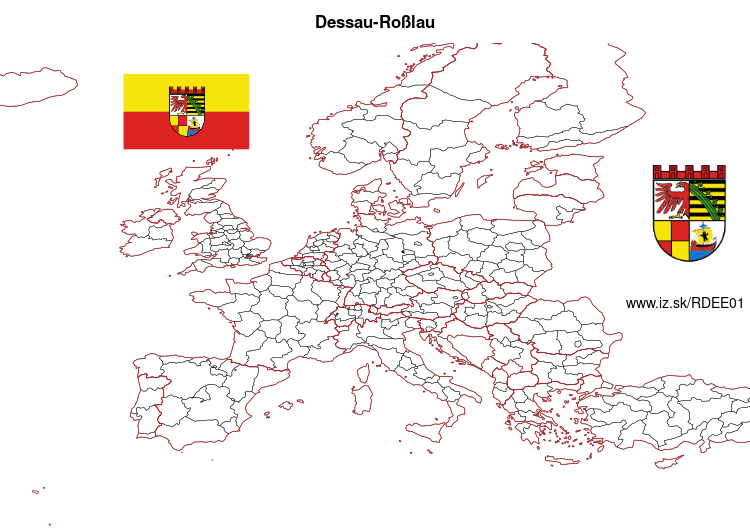 More on wikipedia wikidata Q3828 on OpenStreetMap Dessau-Roßlau slovensky: DEE01
Demographics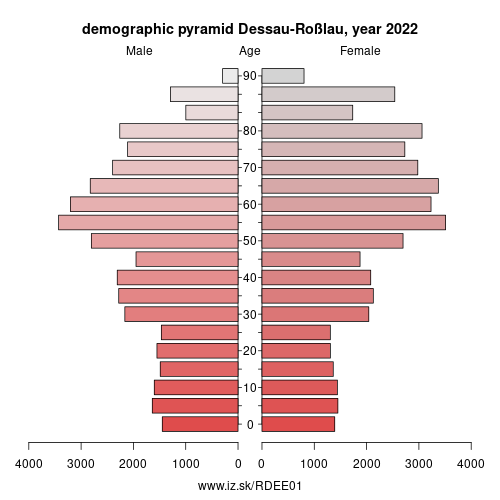 Dessau-Roßlau
is a
kreisfreie Stadt
(urban district) in the German state of Saxony-Anhalt. It is situated at the confluence of the rivers Elbe and Mulde. The town was formed by merger of the towns of Dessau and Roßlau in the course of the "Kreisreform Sachsen-Anhalt"
(Sachsen-Ahalt Regional Boundary Reforms)
on 1 July 2007. The reform involved a reduction in the number of rural districts in Sachsen-Anhalt from 21 to 11 and reflected an expected continuation of the significant population decline being experienced.
Dessau-Roßlau is the third largest town of Saxony-Anhalt by population, after Magdeburg and Halle.
Dessau
Dessau is the largest population centre within Dessau-Roßlau, with approximately 77,000 inhabitants (2006). Most of the town is located on the left bank of the Mulde, south of its confluence with the Elbe. Dessau was first mentioned in 1213, and became the capital of a small state (Anhalt-Dessau) in the 14th century. Between 1863 and 1918, it was the capital of Anhalt. Since the second half of the 19th century, Dessau has been an industrial town.
Other: Saxony-Anhalt, Halle (Saale), Altmarkkreis Salzwedel, Anhalt-Bitterfeld, Jerichower Land, Börde, Burgenlandkreis, Harz District, Mansfeld-Südharz, Saalekreis, Salzlandkreis, Wittenberg, Dessau-Roßlau, Magdeburg, Stendal District
Neighbours: Anhalt-Bitterfeld, Wittenberg
Suggested citation: Michal Páleník: EU regions - Dessau-Roßlau – DEE01, IZ Bratislava, retrieved from: https://www.iz.sk/​en/projects/eu-regions/DEE01
---
https://www.iz.sk/en/projects/eu-regions/DEE01