Magdeburg – DEE03
EU regions: Germany > Saxony-Anhalt > Saxony-Anhalt > Magdeburg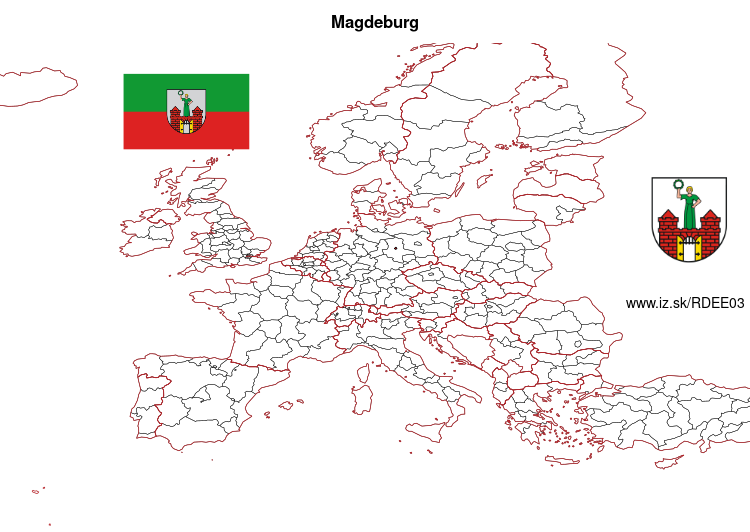 More on wikipedia wikidata Q1733 on OpenStreetMap Magdeburg slovensky: DEE03
Demographics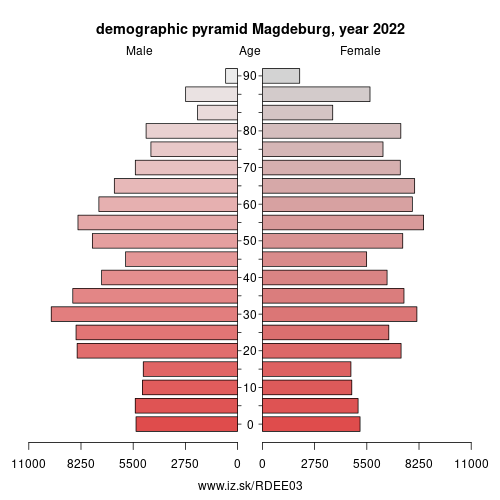 Magdeburg
(German pronunciation:
[ˈmakdəbʊɐ̯k]
(

listen

)
; Low Saxon:
Meideborg
,
[ˈmaˑɪdebɔɐ̯x]
) is the capital city and the second largest city of the state of Saxony-Anhalt, Germany. It is situated on the Elbe River.
Otto I, the first Holy Roman Emperor and founder of the archbishopric of Magdeburg, was buried in the town's cathedral after his death. Magdeburg's version of German town law, known as Magdeburg rights, spread throughout Central and Eastern Europe. Until 1631, Magdeburg was one of the largest and most prosperous German cities, and a notable member of the Hanseatic League.
Magdeburg has been destroyed twice in its history. The Catholic League sacked Magdeburg in 1631, resulting in the death of 25,000 non-combatants, the largest loss of the Thirty Years' War. Allies bombed the city in 1945, destroying much of it.
Magdeburg is the site of two universities, the Otto-von-Guericke University and the Magdeburg-Stendal University of Applied Sciences.
Magdeburg is situated on autobahn route 2, and hence is at the connection point of the East (Berlin and beyond) with the West of Europe, as well as the North and South of Germany. As a modern manufacturing centre, the production of chemical products, steel, paper and textiles are of particular economic significance, along with mechanical engineering and plant engineering, ecotechnology and life-cycle management, health management and logistics.
Other: Saxony-Anhalt, Halle (Saale), Burgenlandkreis, Harz District, Saalekreis, Salzlandkreis, Magdeburg, Jerichower Land, Wittenberg, Altmarkkreis Salzwedel, Börde, Anhalt-Bitterfeld, Mansfeld-Südharz, Dessau-Roßlau, Stendal District
Neighbours: Börde, Jerichower Land, Salzlandkreis
Suggested citation: Michal Páleník: EU regions - Magdeburg – DEE03, IZ Bratislava, retrieved from: https://www.iz.sk/​en/projects/eu-regions/DEE03
---
https://www.iz.sk/en/projects/eu-regions/DEE03