Cologne – DEA23
EU regions: Germany > North Rhine-Westphalia > Cologne Government Region > Cologne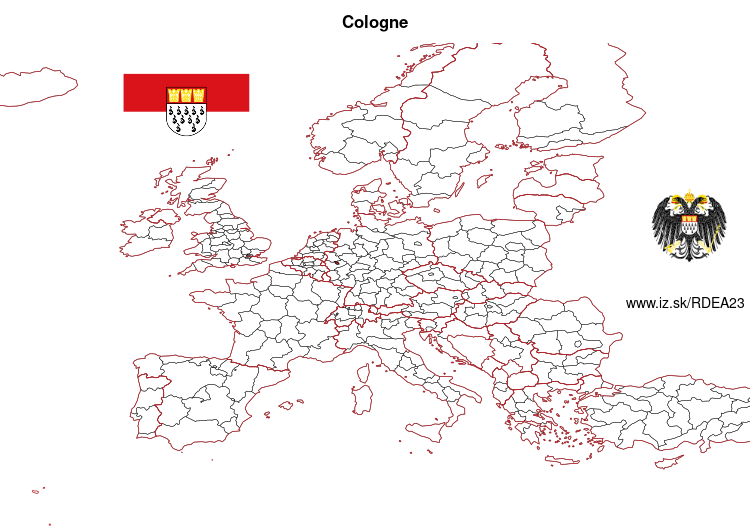 More on wikipedia wikidata Q365 on OpenStreetMap Cologne slovensky: DEA23
Demographics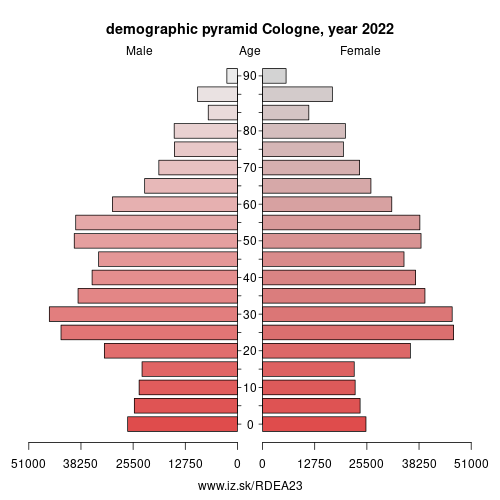 Cologne
(
English:
; German:
Köln
, pronounced
[kœln]
(

listen

)
, Ripuarian:
Kölle
[ˈkœlə]
(

listen

)
) is the largest city of Germany's most populous federal state of North Rhine-Westphalia and the fourth most populous city in Germany after Berlin, Hamburg, and Munich. With slightly over a million inhabitants (1.08 million) within its city boundaries, Cologne is the largest city on the Rhine and also the most populous city both of the Rhine-Ruhr Metropolitan Region, which is Germany's largest and one of Europe's major metropolitan areas, and of the Rhineland. Centered on the left bank of the Rhine, Cologne is about 45 kilometres (28 mi) southeast of North Rhine-Westphalia's capital of Düsseldorf and 25 kilometres (16 mi) northwest of Bonn. It is the largest city in the Central Franconian and Ripuarian dialect areas.
The city's Cologne Cathedral (Kölner Dom) is the seat of the Catholic Archbishop of Cologne. There are many institutions of higher education in the city, most notably the University of Cologne (Universität zu Köln), one of Europe's oldest and largest universities, the Technical University of Cologne (Technische Hochschule Köln), Germany's largest university of applied sciences, and the German Sport University Cologne (Deutsche Sporthochschule Köln), Germany's only sport university. Cologne Bonn Airport (Flughafen Köln/Bonn) is Germany's seventh-largest airport and lies in the southeast of the city. The main airport for the Rhine-Ruhr region is Düsseldorf Airport.
Cologne was founded and established in Ubii territory in the 1st century AD as the Roman Colonia Claudia Ara Agrippinensium, the first word of which is the origin of its name. An alternative Latin name of the settlement is Augusta Ubiorum, after the Ubii.
Other: Cologne Government Region, Euskirchen, Aachen cities region, Cologne, Leverkusen, Bonn, Rhein-Sieg District, Oberbergischer Kreis, Rhein-Erft District, Heinsberg, Düren, Rhein-Berg District
Neighbours: Leverkusen, Rhein-Sieg District, Rhein-Kreis Neuss, Rhein-Berg District, Rhein-Erft District, Mettmann
Suggested citation: Michal Páleník: EU regions - Cologne – DEA23, IZ Bratislava, retrieved from: https://www.iz.sk/​en/projects/eu-regions/DEA23
---
https://www.iz.sk/en/projects/eu-regions/DEA23