Rhein-Sieg District – DEA2C
EU regions: Germany > North Rhine-Westphalia > Cologne Government Region > Rhein-Sieg District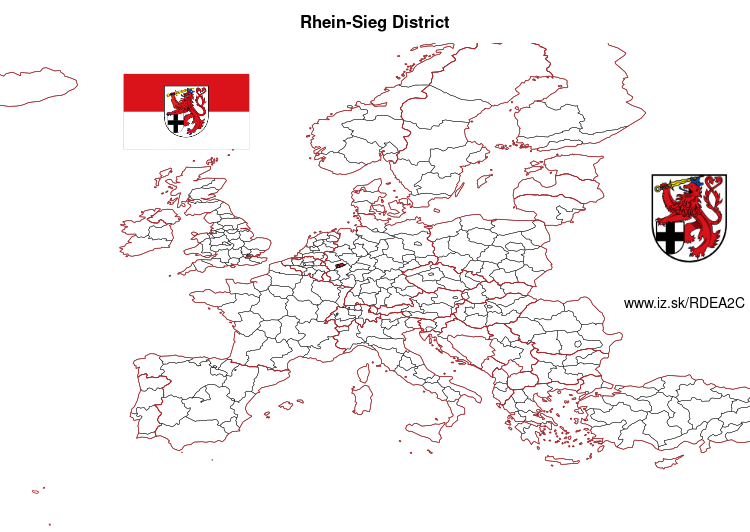 More on wikipedia wikidata Q6287 on OpenStreetMap Rhein-Sieg District slovensky: DEA2C
Demographics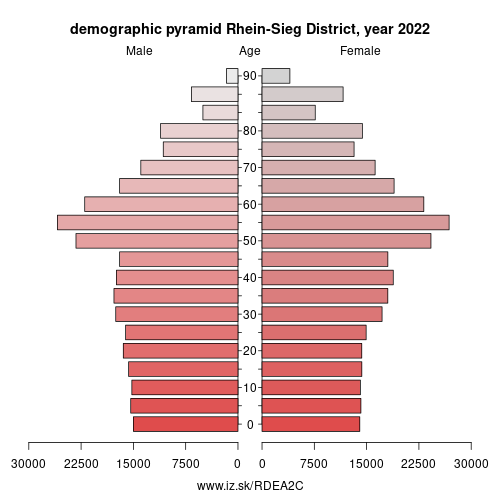 From Wikipedia: The Rhein-Sieg-Kreis is a Kreis (district) in the south of North Rhine-Westphalia, Germany. Neighboring districts are Rheinisch-Bergischer Kreis, Oberbergischer Kreis, Altenkirchen, Neuwied, Ahrweiler, Euskirchen, Rhein-Erft-Kreis, the urban district of Cologne. The federal city of Bonn is nearly completely surrounded by the district.
History
The district as known today was created in 1969, during the reorganization of the districts in North Rhine-Westphalia, by merging Sieg District with the District of Bonn (from which Bonn itself was separated in 1887 to become an urban district). Sieg District was created in 1825.
Geography
Geographically Rhein-Sieg District covers the valley of the river Sieg and also, since the merger with the District of Bonn, that of the Rhine around Bonn, as well an area in the most easterly part of the Eifel.
Other: Cologne Government Region, Düren, Rhein-Erft District, Euskirchen, Oberbergischer Kreis, Rhein-Berg District, Aachen cities region, Cologne, Bonn, Rhein-Sieg District, Leverkusen, Heinsberg
Neighbours: Altenkirchen district, Rhein-Erft District, Bonn, Neuwied, Oberbergischer Kreis, Ahrweiler, Euskirchen, Rhein-Berg District, Cologne
Suggested citation: Michal Páleník: EU regions - Rhein-Sieg District – DEA2C, IZ Bratislava, retrieved from: https://www.iz.sk/​en/projects/eu-regions/DEA2C
---
https://www.iz.sk/en/projects/eu-regions/DEA2C