Leverkusen - DEA24
EU regions: Germany > North Rhine-Westphalia > Cologne Government Region > Leverkusen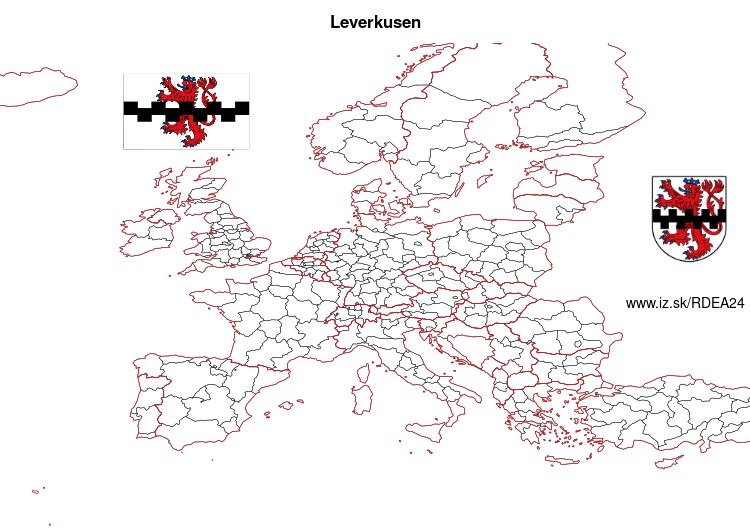 more on wikipedia * more on wikidata Q2938 * on OpenStreetMap * Leverkusen slovensky: DEA24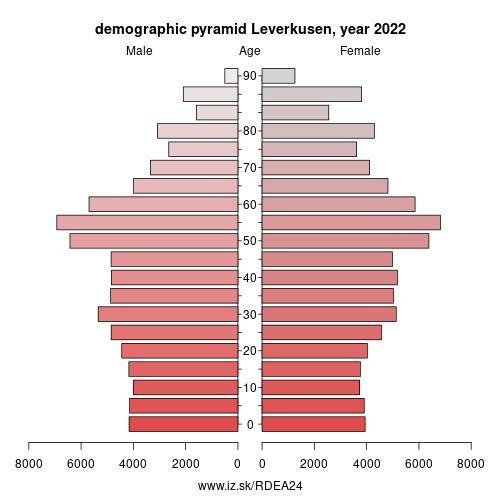 From wikipedia:
Leverkusen
(, German:
[ˈleːvɐˌkuːzn̩]
(

listen

)
, also
[leːɐˈkuːzn̩]
) is a city in North Rhine-Westphalia, Germany on the eastern bank of the Rhine. To the south, Leverkusen borders the city of Cologne and to the north is the state capital Düsseldorf.
With about 161,000 inhabitants, Leverkusen is one of the state's smaller cities. The city is known for the pharmaceutical company Bayer and its associated sports club Bayer 04 Leverkusen.
History
The heart of what is now Leverkusen was Wiesdorf, a village on the Rhine, which dates back to the 12th century. With the surrounding villages which have now been incorporated, the area also includes the rivers Wupper and Dhünn, and has suffered a lot from flooding, notably in 1571 and 1657, the latter resulting in Wiesdorf being moved East from the river to its present location.
During the Cologne War, from 1583 to 1588 Leverkusen was ravaged by war. The entire area was rural until the late 19th century, when industry prompted the development that led to the city of Leverkusen, and to its becoming one of the most important centres of the German chemical industry.
The chemist Carl Leverkus, looking for a place to build a dye factory, chose Wiesdorf in 1860. He built a factory for the production of artificial ultramarine blue at the Kahlberg in Wiesdorf in 1861, and called the emerging settlement "Leverkusen" after his family home in Lennep. The factory was taken over by the Bayer company in 1891; Bayer moved its headquarters to Wiesdorf in 1912.
other: Cologne Government Region, Rhein-Erft District, Euskirchen, Leverkusen, Bonn, Heinsberg, Oberbergischer Kreis, Rhein-Sieg District, Aachen cities region, Cologne, Rhein-Berg District, Düren
neighbours: Cologne, Rhein-Berg District, Mettmann
Suggested citation: Michal Páleník: EU regions - Leverkusen - DEA24, IZ Bratislava, retrieved from: https://www.iz.sk/en/projects/eu-regions/DEA24
---
https://www.iz.sk/en/projects/eu-regions/DEA24