Hordaland – NO051
EU regions: Norway > Norway > Vestlandet > Hordaland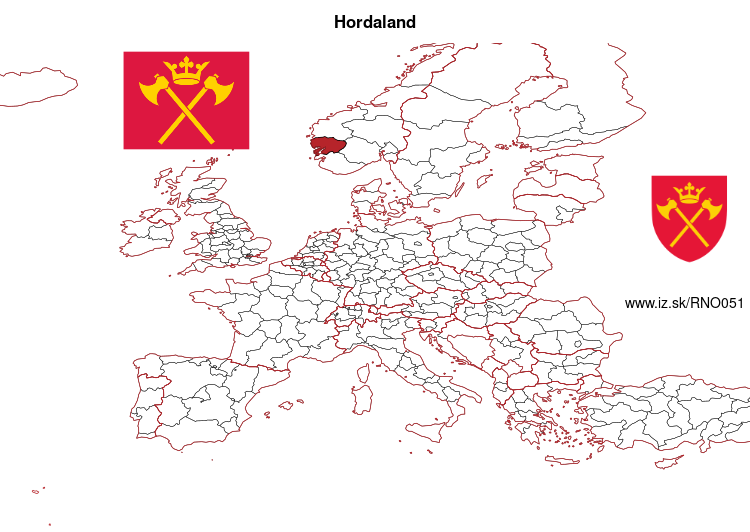 More on wikipedia wikidata Q50625 Hordaland slovensky: NO051
Demographics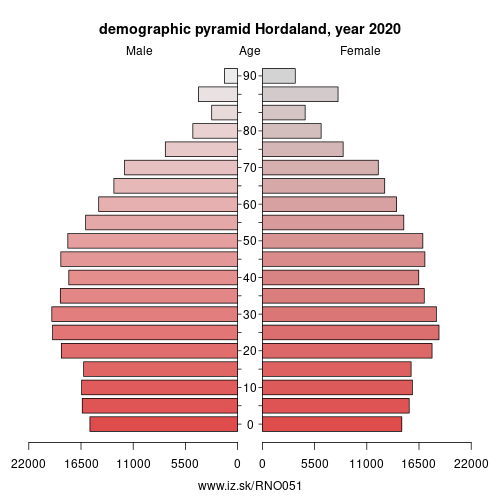 From Wikipedia: Hordaland (Urban East Norwegian: [²hɔrdɑlɑn] (listen)) is a county in Norway, bordering Sogn og Fjordane, Buskerud, Telemark, and Rogaland counties. Hordaland is the third largest county after Akershus and Oslo by population. The county government is the Hordaland County Municipality which is located in Bergen. Before 1972, the city of Bergen was its own separate county apart from Hordaland.
Name and symbols
Name
Hordaland (Old Norse: Hǫrðaland) is the old name of the region which was revived in 1919. The first element is the plural genitive case of hǫrðar, the name of an old Germanic tribe (see Charudes). The last element is land which means "land" or "region" in the Norwegian language.
Until 1919 the name of the county was Søndre Bergenhus amt which meant "(the) southern (part of) Bergenhus amt". (The old Bergenhus amt was created in 1662 and was divided into Northern and Southern parts in 1763.)
Flag
Hordaland's flag shows two golden axes and a crown in red. The flag is a banner of the coat of arms derived from the old seal of the guild of St.
Other: Vestlandet, Hordaland, Sogn og Fjordane, Møre og Romsdal
Neighbours: Rogaland, Telemark, Sogn og Fjordane, Buskerud
Suggested citation: Michal Páleník: EU regions - Hordaland – NO051, IZ Bratislava, retrieved from: https://www.iz.sk/​en/projects/eu-regions/NO051
---
https://www.iz.sk/en/projects/eu-regions/NO051