Shetland Islands – UKM66
EU regions: United Kingdom > Scotland > Highlands and Islands > Shetland Islands
More on wikipedia wikidata Q47134 on OpenStreetMap Shetland Islands slovensky: UKM66
Demographics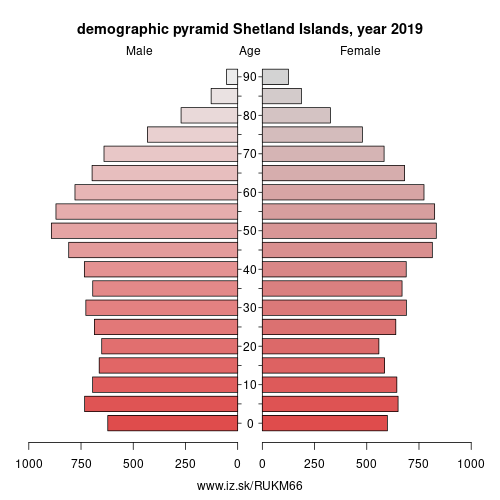 Shetland
(Scots:
Shetland
, Scottish Gaelic:
Sealtainn
), also called the
Shetland Islands
and formerly
Zetland
, is a subarctic archipelago in the Northern Isles of Scotland, situated in the Northern Atlantic, between Great Britain, the Faroese Islands and Norway.
The islands lie some 80 km (50 mi) to the northeast of Orkney, 170 km (110 mi) from the Scottish mainland and 300 km (190 mi) west of Norway. They form part of the division between the Atlantic Ocean to the west and the North Sea to the east. The total area is 1,466 km2 (566 sq mi), and the population totalled 23,210 in 2011. The islands comprise the Shetland constituency of the Scottish Parliament. The local authority, Shetland Islands Council, is one of the 32 council areas of Scotland. The islands' administrative centre and only burgh is Lerwick, which has been the capital of Shetland since taking over from Scalloway in 1708.
The largest island, known as "Mainland", has an area of 967 km2 (373 sq mi), making it the third-largest Scottish island and the fifth-largest of the British Isles. There are an additional 15 inhabited islands. The archipelago has an oceanic climate, a complex geology, a rugged coastline and many low, rolling hills.
Other: Highlands and Islands, Inverness & Nairn and Moray, Badenoch & Strathspey, Lochaber, Skye & Lochalsh, Arran & Cumbrae and Argyll & Bute, Shetland Islands, Caithness & Sutherland and Ross & Cromarty, Outer Hebrides, Orkney Islands
Suggested citation: Michal Páleník: EU regions - Shetland Islands – UKM66, IZ Bratislava, retrieved from: https://www.iz.sk/​en/projects/eu-regions/UKM66
---
https://www.iz.sk/en/projects/eu-regions/UKM66