Heilbronn – DE117
EU regions: Germany > Baden-Württemberg > Stuttgart Government Region > Heilbronn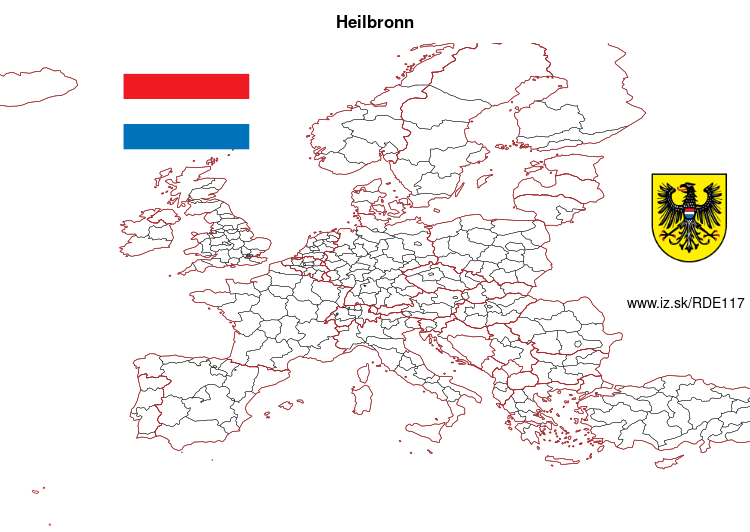 More on wikipedia wikidata Q715 on OpenStreetMap Heilbronn slovensky: DE117
Demographics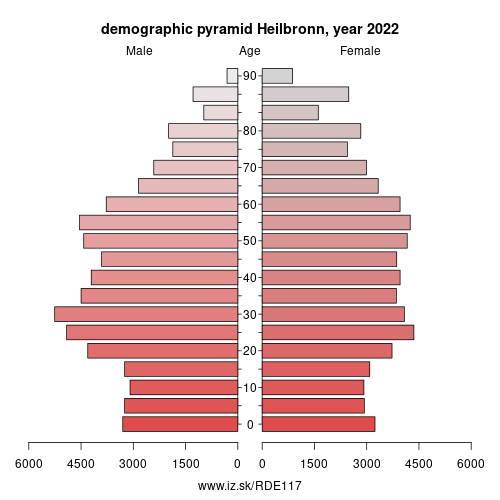 From Wikipedia: Heilbronn (German pronunciation: [haɪlˈbʁɔn] (listen)) is a city in northern Baden-Württemberg, Germany. It is surrounded by Heilbronn District and, with approximately 123,000 residents, it is the sixth-largest city in the state.
The city on the Neckar is a former Imperial Free City and is the seat of Heilbronn District. Heilbronn is also the economic center of the Heilbronn-Franken region that includes most of northeast Baden-Württemberg. Furthermore, Heilbronn is known for its wine industry and is nicknamed Käthchenstadt, after Heinrich von Kleist's Das Käthchen von Heilbronn.
Geography
Heilbronn is located in the northern corner of the Neckar basin at the bottom of the Wartberg (308 m). It occupies both banks of the Neckar, and the highest spot inside city limits is the Schweinsberg with a height of 372 meters. Heilbronn is adjacent to Swabian-Franconian Forest Nature Park and is surrounded by vineyards.
Heilbronn and its surroundings are located in the northern part of the larger Stuttgart metropolitan area. The city is the economic center of the Heilbronn-Franken region and is one of fourteen such cities in the Baden-Württemberg master plan of 2002. It also serves Abstatt, Bad Rappenau, Bad Wimpfen, Beilstein, Brackenheim, Cleebronn, Eberstatt, Ellhofen, Eppingen, Flein, Gemmingen, Güglingen, Ilsfeld, Ittlingen, Kirchardt, Lauffen am Neckar, Lehrensteinsfeld, Leingarten, Löwenstein, Massenbachhausen, Neckarwestheim, Nordheim, Obersulm, Pfaffenhofen, Schwaigern, Siegelsbach, Talheim, Untergruppenbach, Weinsberg, Wüstenrot, and Zaberfeld as a regional economic centre.
Other: Stuttgart Government Region, Heilbronn, Göppingen, Ludwigsburg, Rems-Murr, Heilbronn, Hohenlohe, Landkreis Schwäbisch Hall, district Heidenheim, Esslingen, Stuttgart, Main-Tauber-Kreis, Ostalbkreis, Böblingen district
Neighbours: Heilbronn
Suggested citation: Michal Páleník: EU regions - Heilbronn – DE117, IZ Bratislava, retrieved from: https://www.iz.sk/​en/projects/eu-regions/DE117
---
https://www.iz.sk/en/projects/eu-regions/DE117