Rosenheim – DE213
EU regions: Germany > Bavaria > Upper Bavaria > Rosenheim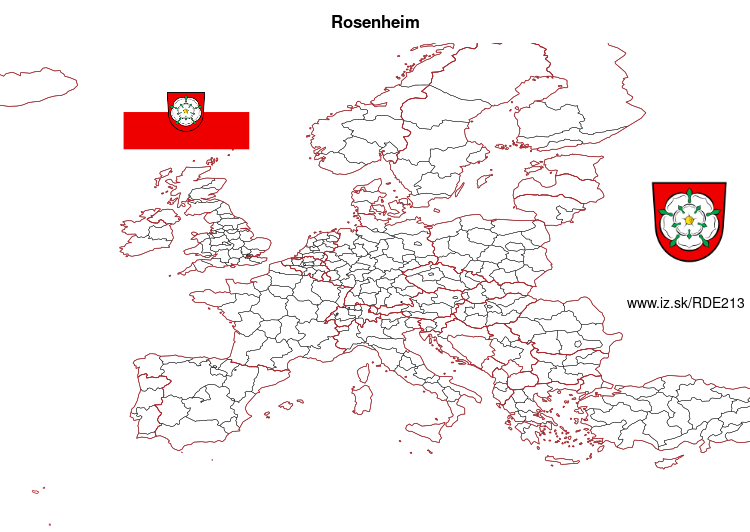 More on wikipedia wikidata Q4007 on OpenStreetMap Rosenheim slovensky: DE213
Demographics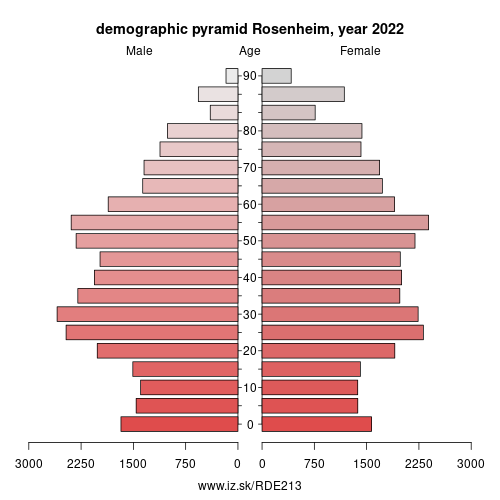 From Wikipedia: Rosenheim is a town in Bavaria, Germany. It is an independent city located in the centre of the district of Rosenheim (Upper Bavaria), and is also the seat of its administration. It is located on the west bank of the Inn at the confluence of the rivers Inn and Mangfall, in the Bavarian Alpine Foreland. It is the third largest city in Upper Bavaria with over 61,000 inhabitants. Rosenheim is the economic centre and the busiest place in the region.
Geography
The population of the town proper is approximately 60,000 inhabitants with up to 125,000 in the surrounding area. Rosenheim is situated in the Upper-Bavarian Alpine Foothills, 450 metres (1,476 feet) above sea level and covers an area of 37.52 square kilometres (14.49 sq mi). The capital of Bavaria, Munich, is 52 kilometres (32 miles) away in North-West direction from Rosenheim. Rosenheim station is at the junction of the Munich–Rosenheim, the Rosenheim–Salzburg and the Munich–Innsbruck lines.
The landscape around Rosenheim was formed during the last ice age from the advancement of the Inn Valley Glacier and later from the Rosenheim lake.
Other: Upper Bavaria, Altötting, Berchtesgadener Land, Ebersberg, Landsberg am Lech, Eichstätt, Freising, Miesbach, Ingolstadt, Garmisch-Partenkirchen, Erding, Mühldorf, Pfaffenhofen, Munich, Bad Tölz-Wolfratshausen, Neuburg-Schrobenhausen, Traunstein, Rosenheim, Dachau, Rosenheim, Weilheim-Schongau, Starnberg, Munich, Fürstenfeldbruck
Neighbours: Rosenheim
Suggested citation: Michal Páleník: EU regions - Rosenheim – DE213, IZ Bratislava, retrieved from: https://www.iz.sk/​en/projects/eu-regions/DE213
---
https://www.iz.sk/en/projects/eu-regions/DE213