Ingolstadt – DE211
EU regions: Germany > Bavaria > Upper Bavaria > Ingolstadt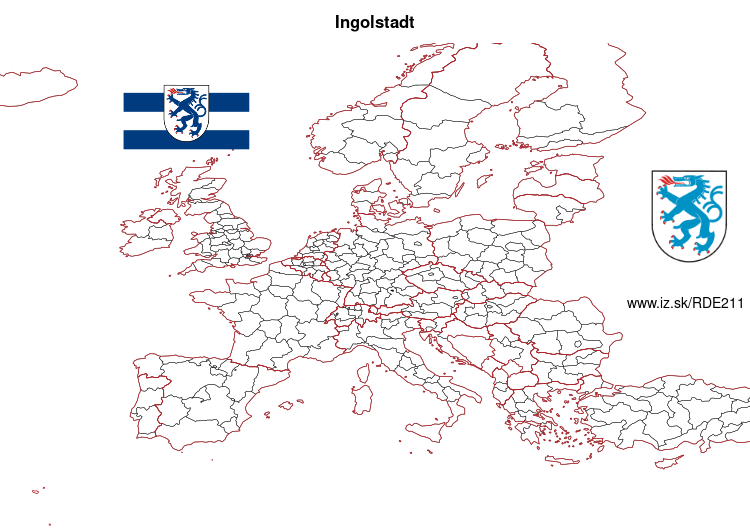 More on wikipedia wikidata Q3004 on OpenStreetMap Ingolstadt slovensky: DE211
Demographics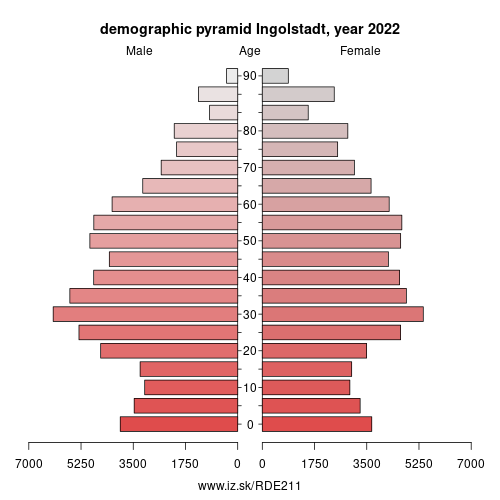 From Wikipedia: Ingolstadt (US: ING-gəl-s(h)taht, German: [ˈʔɪŋɡɔlˌʃtat] (listen), Austro-Bavarian: [ˈʔɪŋl̩ʃtɔːd]) is a city in Bavaria, Germany, on the banks of the River Danube, in the centre of Bavaria. In 2016, it had 133,638 citizens, making it the fifth largest city in Bavaria. It is part of the Munich Metropolitan Region.
The Illuminati, an Age of Enlightenment secret society, was founded in Ingolstadt in the late 18th century.
Ingolstadt is a setting in the novel Frankenstein by Mary Shelley, where the scientist Victor Frankenstein creates his monster.
It is the site of the headquarters of the German automobile manufacturer Audi, defence aircraft manufacturer Airbus (formerly Cassidian Air Systems), and electronic stores Media Markt and Saturn.
Ingolstadt Central Station has been connected to Nuremberg by a high-speed rail link since May 2006. Ingolstadt also has a second passenger station at Ingolstadt Nord.
Geography
Covering an urban area of 133.35 square kilometres (51.49 sq mi), Ingolstadt is geographically Bavaria's fourth-largest city after Munich, Nuremberg and Augsburg. At its largest point the city is about 18 km (11 miles) from east to west and from north to south about 15 km (9 miles).
Other: Upper Bavaria, Bad Tölz-Wolfratshausen, Erding, Landsberg am Lech, Miesbach, Pfaffenhofen, Weilheim-Schongau, Ingolstadt, Munich, Garmisch-Partenkirchen, Altötting, Berchtesgadener Land, Dachau, Rosenheim, Traunstein, Mühldorf, Munich, Neuburg-Schrobenhausen, Freising, Rosenheim, Eichstätt, Ebersberg, Starnberg, Fürstenfeldbruck
Neighbours: Eichstätt, Pfaffenhofen, Neuburg-Schrobenhausen
Suggested citation: Michal Páleník: EU regions - Ingolstadt – DE211, IZ Bratislava, retrieved from: https://www.iz.sk/​en/projects/eu-regions/DE211
---
https://www.iz.sk/en/projects/eu-regions/DE211