Kassel – DE731
EU regions: Germany > Hesse > Kassel Government Region > Kassel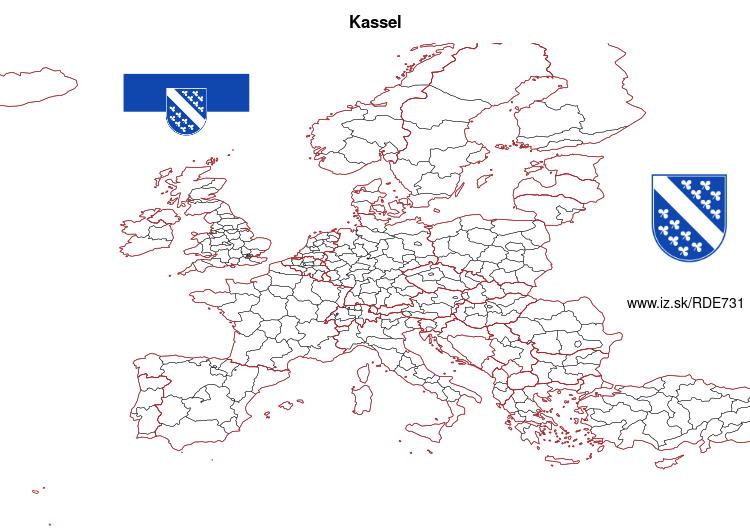 More on wikipedia wikidata Q2865 on OpenStreetMap Kassel slovensky: DE731
Demographics
From Wikipedia: Kassel (German pronunciation: [ˈkasl̩] (listen); spelled Cassel until 1928) is a city located on the Fulda River in northern Hesse, Germany. It is the administrative seat of the Regierungsbezirk Kassel and the district of the same name and had 200,507 inhabitants in December 2015. The former capital of the state of Hesse-Kassel has many palaces and parks, including the Bergpark Wilhelmshöhe, which is a UNESCO World Heritage Site. Kassel is also known for the documenta exhibitions of contemporary art. Kassel has a public university with 25,000 students (2018) and a multicultural population (39 % of the citizens in 2017 had a migration background).
History
Kassel was first mentioned in 913 AD, as the place where two deeds were signed by King Conrad I. The place was called Chasella or Chassalla and was a fortification at a bridge crossing the Fulda river. There are several yet unproven assumptions of the name's origin. It could be derived from the ancient Castellum Cattorum, a castle of the Chatti, a German tribe that had lived in the area since Roman times. Another assumption is a portmanteau from Frankonian "cas," meaning valley or recess, and "sali" meaning hall or service building, which can be interpreted as (town)hall in a valley.
A deed from 1189 certifies that Cassel had city rights, but the date when they were granted is not known.
Other: Kassel Government Region, Fulda, Hersfeld-Rotenburg, Werra-Meißner-Kreis, Kassel, Waldeck-Frankenberg, Schwalm-Eder-Kreis, Landkreis Kassel
Neighbours: Landkreis Kassel
Suggested citation: Michal Páleník: EU regions - Kassel – DE731, IZ Bratislava, retrieved from: https://www.iz.sk/​en/projects/eu-regions/DE731
---
https://www.iz.sk/en/projects/eu-regions/DE731