Hersfeld-Rotenburg – DE733
EU regions: Germany > Hesse > Kassel Government Region > Hersfeld-Rotenburg
More on wikipedia wikidata Q7898 on OpenStreetMap Hersfeld-Rotenburg slovensky: DE733
Demographics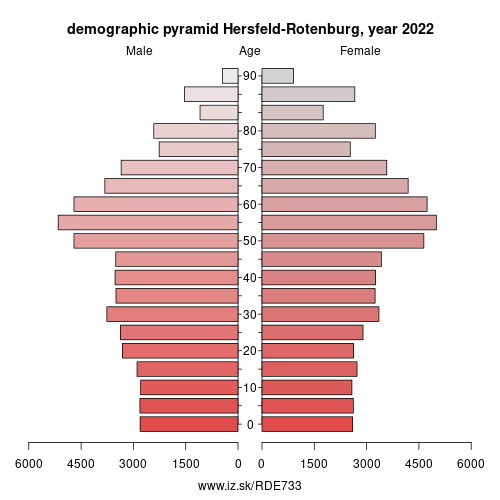 From Wikipedia: Hersfeld-Rotenburg is a Kreis (district) in the east of Hesse, Germany. Neighboring districts are Werra-Meißner, Wartburgkreis, Fulda, Vogelsbergkreis, Schwalm-Eder.
History
In 1821 districts were created in Hesse, including the districts Hersfeld and Rotenburg, which stayed nearly unchanged (except a short period after the revolution of 1848 when they were dissolved) through the annexion of Hesse-Kassel (or Hesse-Cassel) by Prussia and the creation of the Hesse state. In 1972 both districts were merged into one.
Geography
The district contains the hilly landscape of Waldhessen, the mountains are of the Knüllgebirge, Stölzinger Gebirge, Richelsdorfer Gebirge and the Kuppenrhön, part of the Rhön mountains.
Other: Kassel Government Region, Fulda, Werra-Meißner-Kreis, Schwalm-Eder-Kreis, Waldeck-Frankenberg, Landkreis Kassel, Kassel, Hersfeld-Rotenburg
Neighbours: Schwalm-Eder-Kreis, Werra-Meißner-Kreis, Fulda, Wartburgkreis, Vogelsbergkreis
Suggested citation: Michal Páleník: EU regions - Hersfeld-Rotenburg – DE733, IZ Bratislava, retrieved from: https://www.iz.sk/​en/projects/eu-regions/DE733
---
https://www.iz.sk/en/projects/eu-regions/DE733