Schwalm-Eder-Kreis - DE735
EU regions: Germany > Hesse > Kassel Government Region > Schwalm-Eder-Kreis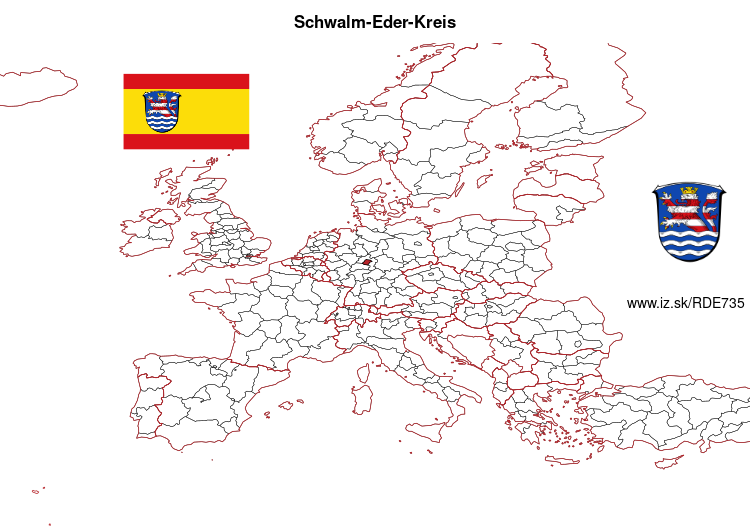 more on wikipedia * more on wikidata Q7894 * on OpenStreetMap * Schwalm-Eder-Kreis slovensky: DE735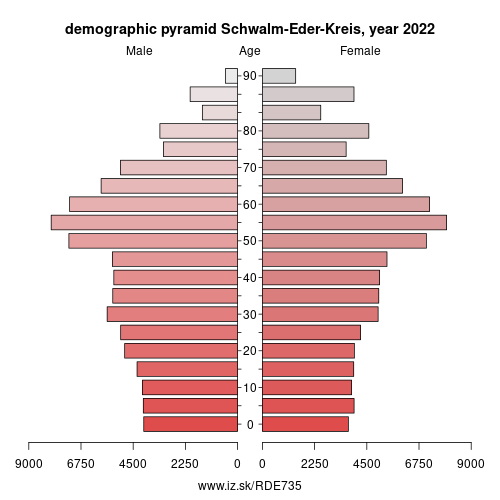 From wikipedia:
Schwalm-Eder-Kreis
is a
Kreis
(district) in the north of Hesse, Germany. Neighbouring districts are Kassel, Werra-Meißner, Hersfeld-Rotenburg, Vogelsberg, Marburg-Biedenkopf, and Waldeck-Frankenberg.
History
In 1821 districts were created in Hesse. They included the districts of Fritzlar, Homberg, Melsungen, and Ziegenhain. In 1932 the districts of Fritzlar and Homberg were merged; in 1974 the three districts of Fritzlar-Homberg, Melsungen, and Ziegenhain were merged into the Schwalm-Eder district.
The district is twinned with the Finnish city of Kajaani, the British district of Sedgemoor, and the Polish district of Piła.
Geography
The Schwalm and Eder rivers give the district its name. After they merge close to Felsberg, the Eder enters the Fulda to the north at Edermunde. The southeast of the district includes a portion of the Knüllgebirge range of low mountains; the highest elevation is 634 metres (2,080 ft). In the north are the hills of the Homberger Hochland.
other: Kassel Government Region, Kassel, Waldeck-Frankenberg, Schwalm-Eder-Kreis, Hersfeld-Rotenburg, Werra-Meißner-Kreis, Fulda, Landkreis Kassel
neighbours: Marburg-Biedenkopf, Werra-Meißner-Kreis, Waldeck-Frankenberg, Landkreis Kassel, Hersfeld-Rotenburg, Vogelsbergkreis
Suggested citation: Michal Páleník: EU regions - Schwalm-Eder-Kreis - DE735, IZ Bratislava, retrieved from: https://www.iz.sk/en/projects/eu-regions/DE735
---
https://www.iz.sk/en/projects/eu-regions/DE735